If you are in the middle of a college course or soon graduating, you may have thought of doing an Erasmus+ Internship, or simply taking part in an Erasmus+ program. Working or studying abroad is the dream of many university students, so why not you?
This article will steer clear of what an Erasmus+ Internship is exactly. It will also lay down everything you need to know about the program, including what companies you can apply to, what steps you must take to be enrolled, and all the reasons why doing an Erasmus+ internship is an invaluable opportunity.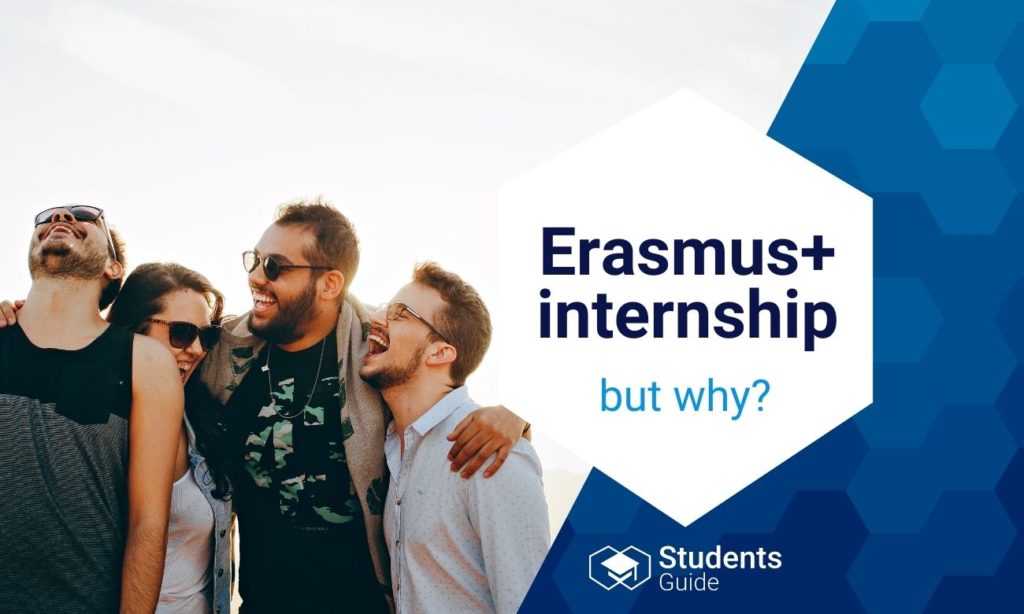 What is the Erasmus+ Program?
Chances are you are most familiar with the notion of Erasmus+ Mobility Program. We will begin by covering briefly what it is, before discussing how a regular mobility program compares with the internship version of it.
Erasmus programs aim to develop students' skills and abilities while providing them with an international experience. The program was initiated by the European Union, in an effort to encourage foreign mobility among students, enabling them to become more qualified and open-minded individuals. Both university and high school students can benefit from it, whether from EU countries or from elsewhere. Since its creation, the program has constantly brought together students from different cultures and studying in different fields.
The education branch of the Erasmus+ program provides college students with the opportunity to study for one or two semesters in a foreign university. Erasmus Academic Coordinators make sure to enroll applicants in a department equivalent to theirs. In addition, tuition fees are allocated for students to complete their education without financial worries. Accommodation is also part of the experience, as enrolled students may also stay in the dormitories of their foster university.
Erasmus+ Internship and Erasmus+ program: what is the difference?
Erasmus+ internships, on the other hand, consists in helping students apply to and complete an internship or traineeship period in a foreign country. It is essentially a work experience in another culture, which makes it inherently different from the traditional college semester abroad, and, in many cases, more demanding. In turn, the internship program can bring countless benefits to the student's personal and professional development.
What are the requirements for the Erasmus+ internship program?
To join the program, students must be hired as an intern in a company or institution whose activity is related to their study field or major, and sign with them a Learning Agreement provided by their school. They are responsible for the process of being recruited, which means they must undertake the necessary steps by themselves. This usually includes preparing a CV and writing a cover letter as if they were applying for a job, attending one or several phone or online interviews, and potentially taking entrance tests. They may, however, benefit from internship offers and partnerships with their university, and be assisted through the process of applying by a school supervisor.
Moreover, to be eligible for the Erasmus+ student grant, applicants must attach a range of material to their application, including the signed Learning Agreement and their ID documents.
Students are also expected to arrange their place of stay and other entry requirements to the destination country, such as visas or resident permits. Erasmus platforms provide affordable student accommodations for them to choose from.
Applicants may select their country of destination and the duration of their internship, as long as it is comprised between 3 and 12 months and within the limits set by their school of origin.
What are the advantages of the Erasmus+ internship?
What is generally considered the main appeal of the Erasmus+internship is that it is a safe and guided way to gain professional experience whilst traveling, and a convenient way to widen your professional and personal horizons.
Since one of the purposes of higher education is to acquire base knowledge and skills to prepare for a career, Erasmus+ internships can be viewed as a stepping stone for future job opportunities. It can help you gain credentials to stand out from inexperienced graduates, while fostering important professional skills — whether it be technical skills linked to your area of interest or career plans, or more essential skills like workplace communication. As such, it can be a major time gain, allowing you to have a competitive edge over your peers when applying for your first job.
However, you should not think of it as just work experience. As we mentioned, it is an internship performed in a foreign country. The takeaways from such an experience are probably greater than you imagine. The Erasmus+ Mobility Program means new places, new landscapes, new landmarks, new encounters, and new occasions for entertainment and learning. In other words, having fun while charting a successful career path.
And if funding is a concern, you can always consider applying for additional student grants and requesting some compensation or gratification from your employer.
If you want to step ahead of your peers in terms of professional experience, and have more travel history, more culture, more openness, and more fulfillment, the Erasmus+ Internship Program is very likely a suitable option for you.