There are many reasons why Prague, capital of the Czech Republic, is known as the "Golden City". Also nicknamed "city of a hundred spires", with its unique architecture and skyline, Prague is one of the most enjoyable seats for students to live in across Europe. Along with the Vltava River and its gorgeous bank, it is one of the rare capital cities that has incredible silence in its core.
The town offers wonderful opportunities for tourists and foreign students to just have a good time. If you crave novelty and have the spirit to leave your hometown and spend part of your student time in Europe, Prague is definitely a place to consider! It stands out as one of the largest student headquarters in Europe, with over 2,500 foreign exchanges a year. Students who spend their time there rarely ever regret their choice, and many have forged fond memories from their experience living in the Golden City. If you want to learn more about its culture and lifestyle, keep reading the article 🙂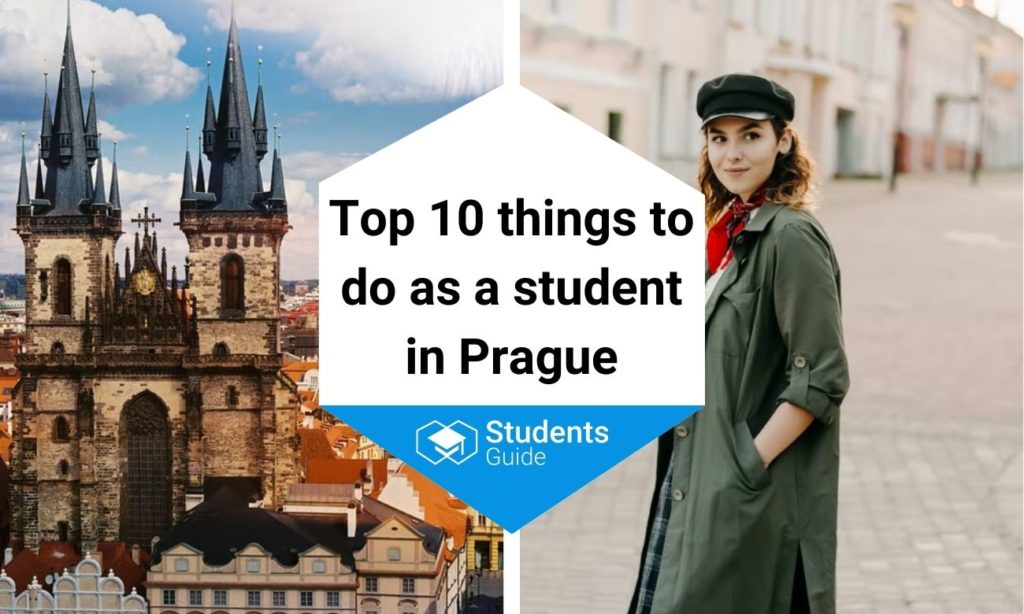 1. Student benefits in Prague
Given the large student presence, the town administration has made an effort to accommodate newcomers. Aside from the cheap student transport which costs around 4 euros monthly, you can easily find accommodation close to the city center (you may be lucky and catch a balcony overlooking the old town :)). The average rent for a shared student apartment is 220 to 300 euros, but if you live in a dormitory, prices can drop to 110-140 euros.
2. Student activities in Prague
It is fair to say that there is not a single social or sports activity you cannot find in Prague's student environment. Owing to its cosmopolitan nature, opportunities for cross-cultural exchange abound, and you may well make life-changing encounters. One of the most famous non-profit student organizations in Prague is ESN. They are your primary contact partner for anything recreational or sport-related. ESN initiates plenty of events on a weekly basis, such as board games, wild parties, exciting bike tours in the city, laser tags/paintball, yoga, football, or hiking. Most of these activities are free or stand at a very affordable price.
3. Prague Old Town charms
In addition to the blooming student activity, it would be unfair to dismiss the charms and beauties of the city. Centuries of history and architectural innovation have shaped its current appearance, and it remains one of the most compelling tourist destinations in Europe. Prague has too many places of interest to list in this article; in fact, 12 of them are registered as UNESCO World Heritage Sites. The tourist attractions you specifically would not want to miss are Charles Bridge, the Jewish Quarter, Prague Castle, Prague Astronomical Clock, the Dancing House, and the Lennon Wall. Besides the old town, other delightful places you might enjoy stopping by are the Prague Zoo, Vyšehrad district, National Theater, Franz Kafka Museum, and Letna Park. If you are registered as a student in Prague, you may already want to apply for an ISIC card, a student card that proves your international student status. This will allow you to enjoy multiple discounts during your stay.
4. Pubs and clubs
Since Prague is also famous for its parties, you will find an incredible number of unique pubs and clubs. Many of them work exclusively for international students and have adapted their drink and music offers to the nature of their client base. Some of the most popular places for students are the Dog's Bar (officially named Vzorkovna), Hany Bany, the Duplex Club, and the U Sudu Wine Bar. The structure of Prague has enormously shaped its city life. It is fascinating that most of these places are located underground, which makes the experience even more exciting.
5. Cheap traveling to and from the Czech Republic
Student travel amenities are amazing. With an ISIC card, you are entitled to advantageous discounts when traveling with the company RegioJet. This allows you to move freely within the Czech Republic. For example, if you want to take the train to Brno, which is about 230 km away, you only spend 5 euros. A ticket to Karlovy Vary, around 120 km away, costs 2.5 euros. There are also many benefits for international travel: you can easily leave your worries behind and head to Dresden, Vienna, Berlin, or Kraków.
6. Learning the Czech language
If you end up staying in the Czech Republic, it would be advisable that you learn how to briefly communicate in the Czech language. Due to the number of tourists, Czechs have a base knowledge of English, but if you are going to spend several months in Prague, you may want to adjust to the local language (at least to order beer :)). Furthermore, if you are willing to learn languages via your mobile device in a fun and easy way, you might like to try the popular Vocapp language app. Through Vocapp, you will very rapidly master the basics of conversation in Czech, but you will also have the opportunity to learn many other European languages, such as Russian, Polish, Spanish, or others.
7. Two months of free ice skating in the Letna Park
During winter, when temperatures dip lower, the city allows you to slide above the old town every year. The skating facility is located between the Sparta Stadium and Letna Park, and is free for everyone. The skating rink generally remains open for two months, and the city administration also makes it possible to rent skates for free.
8. Hanging out with locals
As a rule, the Czechs are very relaxed and fun people. Their culture of drinking beer and great interest in social activities have shaped them into very proactive people. Take the opportunity to get to know them and observe the cultural similarities and differences with your culture, you will certainly not regret it.
9. Food specialties & beer
One of the cultural aspects that Prague and the Czech Republic are most famous for is their food delicacies and beer. Beer holds an important place in the Czech culture. Don't be shocked if you go to Prague and embrace the custom of drinking beer every night. Their fine tastes and very cheap prices make a wonderful combination for students :). Czech cuisine highly differs from what you may already know, for example, Spanish, Turkish or French cuisine. The most famous local dessert is the popular Trdlo. We recommend you try it.
10. Festivals, live music, art exhibitions
Being a major cultural center, Prague regularly boasts a large offer of art exhibitions by famous artists, for which entrance is usually free. If you stay for a month, you are likely to find at least one electronic music festival or classical overture that intrigues you. Furthermore, stand-up comedy and live music concerts of many genres are regularly organized in pubs.
If you want to make the most out of your youthful years, do not miss out on the wonderful opportunities and chances you are given. Prague is waiting for you!
Domagoj has completed a Master's degree in Project Management in Croatia and wants to continue his career in the field of marketing and management. He follows new technology innovations, loves to travel, and discover the charms of our planet through people, food, and music.