Many international students choose Milan as their destination in Italy. Other than some of the World's best universities, this city has plenty to offer to everyone who visits it.
While many people think that Milan is all about business, students may find a large number of activities, from sightseeing to participating in the very active nightlife.
So, if you are a student coming to Milan, get ready to discover the top 10 things to do once you get in the city.
Be warned, we are only scratching the surface here, you'll find plenty more to do, however, this is a good starting point.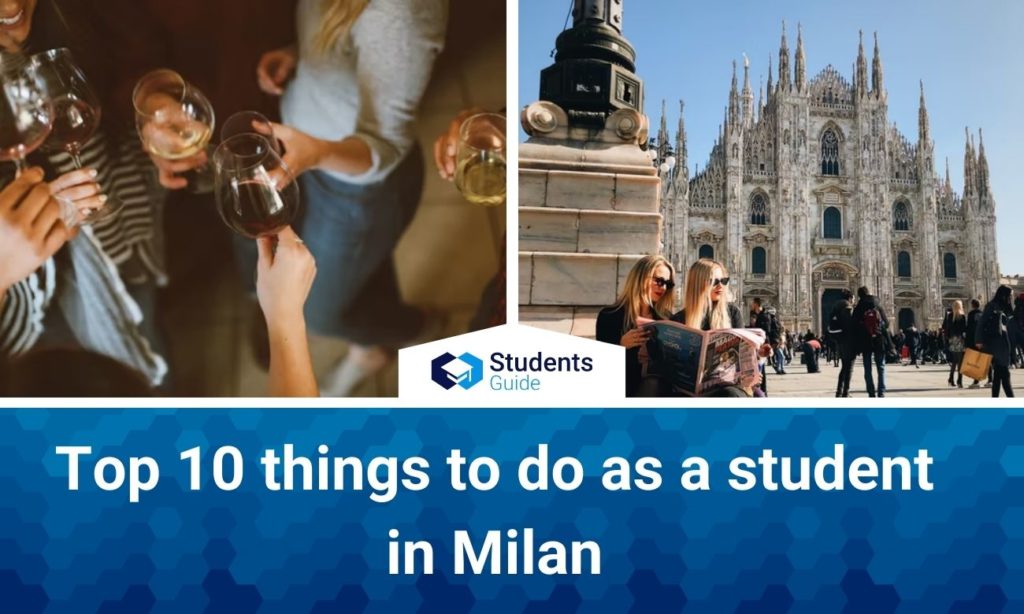 1.Visit the Duomo
I know, predictable, but Milan's Duomo is not just any church. The massive gothic cathedral is the city's main landmark and almost the only fixed point of the changing skyline.
So, be sure to see the Duomo and the surrounding square, and remember to go inside and get to the top. A visit to Milan just isn't complete without seeing the Duomo.
2.Visit the Universities
Since you'll be there as a student, take your time to go to all the historic universities. All of these ancient buildings are a must-see for anyone, especially students.
The Università degli Studi di Milano was built in the Renaissance and the old palace offers plenty of beautiful views; the Accademia delle Belle Arti di Brera has a wonderful courtyard you can access freely.
So get ready to discover the history of Milan through these ancient buildings, without spending anything.
3.Walk through Galleria Vittorio Emanuele II
After the Duomo, this is probably the most iconic landmark in Milan. It's located right next to the cathedral and entry is completely free.
The prices at the stores inside Galleria Vittorio Emanuele II are quite high, most of them are luxury boutiques and shops for tourists, but the sight alone is worth it.
Thanks to the beautiful glass ceilings, you can walk in and admire the architecture even on rainy days.
4.Go to the Castello Sforzesco
If you want to tour some museums in Milan, a great place to start is the Castello Sforzesco. It's one of the largest citadels in Europe and it houses numerous museums, but just the courtyard is already worth it.
When you are done wandering around the castle halls, you can find Parco Sempione right out of the gates, one of the largest and most beautiful parks of the city.
5.Look for Street Art
Not many people know that all around Milan's districts you can find beautiful examples of street art. They are mostly concentrated in specific hotspots in the city, but you can find many scattered all around.
The main place to find this kind of art is the Isola district, next to Garibaldi station. You can also find it in Colonne di San Lorenzo and along Corso Ticinese. This can be a very fun (and totally free) activity that will take much more time than you expect.
6.Walk around NOLO
While it might not be one of the most popular neighborhoods in Milan, North Of Loreto (or just NOLO) is definitely worth seeing.
This district is located, as the name suggests, to the north of Piazzale Loreto. This neighborhood is the most multicultural part of Milan, you can find stores and restaurants from all over the world and experience a completely different side of the city.
In this area you can also find many of Milan's hybrid spaces, like Heraces Gymnasium, a gym that also serves as a library.
7.Check out China Town
The Chinese neighborhood is the oldest multicultural district in Milan and, since it was made pedestrian, you can easily walk through it freely.
Here you can find plenty of Chinese shops and some between the best restaurants around the city.
If you are going at the right time of year, don't forget to go to Chinatown to see the district light up for the Chinese New Year celebrations and be sure not to miss the parades.
8.Go to Navigli at Night
One of the best places to experience the very active nightlife of Milan is to go to the old town, along the Navigli.
This old part of the city, built along the river, is full of restaurants and bars for all tastes. You can go in the early evening to have an aperitivo, or you can go get a drink with friends later at night.
Either way, this is an experience you absolutely can't miss, both as a tourist or as a long term resident of Milan.
9.Check out the Dance Clubs
If you like dancing, Milan is the right place for you. The city centre is full of dance clubs, perfect for endless nights. If you want to listen to international DJs or just spend the night dancing, you can go to one of the many clubs around Milan.
While many of them can be very exclusive and expensive, you can find the right one for you without problems and, if you like, there are other alternatives.
10.Look for Dance Parties in the Streets
If the clubs are not for you but you still want to dance, some nights, you can find secret dance parties in the streets of Milan. Two groups of dance enthusiasts, Mazurka Klandestina and Tango Illegal, often organize dance gatherings around the city, you'll just have to find them.
Since the locations are not disclosed, you can find information on their Facebook groups (they are in Italian, but if you ask, someone will likely answer in English).
If you are interested, some popular location are in front of Palazzo della Regione or Piazza Affari.
How to get a visa and travel to Italy
If you want to travel to Italy and stay for an extended period of time, you'll probably need to apply for a visa. If you are not a EU citizen and you want to study in Milan, you can apply for a study visa at the Italian Embassy or Consulate. This visa will generally last for the duration of the course you will follow.
If you just want to visit Italy for a period of time under 90 days, remember to check if you actually need a visa, citizens of certain countries (US included) can come to Italy for tourism without applying for a visa.
To get a study visa, you will need to book an appointment at the Italian Embassy and provide these documents:
A filled application form.
A picture of you (more on that below).
A valid passport with an expiration date at least three months after the end of the expiration of the visa.
Proof of sufficient funds to support yourself during your stay.
Health insurance (not everybody needs it, ask at the embassy for more info).
Proof of enrollment in the course you'll be attending.
Italian Visa photo: requirements
Size: 45 mm x 35 mm.
In color and high quality.
White or off-white plain background.
You must look directly at the camera with your face fully visible, with a neutral expression.
No glasses or other head accessories.
Ordinary clothes are acceptable, but no uniforms (military or law enforcement).