Switzerland is a dreamy mountain resort known for its irresistible chocolate, breathtaking landscapes and charming cities. Switzerland has a lot to offer to Americans traveling to Europe.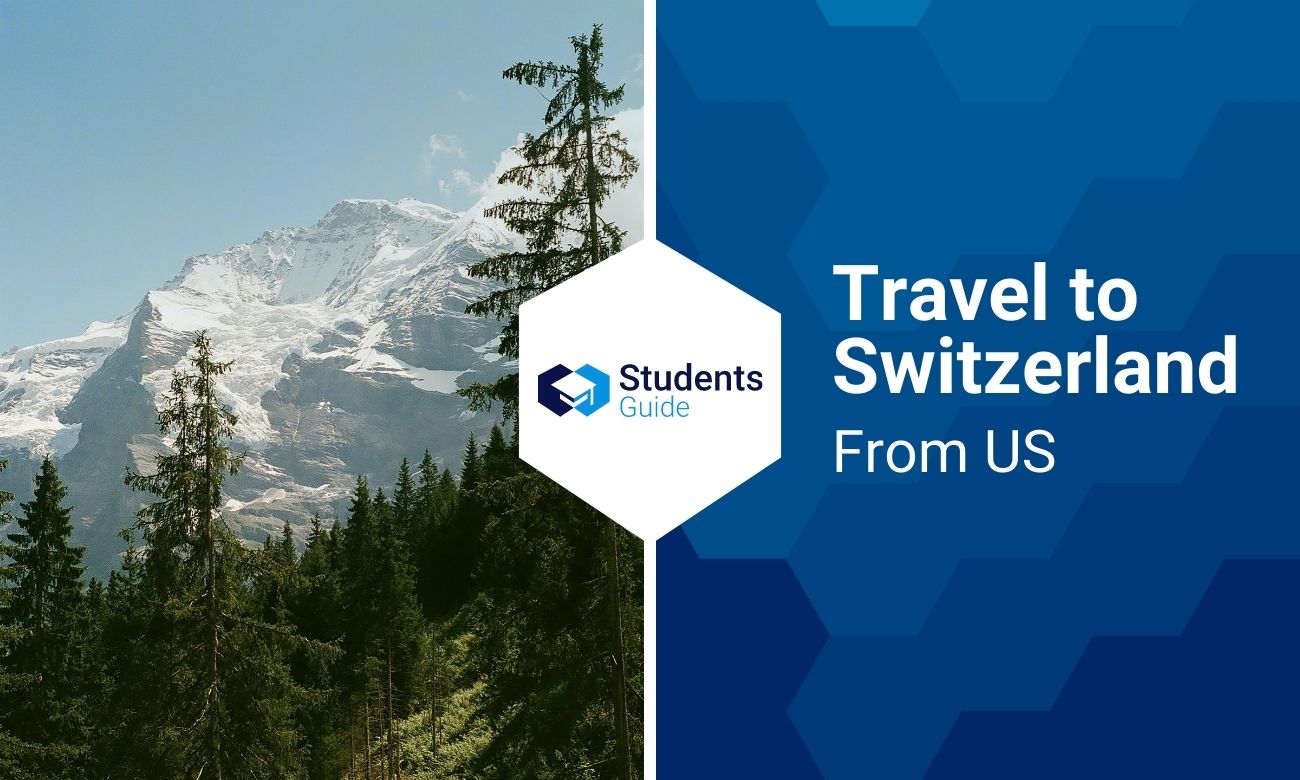 With the abundance of breathtaking lakes, mountains and rivers dotted with Switzerland, it is unsurprising that so many of its settlements lie in the middle of such stunning scenery. Castles and churches rise overwhelmingly above the red-rooftops of the houses, while the ancient cobbled streets take you to even more glorious sights.
After reading this post, you'll learn more about traveling to Switzerland from the U.S. From Swiss and ETIAS Visa information to more tourist information about famous Swiss cities, hikes, and much more.
What Do I need to Travel to Switzerland
Switzerland is a member of the Schengen Area countries, but is not part of the EU, which means that there are some differences between Swiss long-stay policies and other European countries. So, the kind of document you will need when travelling to Switzerland from the US will basically depend on how long you will stay in Switzerland.
Travelling to Switzerland for a stay of up to 90 days
You will need a Schengen Visa, and more precisely, a Schengen Tourist Visa. This visa is valid in every Schengen country, which means that if you have this kind of visa you can visit Switzerland as well as other European countries that are part of the Schengen Zone.
However, be aware that those kinds of visas can only be used for tourism purposes. If you are going to Switzerland to work or study, you will need to apply for another kind of visa.
Travelling to Switzerland for a stay of more than 90 days
You will need to apply for a national visa, which is relative to Swiss national authorities. It is conditional to have the approval of the cantonal migration authority responsible for the intended residence. You may need to apply for this kind of visa for situations such as long-term students, family reunification, and marriage in Switzerland
However, American people travelling to Switzerland for more than 90 days will soon need to apply for a new kind of visa: From 2022, an ETIAS visa waiver will be required for travel to Switzerland.
What is an ETIAS visa?
Citizens of the United States who want to travel to and from Europe must register for an ETIAS visa waiver online.
American residents will be able to receive an ETIAS travel authorisation by filling an online questionnaire with their personal details and answering security questions.
What are the required documents for an ETIAS Visa?
Before travelling to Switzerland, US citizens will need to fill the ETIAS Visa form. But what exactly is this form? US applicants for ETIAS Visa will be required to provide the following elements :
Full name
Date and place of birth
Current address
Parents' information
Passport and other nationality details
Biometric photo
They will also need to fill other parts where there will be questions related to :
Drug use
Terrorism
Human trafficking
Criminal history, etc
What Are The Requirements For Swiss Visa Photo?
General Requirements & Size for the Swiss Visa Photo
When you are applying for a Switzerland visa (either it is a Schengen Visa or an ETIAS visa), you will be required to include a photo of you, and the Swiss visa photo must comply with the general conditions for it to be deemed valid by the European authorities.
Two photos are required when applying for a Schengen Visa and only one for your ETIAS visa,
The pictures must be the same and not older than 6 months.,
Whether you are applying for an ETIAS or for a Schengen Visa, you will need to provide a visa photo with a light-colored background (white, light-blue or light gray).
Your facial features should be clearly distinguishable from the background.
The Visa photo should show your head and shoulders close-up.
The picture of the Visa must be transparent and in sharp focus
No shadows on the face or the background should be seen in the Swiss Visa Photo.
If you wear glasses, there must be no reflections.
You're not allowed to hide your face with sunglasses, hair over your eyes, etc.
Your face needs to be centered, looking straight at the camera with the eyes open.
Your mouth should be closed on your visa photo, revealing no teeth.
Swiss visa photo requirements state that you need to have a neutral expression.
Swiss Visa Photo demands that your eyes and face should not be exposed by hats or head coverings, except for religious purposes.
Technical Requirements for the Swiss Visa Photo
Apart from the general requirements mentioned above, there are also technical requirements that your Swiss Visa Photo absolutely needs to respect for it to be approved by European and Swiss authorities:
Swiss Visa photos (for Schengen Tourist Visa or for ETIAS) should absolutely be in colour. Only colour photos will be approved by Swiss and European authorities
You must present a 1200dpi resolution photo, or better if possible
As for the size, Swiss visa photos size should be 45 x 35mm
Cities and places to visit in Switzerland
You may be planning your first trip to Switzerland, and you may not be aware of the popular places and cities to visit. There are a lot of beautiful places in Switzerland, you will find cute traditional villages, but also more modern cities, and even breathtaking mountain landscapes. So to help you to plan your Switzerland tour, we prepare this little guide composed of Swiss popular cities and the best hikes to do when going to Switzerland.
Top best cities to visit in Switzerland
Lausanne
Lausanne is a lively city with a large student population, making it a fun place to visit. The city has a vibrant and youthful vibe, and its bustling nightlife scene makes it a great place to go out. Lausanne is more than just a university town; it is also a beautiful hilltop town overlooking Lake Geneva. The city cascades down the gentle slopes, with the lovely gothic old town at the apex.
There is a huge amount of museums spread all around the city that you can visit, and for the ones wishing to go for a calmer visit, you can always go to one of the many Lausanne's cafes and bars to enjoy a drink along the waterfront at the bottom of the city. Everyone finds their happiness in Lausanne !
Geneva
Geneva, the country's second largest city is an affluent, cosmopolitan locale with a distinct sense of opulence. The streets of this city, which is home to various international organisations such as the United Nations and the World Bank, are opulent and glittering.
The city of Geneva, which lies on the shores of Lake Geneva, has a multitude of high-end hotels, boutiques, and restaurants to choose from, but there is also another dimension of Geneva. Bars with a lot of ambiance and vitality can be found in neighbourhoods like Les Grottes and Quartier des Paquis, which are a world away from the stuffy UN corridors.
Bern
Switzerland's picturesque capital is a dream come true. You'll see fountains and bell towers interspersed among the many ancient buildings as you walk along the Old Town's winding cobblestone streets. Many of the buildings date back over 500 years, to when Bern was rebuilt after a fire; the city's cohesive style and construction is part of what makes it so remarkable.
Bern has over six kilometers of covered arcades, which give the city a distinct feel and it is an excellent host of bars, restaurants, and stores. The area is rich in heritage and has a number of excellent museums worth visiting. Bern's stunning setting, on a peninsula flanked by the tree-lined Aare River, just adds to the city's allure and laid-back feel.
Lucerne
Because of the surrounding mountains and the glistening lake that borders it, this lovely city is absolutely stunning to visit. Aside from the picture-perfect scenery, Lucerne also has a charming medieval quarter that adds to the charm.
The old town's winding alleys weave their way along the banks of the river that run through the heart of the city, and a stroll along the waterfront in the sunshine is simply divine. Chapel Bridge, built in the 14th century, is a popular tourist attraction, and there is also a thriving music scene.
Zurich
Zurich, Switzerland's largest city, is located on the shores of Lake Zurich. The Limmat River winds through it, and on the horizon you can see snow-capped mountains. The city is a vibrant and lively area to live in as well as to experience as a tourist, in addition to its enchanting atmosphere.
Zurich is the ideal fusion between old and modern, with its hip cultural and arts scene blending seamlessly with the charming historic city. The trendy city offers excellent shopping, as well as trendy cafes and a vibrant nightlife.
Best hikes to do in Switzerland
Switzerland is a hiker's dream, with the Alps, picturesque wooden bridges and huts, snow capped mountains, and the deepest blue lakes. We have searched for you the best hikes to do, so mountain and hike lovers keep on reading and you will find your next Swiss destination !
Mount Rigi Panorama Trail
The Rigi Panorama Trail is a seven-kilometer hike that is largely flat (except for a few short steep sections) and provides some of the best views you'll find while hiking in Switzerland. The trail is all dirt and gravel, but it is well-maintained and easy to navigate at any time of year.
The trail begins at the top of Rigi Kulm, directly across from the mountain train station line. The views from here are still breathtaking, with green and blue valleys and clouds in the distance. Find a seat, get a cup of coffee, or simply take photos before you're able to hit the summit.
The track comes to an end right in front of the Rigi Scheidegg cable car. Before taking the cable car back down to the valley, where you can ride a train to wherever you're headed next, you can spend some time at the station enjoying the restaurant.
Matterhorn
The Matterhorn is one of the Alps' highest peaks. It doesn't get any more difficult for climbers who want to put their skills to the test than climbing a part of the 4,478-meter mountain that sits on the Swiss-Italian border.
Going up the Matterhorn, which is technically a moderate climb, can take eight to twelve hours, depending on stamina, breaks, and a few path changes along the way.
The best starting point for Matterhorn hiking is in Zermatt. If you want to limit this trek to a single day, leave as soon as the sun rises, locate the cable car path, and begin hiking up. After three hours on a steep and straight road with breathtaking views of blue mountains, you'll arrive at Schwarzsee Paradise, a hotel/restaurant where you can rest and fully enjoy the view !
Bear in mind that the Matterhorn can be cold even in the summer. You'll need a jacket and maybe layers for a hike of this length to remain warm the whole time.
Sources