Greece is one of the most popular tourist destinations. 17 million tourists visit Greece each year. It is more than the entire country's population! Have you already been to the country of Olympian gods and goddesses? If not but you wonder as a US citizen, you will find out today what you need to know if you want to travel to Greece from the US.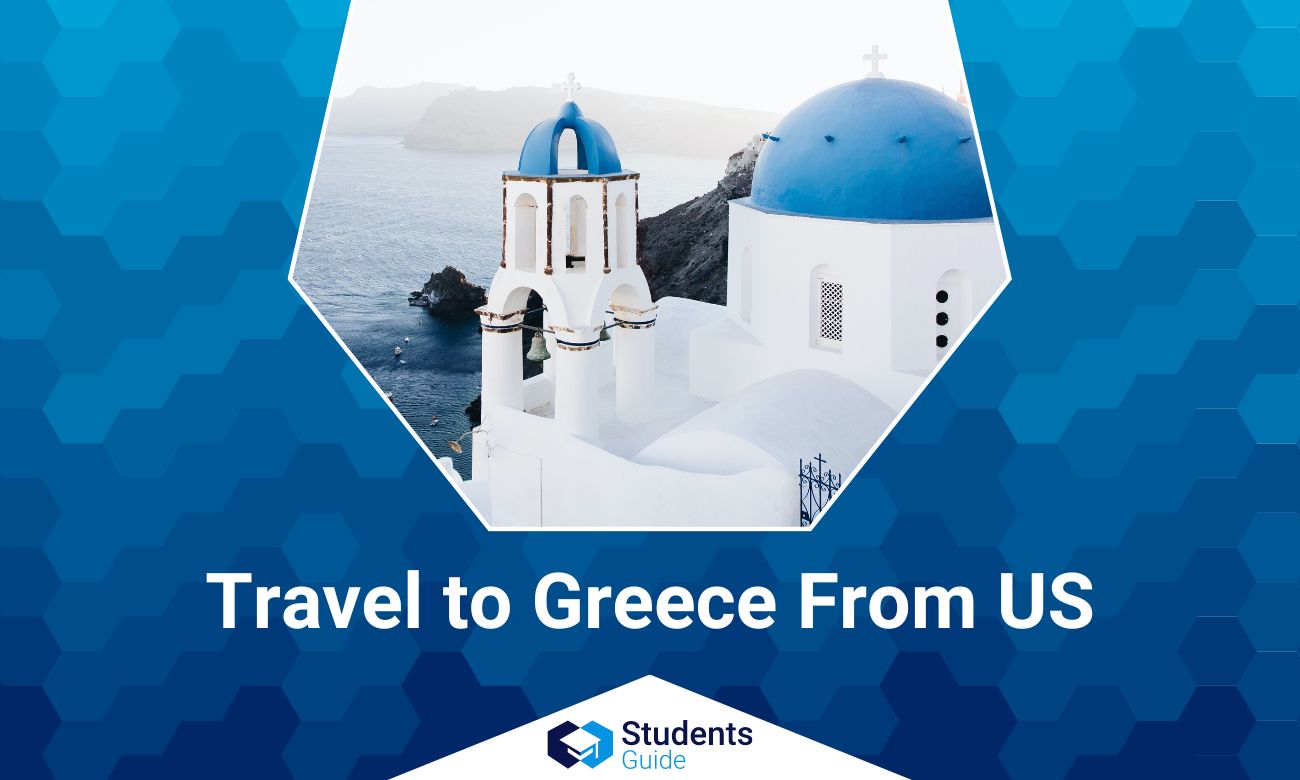 The discussed topics will concern reasons why you should go to Greece, if you need a visa to Greece as a U.S. citizen, how long you can stay in Greece and what are the general requirements you have to meet.
Why should I go to Greece?
If you are tired of rainy weather Greece will be your best choice to change the climate because along with the Mediterranean air, Greece is one of the sunniest countries. 250 days a year the sun is shining there!
Besides the sun, it is hard to count all the tourist attractions you can find in Greece as it has the world's most important historical site. The country is located in Southern Europe so it became a very popular destination for European people who can travel there very easily, cheap and quick! But obviously, not only Europeans go there. If you are a US citizen who wants to take a swim in the blue water of one of the islands – Santorini, Corfu, Zakynthos, Mykonos, or Crete, make yourself ready for one of the best holidays in your life!
Except swimming in the sea, a must-see on the map is obviously Athens – one of the oldest cities in Europe! In Athens were born a democracy, political science, Western philosophy and literature, the Olympic Games, historiography, major mathematical principles, and Western theories of tragedy and comedy.
In the heart of modern Athens, there's Acropolis – a symbol of Athens and Greece and Western civilization. In the area sits Pantheon, a rocky mound rising in the heart of modern Athens crowned by three impressive temples dating from the 5th century BC.
Close to the Acropolis, there's an archaeological park with other city's major ancient attractions – the Ancient Agora, Kerameikos, the Roman Forum, and the Temple of Olympian Zeus.
Another must-see on the map is the Acropolis Museum designed by swiss architect Bernard Tschumi. You can find inside the Moschophoros – the statue of a man carrying a calf on his shoulders from 6th century BC or Caryatids – sculptures of female figures that held up the Erechtheion.
Something that is on a UNESCO World Heritage site must be seen! Delphi built on the lower slopes of Mount Parnassus was sacred to the ancients who came here on pilgrimages to worship Apollo (god of light, prophecy, music, and healing) and to ask advice from the mythical Oracle.
Do US citizens need a visa to Greece?
Staying in Greece longer than 90 days (within a 180 days period) means that you need a visa if you are nationals of the United States of America.
Because Greece is part of the Schengen Agreement travelling there is possible with a passport valid for at least 6 months at the time of arrival (or some other equivalent recognized travel document) with a recent passport photo and a valid ETIAS visa waiver for Greece.
How to apply for the ETIAS visa waiver?
ETIAS visa is an electronic travel permit for visa-exempt foreign citizens such as Americans. It is designed to be simple and able to be filled quickly without the need to visit a European embassy or consulate. However, remember, that ETIAS is not a visa.
Traveling to Greece for short stays (up to 90 days) means that as a US citizen you have to apply for the Schengen visa. Starting from 2021 it is mandatory to get ETIAS before entering Greece. It has a validity of 5 years and can be used for an unlimited number of visits.
Here are ETIAS requirements for US citizens:
Providing a valid passport for at least 3 months passport issued by an ETIAS-eligible country (in this case, the United States).
Providing a current email address to receive information and updates on the application. It is mandatory because the approved ETIAS travel authorization will be also sent to this address.
Filling out the ETIAS application form in all its parts as accurately as possible.
Using a credit or debit card to pay for the ETIAS for a US citizen's application fee.
The ETIAS application requires Americans to submit:
Personal information (full name, place of birth, gender, etc.)
Contact details (address, telephone number, email address, etc.)
Passport details which you will use to enter the Schengen zone
Travel plans with the first point of entry to the Schengen area
Other information such as criminal record and health-related questions.
The ETIAS visa waiver, once granted, must be printed and presented to the European Border Guards upon arrival. They decide if the traveller is eligible to cross the border or not.
What should I know before going to Greece?
Greece has some custom regulations regarding blocking importing of several dangerous items such as weapons (the traveler must hold a valid European Firearm Pass), legal and illegal drugs.
If you want to enter Greek territory some goods can be imported into following the mandatory limits regulated by the government:
If you arrive from a non-EU country (for instance, the U.S.):
Tobacco: Cigarettes (800), cigars (200), cigarillos (400), tobacco (1Kg).
Alcohol: Spirits over 22% (10L), Spirits under 22% (20L), wine (90L), beer (110L).
All archaeological sites must be kept untouched. Exporting any antiquities (items more than 100 years old) is forbidden! The penalties applied are second to drug smuggling only.
Are there any currency restrictions while entering Greece?
Cash of over €10,000, equivalent in foreign currencies or travelers' cheques must be declared at the point of entry or exit of the EU. Entering Greece with a one-way ticket and not having sufficient funds to purchase a return ticket might be refused to enter.
Can I travel to Greece now?
From 2020 Americans weren't allowed to visit Greece unless they are holders of Greek passports. Last year was catastrophic for Greece because this country is living off tourism.
Covid-19 pandemic destroyed many peoples' holiday plans and in case of not catching the virus, tourists stayed at homes.
How does the situation look like now? As the vaccine program started in many countries, among others in the US, and the flights have been rescheduled for Summer 2021, you can still book a holiday and with your fingers crossed, hope that you're going to see ancient Greece architecture and swim in the Mediterranean Sea this summer!
Sources