The students of today will be the leaders of tomorrow. How many times have you heard this expression? With time passing and graduation coming up, it is essential to start thinking about the future, but remember there is absolutely no right or wrong answer or path. Choosing to work or take a gap year is just as valid as deciding to go straight to college or university. However, if you want to further your education, you have a tough choice ahead of you. What should I study, and where should I go? These are the most asked questions. If you want some guidelines, read our guide. We put together a list of reasons for studying abroad and which countries are the best for higher education.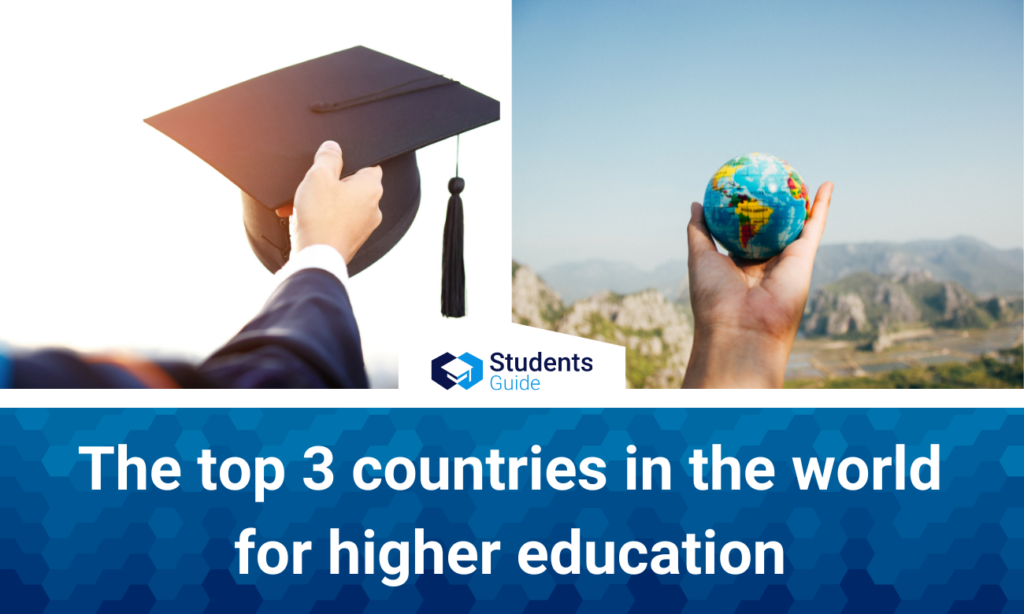 What is the difference between university and college?
If you want to study after graduating from high school, you need to understand the difference between university and college.
Universities are public or private institutions that offer undergraduate and graduate degrees. Universities are very research-oriented and offer students the chance to work in labs and facilities inside the same building. Concerning course offerings, universities have a wider range of options when compared to colleges. For many people, one of the main downsides of university is the cost of tuition, which can be higher than the college one.
On the other hand, colleges have a smaller student population, although they offer fewer courses. In the case of colleges, there is not a lot of funding from the state, and for this reason, they tend to focus less on research. Colleges, moreover, also offer two-year programs like associate degrees and certificates. Tuition-wise, college fees are significantly lower than university ones. College is also a perfect choice for students who work, as they tend to offer more flexible schedules.
Higher education in the United States
There is no doubt that the United States is one of the countries with the best higher education. Every year, American colleges and universities welcome thousands of students from all over the world. International students decide to move to the United States because the country has one of the most flexible education systems in terms of majors and minors. Moreover, the US is a melting pot, and deciding to study in an American institution would mean being surrounded by cultural diversity every day.
Surely, one of the most sought-after types of education by international students is that offered by the Ivy League schools, some of the most prestigious universities in the world. This collegiate comprises eight of the most important universities in the country, that is Brown University, Columbia University, Cornell University, Dartmouth College, Harvard University, the University of Pennsylvania, Princeton University, and Yale University.
If you are an American student and decide to continue studying in the United States, although you move across the country, you will always have the chance to stay closer to home. This is one of the main reasons that bring American students to stay in the country once they graduate. Moreover, you will benefit from one of the best education systems in the world if you decide to study in the country. Tuition fees in American colleges and universities can be high. However, every year, colleges, universities, and private sponsors offer thousands of scholarships to deserving students to help cover tuition fees.
Higher education outside the United States
Students wishing to move away from the United States should definitely consider Europe. Europe is formed by numerous countries and each one of them has different cultures, traditions, and languages. Studying in Europe would mean gaining international skills and knowledge highly valued all around the world. Moreover, all European and Schengen Area countries are very well-connected with cheap and fast public transportation, and every weekend you could discover all the marvelous countries that form this part of this continent.
Norway
What do you think about if we say fjords, unspoiled nature, and Norse mythology? If you said Norway, you are correct! This little country is located in the North of Europe and every year is chosen by international students for its high-quality education system. Moreover, it is common for students who graduate in Norway to decide to move permanently to the country for work.
Until 1815, when the country passed under Sweden's control, Norway used to be part of the Kingdom of Denmark. The country gained its independence only in 1905. Norway is characterized by an incredible past of culture, traditions, and mythology, and the new Viking series has only increased its popularity.
Nowadays, Norway is considered one of the best countries when it comes to higher education as it offers one of the widest ranges of bachelor's, master's, and PhD programs. You should consider studying in Norway if you have not so common interests. Not every day one comes across people who have a master's in Viking and Medieval Norse Studies or Indigenous studies. And don't worry about the language. While you will have time to pick up Bokmål and Nynorsk, the two official languages of Norway, most universities in the country offer English-taught degrees. Consider the University of Oslo, the University of Bergen, or the University of Tromsø, just to name a few.
One of the greatest benefits for American students studying in Norway is the absence of tuition fees. Yes, you heard that right! If you choose to study in a public institution, you will not be charged any tuition fee. US students only have to pay a small semester fee (amounting to $70-80). However, living expenses in the country can be high.
If you are interested in studying in Norway, you have to know that you will need a Norwegian Student Visa so make sure to check all requirements.
The United Kingdom
It is impossible to leave out the United Kingdom if we are talking about the best countries for higher education. London is one of the most cosmopolitan cities in the world, and students move to the UK because the teaching methodology of the country offers them the chance to be creative and develop skills. Moreover, a degree from a British university surely looks good on your resume, regardless of your field of interest.
Just like the United States has the Ivy League, the United Kingdom has had the Russell Group, an association of 24 universities in the country, since 1994. Out of the list, the most known members are the University of Cambridge, the King's College London, and the University of Oxford.
One of the downsides of studying in the United Kingdom is tuition fees, as they can be quite high for international students. However, every university offers various scholarships for US students, so do not forget to check if you are eligible for any of them. Every university has different deadlines for application, so it is important to start searching beforehand if you want to move to the United Kingdom.
If you want to pursue your degree in the United Kingdom, check the official website for more information about the type of UK visa you need, since it depends on the duration of your studies. Moreover, internationals holding a student visa are allowed to work for up to 20 hours. Recently, the United Kingdom announced a new type of visa known as post-study visa, which allows students who graduated from a British institution to work for up to 2 years following graduation.
Remember that in January 2020, the country left the European Union so, if you wish to visit any European country during your stay in the United Kingdom, you will need to apply for a Schengen Visa.
Germany
Kartoffelklöße, Schweinshaxe, and Schnitzel. Do you know what these words mean? It is a common stereotype that German is a harsh and hard-to-learn language, but once you fall in love with German food and start learning words for it, the road from there is pretty easy, and learning the language will be a breeze. In recent years, Germany has become a top destination for international students because of its high-quality education and cities full of history. Berlin, the capital of Germany, also represents an amazing starting point for visiting Europe because many low-cost companies offer connections to all the main European cities. In Germany, just like in Norway, you can choose between different English-taught programs. Some of the best universities in the country can be found in Munich and Berlin.
Make sure to take advantage of the free language courses that many German universities offer to university students. Learning the local language might come in handy to make local friends and for job opportunities. Many international students decide to start working in Germany once they graduate, and in most cases speaking the language is an essential requisite for finding a job.
Moving to Germany would also give you the chance to take part in the Oktoberfest, one of the most famous European festivals for beer. Oh, and don't worry about your age! If you want a beer in Germany, you have to be 16 or older!
If you decide to study in Germany, make sure to check all the German visa requirements.
Australia
What's better than studying for your exam while lying on the beach and enjoying a sunny day? If the idea sounds good, and you want to move to a whole other hemisphere, make sure to check out institutions for higher education in Australia. Brisbane, Melbourne, Perth, and Sydney are some of the most well-known cities of the country and attract thousands of tourists and students every year.
Australia counts 43 universities, and some of them are considered the best in the world. You should check out the Australian National University and the University of Sydney. Australia offers a great variety of degrees and majors, and you can even combine some of them to broaden your knowledge.
The language spoken throughout Australia is English, so international students moving to the country have absolutely no problem finding their way. It does not mean that you shouldn't participate in language classes or language exchanges with international students. Hang out with people who have a different linguistic background and learn a few words of every language.
When it comes to Australian Student Visas, the visa required is called subclass 500. Although students have to respect certain requirements, it is considered a relatively easy visa to obtain.