When you are a student in another country, you can benefit from many things and visit a new culture, taste the food and discover the tourist attractions of the city. Do you want to discover the mysteries of Barcelona? Living in Barcelona as a student is an unbeatable opportunity to discover the city and meet people. In this blog, you will find all the information you need to get to know the tourist capital of Spain.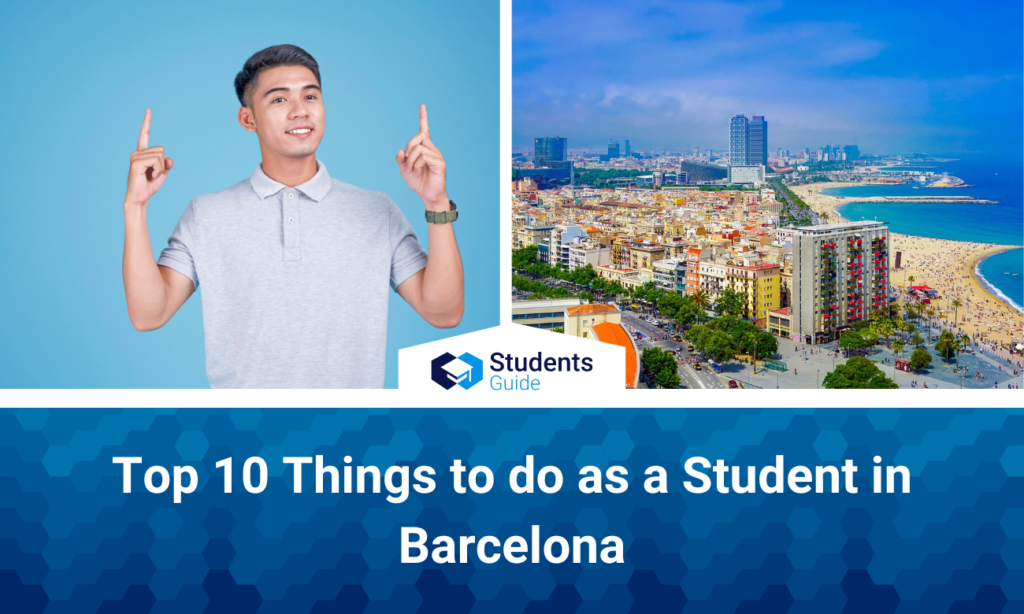 What to do in Barcelona if you are a student?
Here we come with 10 plans to do if you're a student living in Barcelona. Check this out!
Get to know the most impressive cultural sites
Barcelona has a wide selection of museums and theaters. Throughout the city, you can attend events of all kinds, from opera to historical museums of the city. The entrance to the museums mentioned below normally applies a discount for students with the ISIC card (university student). However, we recommend visiting the pages of the museums as there are days when the entrance is free. Among our recommendations are the following:
Maritime Museum of Barcelona MMB.
National Art Museum of Catalonia (MNAC).
Parc de Montjuic.
CosmoCaixa.
Vicens House.
Joan Miró Foundation.
Picasso Museum.
Museum of the History of Barcelona – MUHBA.
Museum of Natural Sciences of Barcelona.
Gaudí House Museum.
MACBA Barcelona Museum of Contemporary Art.
Eat typical dishes
For many years now, Barcelona has become an ideal destination for foodies thanks to a wide range of top chefs who have retrieved and created a cookbook of succulent and suggestive dishes. Some of the dishes we suggest are:
Butifarra,
Escalivada,
Calçots,
Calamari sandwich,
Coques (sweet or salty),
Catalan cream.
We always remind travelers that the best thing to do is to get lost in the city, but if you want to know specific places to eat typical dishes and discover the culture of the city, here is where to go.
We recommend a stroll through the streets of the "Born", visiting the market, and going to "El Xampanyet" a very typical bar in Barcelona where you can satisfy your appetite with traditional tapas and taste the most common drinks of the Catalan and Spanish culture. In the same area is "El Bar del Pla" a bar that has a variety of very interesting traditional alcoholic beverages, including "cava" and kilometer 0 wine.
Explore Barcelona beaches
Near the city of Barcelona, you can find numerous beaches where you can rest peacefully. There is the option to travel to the Catalan beaches by bus, or by any other means of transport.
Walking along the promenade and visiting each of the beaches will give us an understanding of the close relationship that the city has with the sea. Walking areas, where you can enjoy the warmer days sitting on a terrace or going for a swim when the heat is scorching, from north to south we can spot the following beaches:
Playa de Llevant,
Nova Mar Bella,
Mar Bella,
Bogatell,
Nova Icària,
Somorrostro,
Barceloneta,
Sant Miquel,
Sant Sebastià.
If you want to have a drink in the beach area, there is a wide variety of bars in the area. If you would like to go out at night to party on the beach in Barcelona the two most recommended places are: "Pacha Barcelona" and "Opium". These two clubs have a long tradition in Barcelona and always have events both in the evening and at night 7 days a week.
Plan a visit to Camp Nou and watch a match
Thanks to the team's recent titles, the Barcelona Football Club Stadium has become one of the most visited places in Spain. Inaugurated in 1957 as the Barcelona Football Club Stadium, Camp Nou (Campo Nuevo) is the largest stadium in Europe and one of the largest in the world.
An impassive witness to the victories and defeats of the team that gave birth to it, the stadium has huge worldwide fame that makes it a much-loved place. If you have the possibility, we recommend you find time to attend a match.
Go shopping
Barcelona, a cosmopolitan city, offers a wide variety of stores and shopping areas to everyone's taste: markets, luxury boutiques, shopping malls, craft stores, and even outlets. Among the most outstanding locations are the following:
Portal de L'Angel Avenue,
Les Rambles,
Diagonal Avenue,
Passeig de Gràcia,
L'Illa,
Diagonal Mar,
Maremagnum.
In the aforementioned shopping areas, you can find both the most internationally recognized brands (Louis Vuitton, Burberry, or Gucci) as well as very interesting small stores selling different items (clothing, jewelry, and much more).
Enjoy the music
Are you looking for live music in Barcelona? It is not surprising, since it is a city that hosts several bars and restaurants that have been able to experiment with tones, melodies, notes, rhythms, and instruments to attract customers. Indeed, the musical culture that lives right now in the Catalan capital offers the possibility to enjoy all kinds of genres, from jazz to flamenco. Some of the most recommended places to listen to live music are:
Heliogabal,
London Bar,
Tarantos (jazz and flamenco),
El Medi.
Go to PortAventura Park
When you hear the word PortAventura, you know that you are guaranteed to have fun, because this theme park is one of the most important in Europe. The park contains different areas inspired by different parts of the world (Mediterranean, Polynesia, China, Mexico, Far West, and Sésamo Adventure). Among the attractions and shows offered by the park are:
Hurakan Condor – An attraction with 100 meters of free fall.
Dragon Khan – A roller coaster with 8 loops and a speed of 110 km/h.
Shambhala – One of the tallest roller coasters at 76 meters high.
Furius Baco – One of the fastest rides with a speed of 135 km/h in just 3 seconds.
The park also has water attractions to freshen up on hot days and a theme park for children to enjoy. Although there are no specific student discounts, we recommend searching online for park discounts as you are sure to find the best price.
Visit the Aquarium
The Barcelona Aquarium is home to more than 11,000 fish and marine creatures of 450 different species and is one of the biggest aquariums in the world. It is an entertaining place both for children, who can go camping and sleep next to the fish and for adults who have the opportunity to dive with sharks. Although there are no student discounts, we recommend searching online for aquarium discounts as we are sure you will find the best price.
Have a good time at night and party
When the night takes over Barcelona, the appearance of the city changes. People of all ages can attend light shows, open-air cinemas, or pubs/discotheques. The most popular places in the city to enjoy music of all kinds and escape from reality are:
Sala Apolo,
Sala Razzmatazz,
Sutton,
Bling Bling,
La Fira,
Bar Mariachi.
In the aforementioned rooms, you can enjoy weekly events, enjoy international music and have a drink during the evening. In most nightclubs, the minimum age of entry is 18 years although it is possible to meet the requirement of 21 years for entry, do not worry you have a wide variety of nightclubs where you can go out and enjoy the night.
Visit the main monuments
Barcelona, which has more than 2,000 years of history, has a multitude of architecturally and historically significant, beautiful, and unique monuments. Among the most significant monuments in Barcelona, we can find: La Sagrada Família, La Casa Batlló or la Casa Milà. Here are some examples:
The Sagrada Familia,
La Casa Batllo,
La Pedrera (Casa Milà),
Park Güell,
Palau Güell,
Columbus Monument,
The Cathedral of Barcelona,
Arc de Triomf of Barcelona.
After reading this blog you have surely realized that Barcelona offers students and citizens a wide variety of activities and cultural visits to do. As you have read, the city mixes the historical with the modern, the popular culture and its traditions with the XXI century so anyone can find what fascinates him.
Barcelona, thanks to its good weather and being one of the world capitals of tourism has at the disposal of all visitors information about the city that will make it easier to discover the secrets that are found. What are you waiting for? Choose Barcelona as your destination!