The hometown of distinguished figures such as Pablo Picasso, Antonio Banderas, or Victoria Kent is not only known for its sun and beaches, as its distinguished gastronomy and great food products make Málaga the ideal place to experience the typical Spanish gastronomy of the Mediterranean area up close.
More than one million travelers visit Málaga every year, ready to spend one of the best summers of their lives. Families, couples, student groups… In fact, many come to stay. The foreign population on the Costa del Sol is growing exponentially, becoming one of the largest cultural melting points in Spain. Málaga is undoubtedly a tourist destination to everyone's liking. If you like the sun, of course…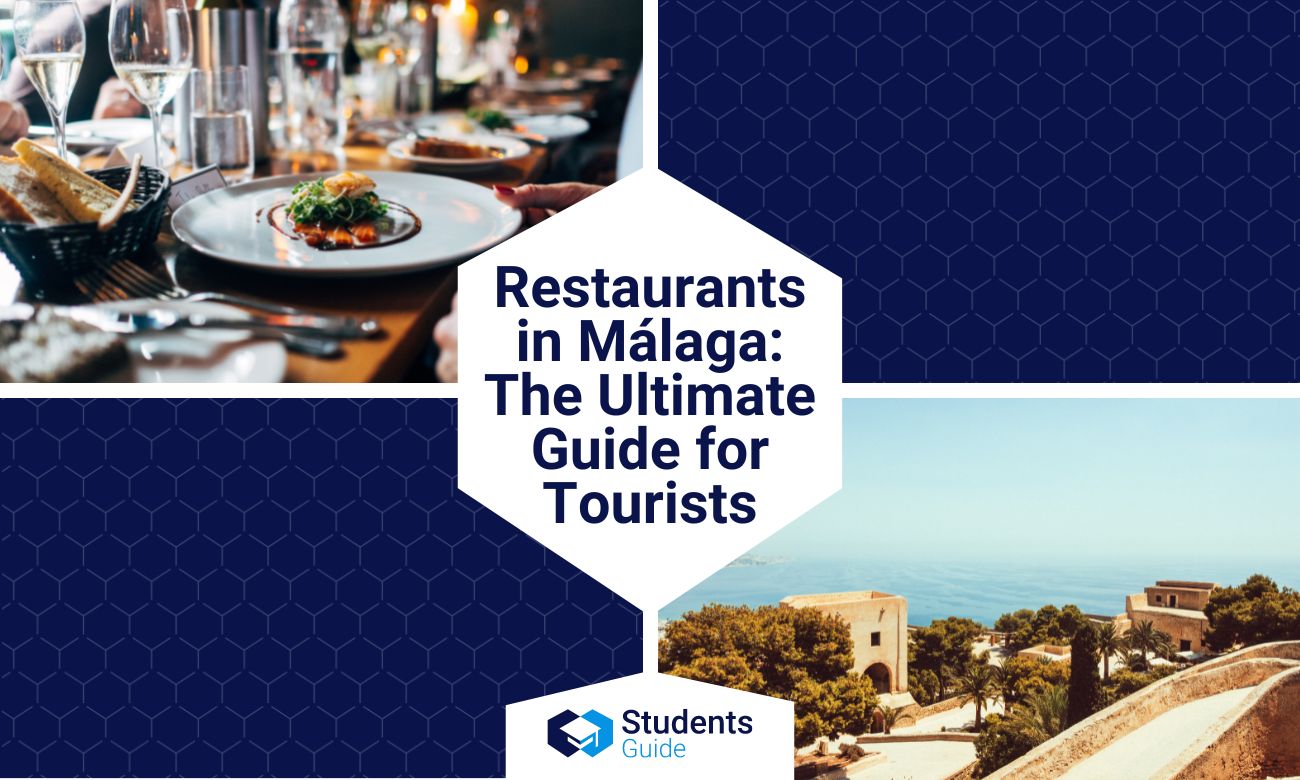 Its geographical location helps us understand the nature of its cuisine and the products on which it bases its gastronomy. Far from the spoon dishes so typical in Asturias, the Galician seafood or the terrific meats in the interior of the country, Málaga serves as an example to represent Mediterranean food in southern Spain. In Málaga, you will find the tastiest fish, cold soups, fresh fruit just picked straight from the market, or products from the orchard of Málaga. Though you will also be taken aback by the delicious meat of the mountains of Málaga. Its wide variety of products and traditional recipes will surely arouse the curiosity of all those avid foodies who will be determined to start their Málaga food tour after reading this article.
Málaga is a city with a long tradition of chiringuitos (beach bars). From the neighborhood of El Palo, in the east, to the mouth of the Guadalhorce river, in the west of Málaga, you can find tons of beach bars. The tradition continues in Marbella, Torremolinos, or Fuengirola – coastal towns belonging to the province of Málaga, where you can find the magic of La Cosa del Sol, its people, culture, and way of life.
On the other hand, in busy inland areas of the city, either in the center or in its picturesque neighborhoods, just a short walk from the sea, we can find everything from traditional tapas bars to wine bars or restaurants of the highest level.
Undoubtedly, Málaga is a magnificent place to get to know Spanish cuisine in-depth, not only because of its super fresh products, but also for the privileged geographical position, climate, charm, and attractiveness for tourists. All of these factors make it an ideal place for chefs from all over the world wishing to open a business in a place with the necessary affluence to prosper and, at the same time, being far from the hustle and bustle of cities like Madrid and Barcelona.
On the other hand, its tourist character produces a super habitat of restaurants, especially in the center of the city, where we strongly recommend being careful when choosing a dining spot on a warm summer night. Hundreds (not to say thousands) of bars in Málaga would no longer be open if it were not for the tourists, their predominant clientele, many of whom believe they are tasting some juicy calamari of the day with a side of garden-fresh vegetables, but in reality are being served nothing more than some crappy frozen food which they pay a fortune for. In other instances they may be "enjoying" a fried fish of dubious legality, cooked in last week's oil that has not yet been thrown away and replaced by a clean one the way it would be done in a restaurant with a minimum ethics standard and culinary rigor. That is why you should know well where you enter before paying for something that is low in quality or, even worse, spend the rest of your trip battling food poisoning.
In this article, you will learn everything you need to know about restaurants in Málaga which ones should not be missed and which ones to avoid, as well as tips, typical products of the land of Málaga, and traditional dishes that you cannot forget to try. We will also provide answers to the frequently asked questions such as where to eat vegetarian food in Málaga.
Food in Málaga, Spain – An Overview
Before embarking on your Málaga dining experience journey, you NEED to know that in Málaga – even if they look and taste similar – instead of salmorejo, you have porra antequerana. You should also know that a great variety of fruits like mangoes, peaches, avocados, or grapes are grown in Málaga's rural area, or that you can not leave without visiting Los Baños del Carmen, stroll along the promenade of El Palo or Pedregalejo at night and sit down to eat anywhere with the locals, because unlike the rest of the beach bars in Málaga, the east of Málaga offers quality in 9 out of 10 of its restaurants.
Famous Local Products
Below, the local products you just cannot miss in Málaga:
Cane honey: A product originating from Frigiliana (a village in the east of the province of Málaga). Its composition is 100% natural, which makes it a very healthy product. When you go to a beach bar, ask for fried eggplants. They will bring you a jar of cane honey, so you can serve it on top as you like.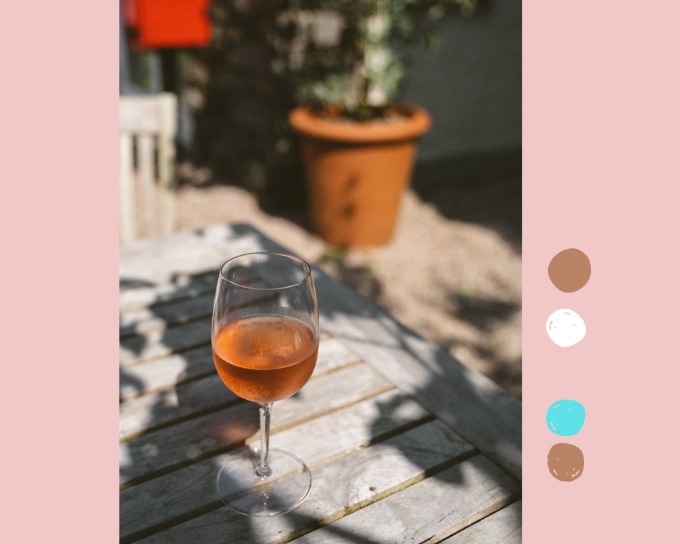 Sweet wine: the typical Málaga sweet wine is different from the rest of the wines originating in Spain, such as Ribera del Duero or Rioja. It is made from muscatel and Pedro Ximenez grapes, cultivated in the mountains of Málaga or La Axarquía. You can find good local sweet wines easily; although, if looking for the ultimate wine bar and a diverse wine cellar, we'd recommend places such as Los Patios de Beatas, Vino Mío, or La Antigua Casa de Guardia.

Muffin bread: popularly known as mollete (Spanish pronunciation: [moˈʎete]) in Málaga. This bread, also originally from Antequera (a town in the north of the province), is a very special type of bread, which is characterized for being a white and moist bread with a soft crumb and made half-baked. If you are visiting Málaga, don't forget to try this delicacy with your breakfast. Although it is very tasty with tomato or Iberian ham (they go even better together), the Andalusian tradition dictates that it should only be served with one ingredient: olive oil (maybe a bit of salt). For those with a sweet tooth, we recommend mixing the mollete with oil and a pinch of sugar instead of salt. You will see for yourself how delicious it is!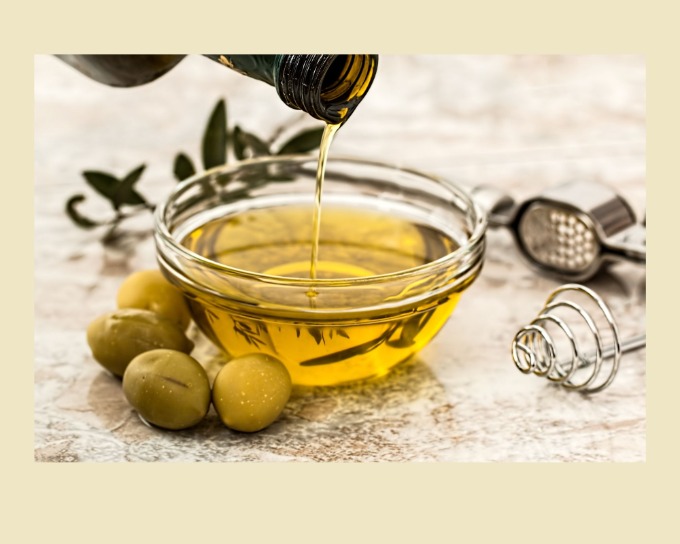 Olives from Alora: If there is one thing for sure in Málaga, it is that if you go to a chiringuito, they have to serve you some olives from Alora (a beautiful village on the right bank of River Guadalhorce). Its bitter and strong flavor makes this olive one of the most exquisite of all Mediterranean gastronomy.

Axarquía raisins: originating in the Axarquia area of Málaga, these raisins have their own denomination of origin and contain high levels of antioxidants. Their unmistakable sweetness and laborious preparation process make them one of the most coveted Málaga products in the world.

Málaga goat cheese: among them, we can find some of the best qualified and most ecological cheeses in the world. There are different kinds of goat cheeses according to their ripening, flavor, and texture. However, their production is not high, so it is not easy to find good goat cheese.
Traditional Dishes from Málaga
Porra antequerana: originally from Antequera, a municipality in the northern part of the province of Málaga, this is a type of thick soup made from tomatoes and fresh vegetables, which is accompanied by ham, boiled egg, and sometimes tuna. Undoubtedly, this is one of the favorite starters of Málaga locals in spring/summer. If you have ever tasted gazpacho, typical all over Spain, and you liked it, you can't miss this!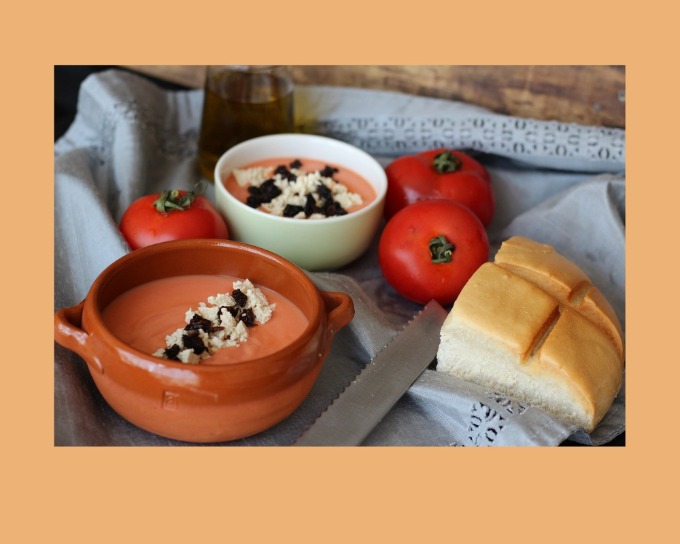 Ajoblanco: Although not 100% from Málaga, as you can find it in other Andalusian towns, this delicious cold soup is very typical in Málaga. Made with water, oil, almonds, bread, garlic, salt and, optionally, vinegar, it's the perfect option for a hot summer day. It's pronounced [a.xoˈβ̞lãŋ.ko].

Campero: The most requested fast food dish in Málaga. It is nothing more than a bread sandwich with a circular shape, very similar to the well-known mollete antequerano, known as campero bread, to which a series of ingredients are added after which it ends up toasted on a grill. We recommend trying the campero at Mafalda (Pedregalejo promenade) or Burger La Parrilla (downtown).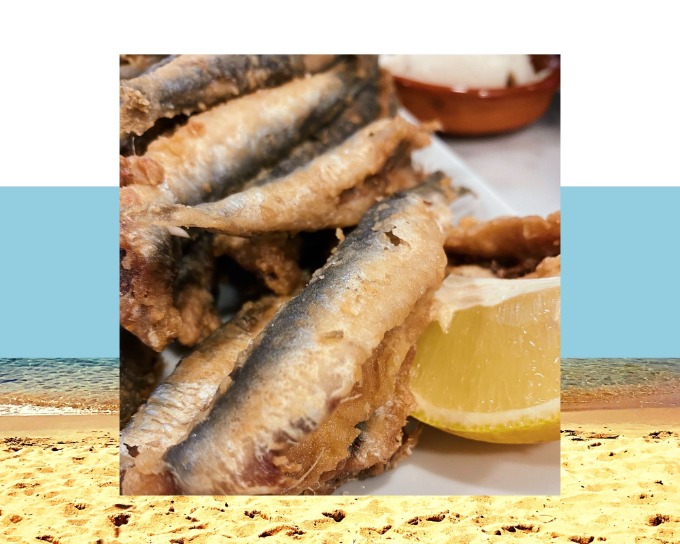 Fried anchovies: the Victorian anchovy from Málaga is such a typical product that even its locals are known nationally as boquerones (anchovies). Simply fried in abundant olive oil, they are an authentic delicacy. Although the truth is that any fish fry is exquisite in Málaga. Do not forget to order a side of a roasted pepper salad to accompany your fried fish, it's like a religion for locals!

Concha fina: also known by the name of Málaga clam, this is a must for mollusk lovers. Its size can reach up to 12 cm in diameter, with red and white flesh. It is also distinguished by the fact that its shell has no roughness, hence the name. There are many ways to cook them, though they do not require much seasoning, so we highly recommend eating them raw, with a pinch of salt, pepper, along with a squeeze of lemon. You can find them in any beach bar or seafood restaurant.

Loin in lard: this delicious meat can be eaten either as a combined dish, with a piece of toasted bread or simply as a starter. It is obtained from pork meat fried in lard. The lomo en manteca is typical in southern Spain, both in Cadiz and Málaga. If you are in the Costa del Sol, we recommend you to stop at Venta La Butibamba, in Cala Mijas, you will not find a more delicious loin in lard.

Suckling goat from Málaga: one of the most characteristic meats of the province. A traditional product produced from Málaga goats, the first Spanish goat meat with a guarantee mark. We highly recommend taking a short day trip to visit Canillas de Aceituno (>1h by car), a village located in the northeast of the province which forms, together with other villages in the area, the Axarquía of Málaga. You will not taste a more scrumptious thing for months.

Fritura de verano: a typical dish of Torre del Mar as well as throughout the Málaga area. Although you will not find it as easily in a beach bar in the city as is the case of anchovies or shells. This fried dish usually contains prawns, white fish, green and red peppers, spring onions, and eggplant and is a real delicacy!

Dish of the mountains of Málaga: you cannot leave Málaga without passing through the mountains of Málaga and trying this wonderful dish. You can taste it in any of the restaurants around, that's why hundreds of locals come every weekend. The dish of the mountains includes different meats (loin, chistorra, blood sausage), fried egg, fried bell pepper, and is accompanied by potatoes or migas (I especially recommend the latter option). Even so, keep in mind that anything you order in these restaurants will be great, whether it is croquettes or their wonderful rice dishes with rabbit meat.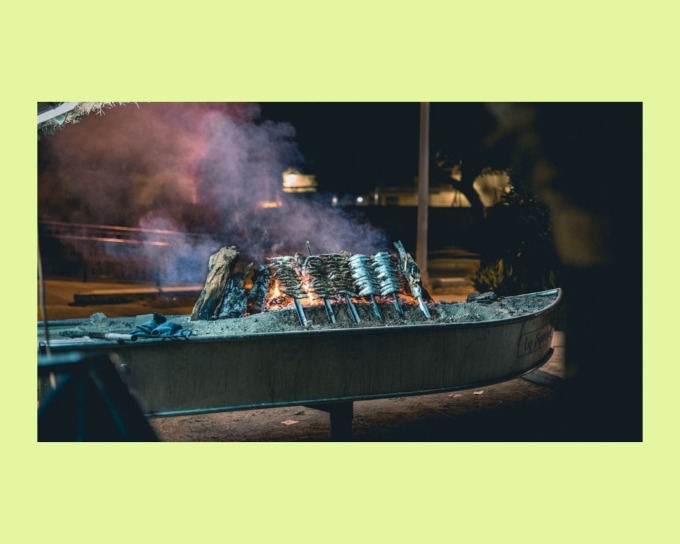 Espeto: and last but not least, the star dish! It is obligatory to try the sardines from Málaga, accompanied by a cold beer. They even look pretty, impaled on the rod, cooking on a small boat full of embers and the sea in the background. The espeto in Málaga equals summer. In fact, there is a popular saying in Málaga that you should only order espetos in the months without the letter 'R: May, June, July and August. You can eat them in any quality beach bar.
Where to eat in Málaga?
It is an undisputed fact that Málaga is full of restaurants. If there is one thing the people of Málaga like to do, it is to go out to eat, whether the weather is good or bad. Family or friends gatherings happen weekly. A weekend without leaving home for a Malagueño is an impossible option to consider. And many times, they don't even know where they are going, they just go out and decide as they go where to have lunch or dinner. The most typical areas are:
El Palo's sea promenade: you will never find so many quality beach bars all in one spot. Not only are they better, but the price is usually lower than in other areas of the city. In addition, you can easily find a big dining room where you can book a table for a big group of people. El Palo is the ideal place to try the famous espetos or fried anchovies on some outdoor terrace and enjoy nice sea views.

Echevarría de El Palo: in the inner area of this eastern neighborhood, you can find some of the best places to eat like a local in Málaga. You will hardly find a tapas bar that is not good enough around there.

Pedregalejo sea promenade: before arriving at El Palo, you will find Pedregalejo. For many of us, the most beautiful promenade along the coast. It's worth coming here just for a walk, although you will also find very good beach bars, a bit more pricey even so.
City center: as it can be expected, you won't only come across great restaurants but some of the best tapas bars in Málaga city center, such as in Calle Granada (Casa Lola), Calle Dos Aceras (La Luz de Candela), or Plaza de la Merced but you should be aware that just as one can be wonderful, the next can be a real rip-off. I highly recommend that you sit where you see locals and disregard the places where the predominant clientele is made up of foreigners, even if it's crowded.

Teatinos: the university area stands out for its numerous restaurants. Here you will find everything you are looking for, from a gourmet tapas bar to an Italian or a fresh seafood restaurant. Some places around even serve breakfast, as it's really close to the university area. This area is especially recommended for young people since it's quite easy to find cheap food and tapas bars in Teatinos. If you are looking for quality or to eat in a nice place, there are better areas in Málaga.

Echevarría de Huelin: a few minutes from the center, in the western part of Málaga, you will find the famous fishing district of Huelin. This area of the neighborhood, in particular, deserves to be taken into account and is where you can find different restaurants of supreme quality and at a fair price.
10 Best restaurants in Málaga, Spain
We come to the most difficult section: where to eat in Málaga? What are the best restaurants in Málaga? The truth is that, unlike other world-famous tourist destinations, Málaga is a place where you can eat well almost anywhere.
It was very difficult for us to formulate a list of the best restaurants in Málaga because of the huge number of places that we must leave out for this blog post. In addition, we wanted to include only those Málaga restaurants that serve traditional food or modern gastronomy typical of the town, (Spanish and Mediterranean cuisine) so we must leave out Asian, Italian, Indian restaurants, or wine bars, among others. Otherwise, this list would never end…
Without further ado, let's answer the following question: which are the best local food restaurants near me? Here we tell you what, in our opinion, are some of the best restaurants in Málaga.
Casa Lola: key tapas bar located on the busy Calle Granada. Casa Lola is a wonderful place to try the best traditional tapas and some more innovative ones. It is difficult to recommend anything from the menu, as it is huge and everything is delicious. *Average price: 20-25 euros.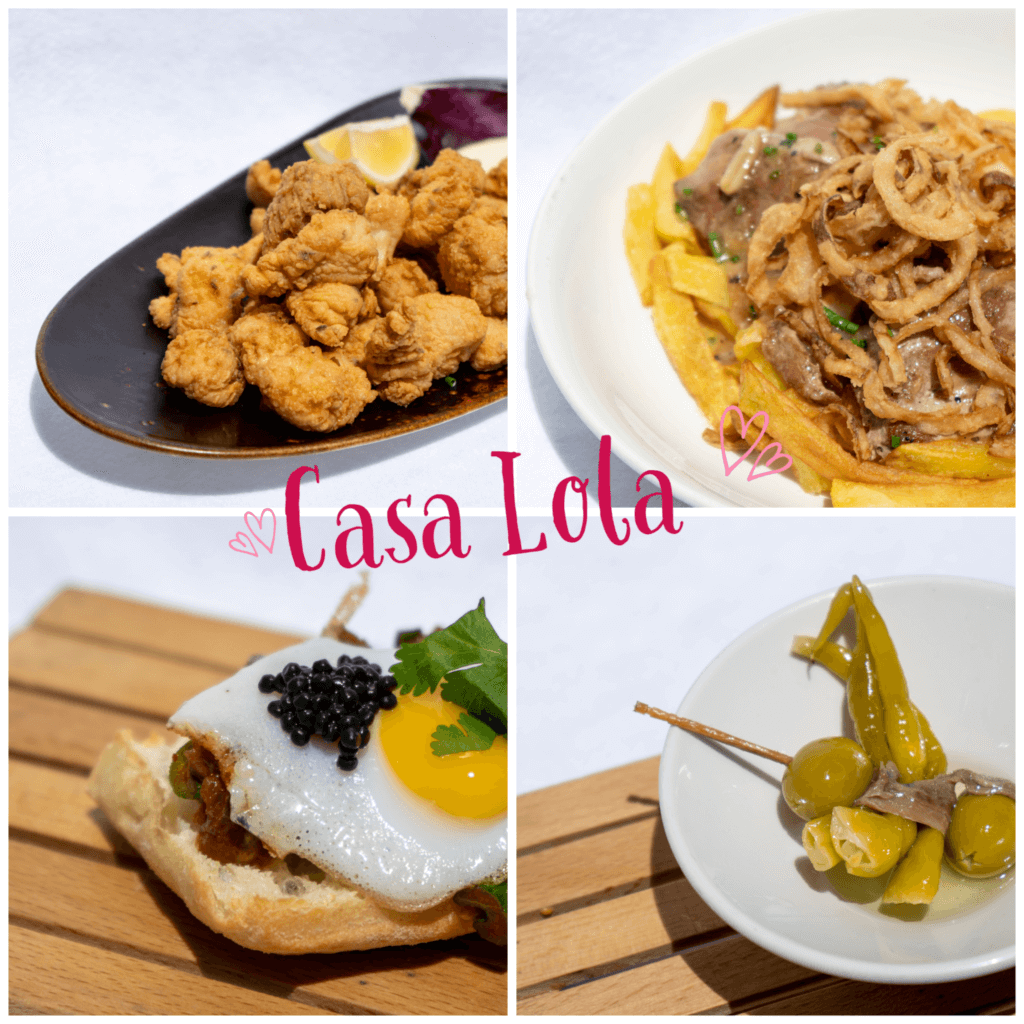 Er Pichi de Cai: located in the Echevarría de Huelin area, this small place with super friendly staff offers traditional recipes and products from the neighboring city of Cádiz. Here you won't find fried anchovies or sardines, but you can enjoy great service and the best products from the Atlantic Ocean area. Our recommendation is the grilled octopus, the puntillitas (a cephalopod of the cuttlefish family) and the tuna. Not a place with a big dining room at all, so you better be there early to avoid long lines. *Average price: 15-20 euros

Taberna Uvedoble: this restaurant near the cathedral of Málaga offers a menu suitable only for the most sophisticated palates. Its gourmet dishes combine Mediterranean food with haute cuisine. It is really hard to choose what to order, but if I were a foreigner, I would opt for those creative versions of typical Mediterranean dishes such as ajoblanco, porra antequerana, prawn salad, or toasted black noodles. *Average price: 30-35 euros.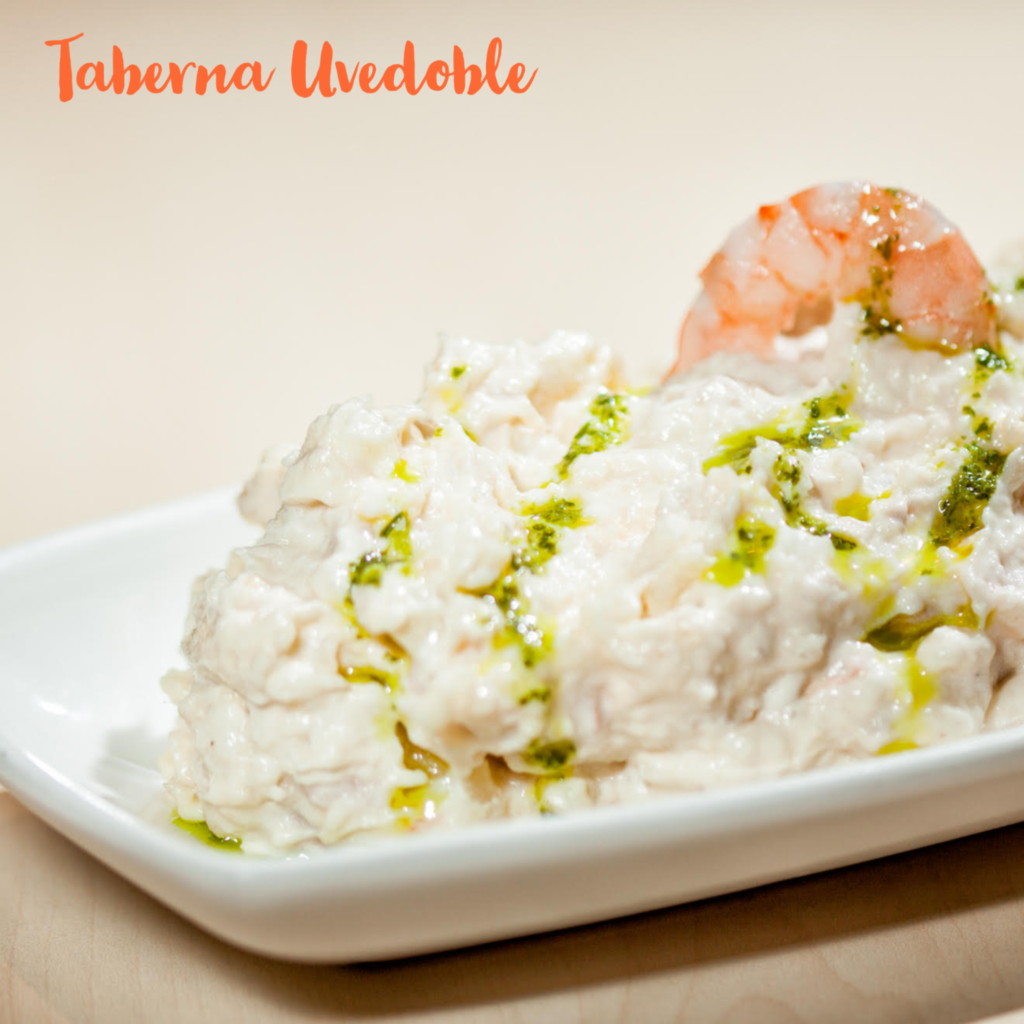 El Refectorium: open for almost 50 years, it can be found in both in the Malagueta area, a few minutes walk from the port of Málaga (Muelle Uno), and next to the Cathedral. Both establishments offer unparalleled quality, as they describe it: "sensible cuisine based on the best seasonal products". The Refectorium is undoubtedly a wonderful place to try Spanish products (ham, Iberian cheese, artichokes) or traditional recipes such as huevos rotos, or suckling lamb chops. *Average price: 35-40 euros

La casa del Perro: near the famous Uncibay square in Málaga, we find this beautifully decorated and picturesque restaurant. The menu changes every so often, so you will have no choice but to listen to your heart. We are sure you won't fail! *Average price: 20 euros.

Boca Llena: located in Teatinos, here you will have the opportunity to try one of the best fusion food restaurants in Málaga. They don't have a fixed menu either. Do not even think of leaving the place without trying their delicious desserts! They are crazy… Average price: 30 euros.

Mercado del Carmen Restaurant: Near the bus and train stations is the famous Mercado del Carmen, which not only has food stands, but also a restaurant where you can try the daily freshest seafood and fish. We recommend trying the fritura de verano or the red mullet. *Average price: 15-20 euros.

Buenavista Gastrobar: this restaurant of select and creative cuisine is undoubtedly one of the best restaurants in the city. In it, we can enjoy its delicious starters to its daring meat or fish recipes, but without a doubt, we think it is the ideal place to try a paella or a fideuá (similar to paella, but with short noodles instead of rice). Moreover, it is a must to try their cheesecake! *Average price: 30 euros.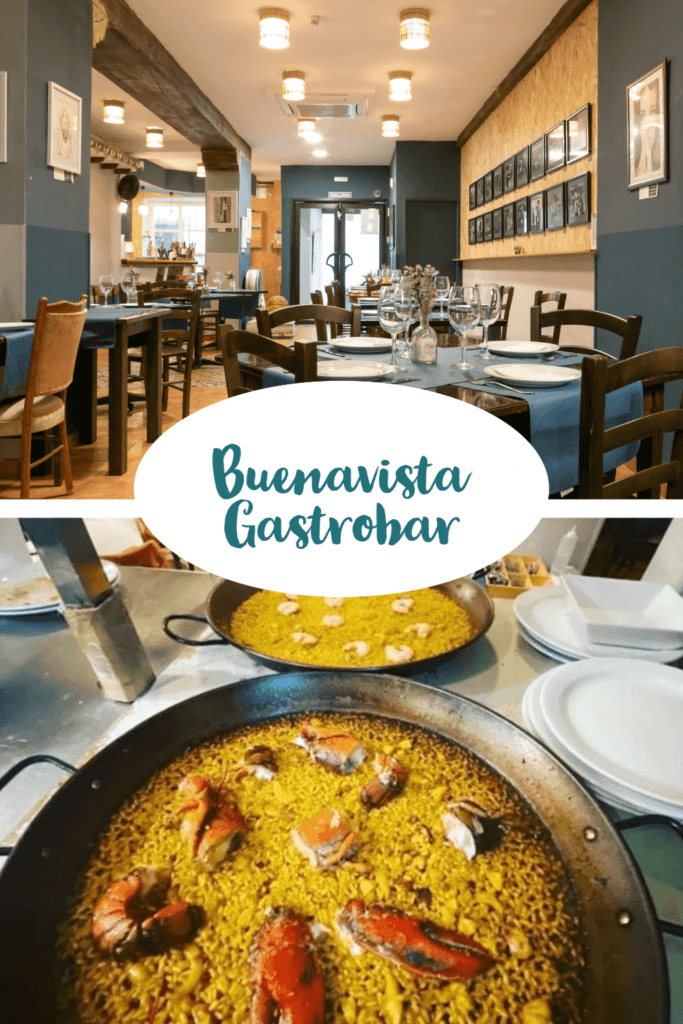 Chiringuito María: a key place to try the famous espetos or any other typical fish of the land, such as red mullet, squid, shells, prawns, etc. It is located on the Huelin promenade, in the western area of Málaga. A great place to enjoy some nice sea views from its outdoor terrace too. *Average price: 20 euros.
La Cosmopolita Malagueña: in a corner of Calle Granada you will find the best place, according to the national press, to try the traditional prawn salad, well-known in Spain as the Russian salad – which is not from Russia, but is simply called that way. – In addition, people agree to recommend their oxtail meatballs to all those who come to the restaurant for the first time. *Average price: 25-35 euros.
*NOTE: All the restaurants mentioned are well known in the city, so you should book a table a few days in advance. Nevertheless, some of them do not even accept reservations, so if you want to have lunch or dinner there, we advise you to attend the restaurant very early.
FAQs: best restaurants in Málaga
In this section, you will find the most common questions regarding where to find the best restaurants in Málaga and most recommended places to eat its most typical food.
What are the most popular restaurants in Málaga?
Among the most popular restaurants in the city, we find some of those mentioned earlier, such as the Chiringuito Maria or El Refectorium, which due to its high quality and years behind, have been consolidated in the city. Even so, we have left out of the list some of the most popular restaurants in Málaga because it seems to us that they are not up to par. This is the case of the El Pimpi restaurant in Málaga, located in front of the Roman theater, which is more of a tourist attraction than a quality restaurant, so we recommend that tourists come to take a look at its extensive wine list, have a drink and maybe a tapa but nothing beyond that. On the other hand, we have not included what is perhaps the most popular beach bar in Málaga, the famous El Tintero restaurant in Málaga, which stands out for its history and peculiar way of serving dishes. Even so, we still think that you can find better quality products in any other beach bar around El Palo.
How to find the best Spanish food restaurants near me?
Though Tripadvisor is quite popular in Spain, not all restaurants will be listed. Those traditional bars in town that have never used the internet or promotion of any kind can be found on Google Maps, the most functional tool to find the best restaurants in Málaga.
Which are the worst restaurants in Málaga?
I would recommend everyone visiting Málaga to avoid eating in restaurants or tapas bars located in touristy areas such as shopping malls, the port of Málaga (Muelle Uno), or busy areas such as La Alameda, Plaza de la Merced or Plaza de la Constitución, as the quality of the food is usually much worse and the prices are more expensive. Moreover, as mentioned above, we recommend not eating in places that are packed with tourists, and opt for those where the main clientele are locals instead.
What does the perfect Málaga food tour look like?
Wake up! It's time to go out and have a good mollete antequerano with tomato, olive oil, and cured ham for breakfast, accompanied by a coffee or freshly squeezed orange juice. And if you are really hungry, don't forget to try the famous Spanish churros! Take the bus and start your morning walk from Los Baños del Carmen, one of the most charming places in Málaga. Continue along the promenade of Pedregalejo (paseo marítimo El Pedregal), until you reach El Palo. Take a swim, so you will be hungrier when you get to the beach bar! Delight yourself with some espetos and fried fish in any of the beach bars in the neighborhood. You will be tired, so it is the perfect time to go to your accommodation, rest a bit and wash up. You need to look your best for a night out in Málaga city center. Enjoy some traditional tapas or dinner in a top restaurant (see the best restaurants in Málaga above). Once you finish dinner, it will be time to end the day with ice cream at Casa Mira, the most emblematic ice cream parlor in town (100% natural ice cream), or have a drink at the Chinitas Lounge or Ático Bar (at the top of the AC Málaga Palacio hotel).
Where to enjoy the best Málaga cheap food?
Eating in a tapas bar in Malaga costs approximately 10-15 euros (La Tranca, Las Merchanas, El Beato). If you prefer something even cheaper, we recommend Calle Carretería, where you will find different restaurants or fast food stands run by locals (pizza, Argentine empanadas, kebab…). Another option is to take a bus/taxi to Teatinos, where you will find the best prices in town.
Where to eat vegetarian food in Málaga?
If you are vegetarian, vegan, or just looking for a healthy choice, we are happy to tell you that there are very good restaurants for you in Málaga. We definitely recommend you to try El Calafate, El Vegetariano de la Alcazabilla or MIMO Vegan Bistro.
What restaurants can I find at Málaga Airport?
If you have to wait at the Málaga airport for a few hours after taking your flight, you might find famous restaurant chains such as Giraffe World Kitchen, the Barcelona-based sandwich chain Pans&Company, or the internationally famous Burguer King. For those in the mood for sushi, head over to Kirei By Kabuki. And very soon, the famous Spanish chef Dani García will be opening a new BIBO, his restaurant that is only available in Madrid and Marbella so far.
Are restaurants open in Málaga on Christmas day?
Most restaurants in Málaga stay closed on Christmas Day. Even so, you will find many restaurants open in Málaga city center, Muello Uno and Paseo marítimo el Pedregal and El Palo promenade.
What food to eat in Málaga, Spain?
If you are in Málaga and would like to try some of their most traditional dishes, we recommend you to try:
– Its famous cold soups like ajoblanco or porra antequerana;
– Fried fish. For example, you may want to order some fried anchovies or the fritura de verano;
– Campero, the most prized sandwich in the south of Spain;
Málaga's characteristic seafood. For example, concha fina;
– Take a trip to Málaga mountains and try the highly reviewed goat cheese, loin lard, and a plato de los montes, the most beastly dish you will ever taste;
– And finally, the pride of all Malagueños – the espeto, a different way of tasting sardines.
What time do restaurants close in Málaga?
Restaurants in Málaga usually close at midnight. However, kitchen service is available till 11pm in most restaurants.
Tips before traveling to Málaga
You must take into account the time of the year in which you visit Málaga. If you come in summer, you only need summer clothes, swimsuits, flip-flops and sunscreen (lots of sunscreen!). If, on the other hand, you come at another time of the year, you should know that in Malaga, as anywhere else, it can rain or get a little cold. Even on a warm day, you will notice a sudden change around 8 pm, when the sun goes down and humidity comes in.
Another thing you should know when visiting Málaga is that you come to relax. It is forbidden to bring any work or worries! Enjoy the sun, the family, the tranquility given off by the sea, and an atmosphere as pleasant as the Costa del Sol.🌞
And please be very careful with your belongings. Especially those valuables such as your wallet. There have been frequent cases of foreigners being robbed. It is not only the money that you lose, but also documents that you will have to re-process. Among others, your travel document, which you need to return to your country.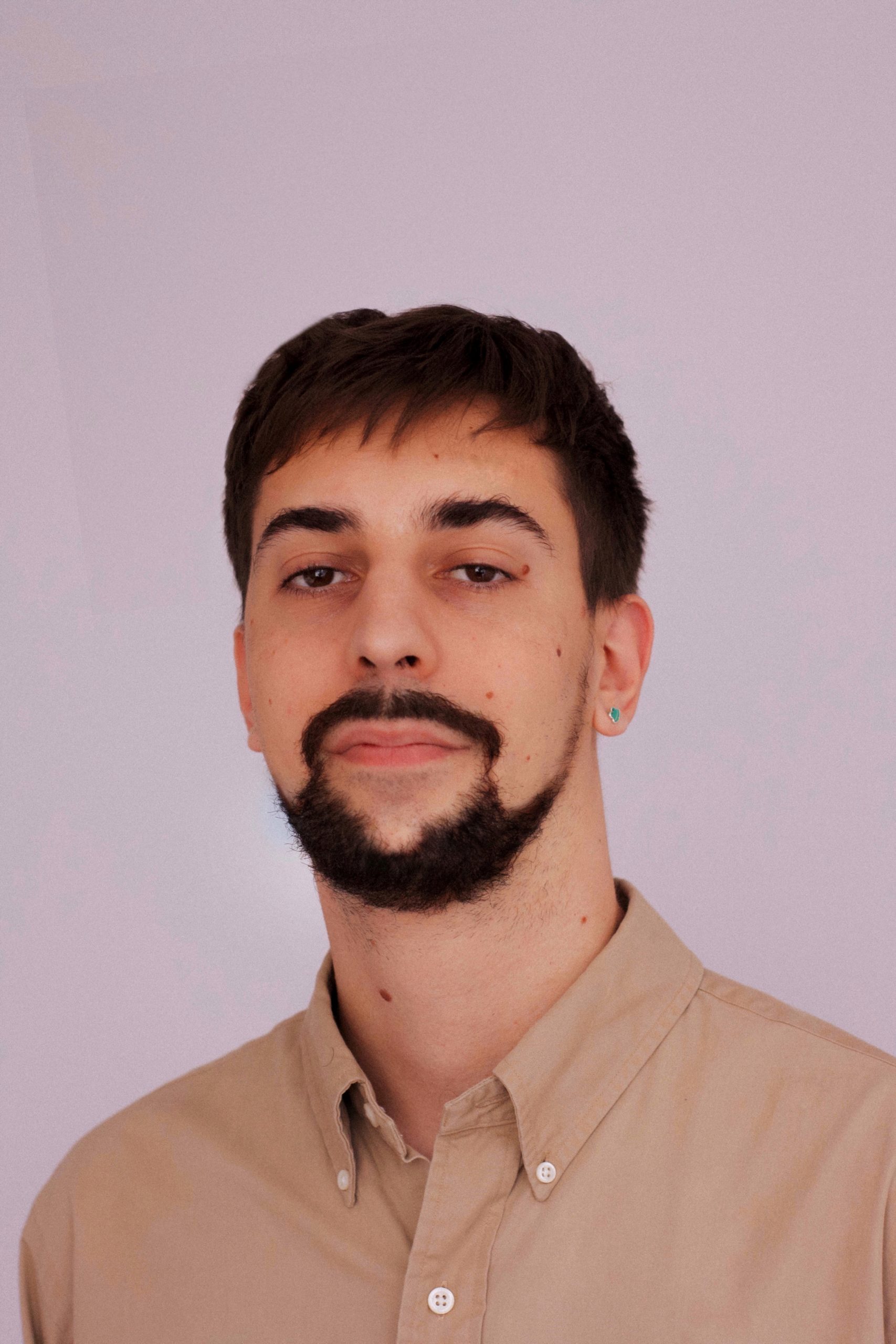 Born in Málaga, Alejandro Martín holds a Master's in Multilingual and Intercultural Communication. His love for travel mainly stems from his attraction to different gastronomic cultures and cooking. His other passions are Afro-American music and skateboarding.