Going abroad to study with your pet may seem complicated but it is not impossible. The truth is, if you follow all the steps carefully you will have no problem traveling with your furry friend. In this article, we will tell you all you need to know to plan your trip properly for your pet's best comfort.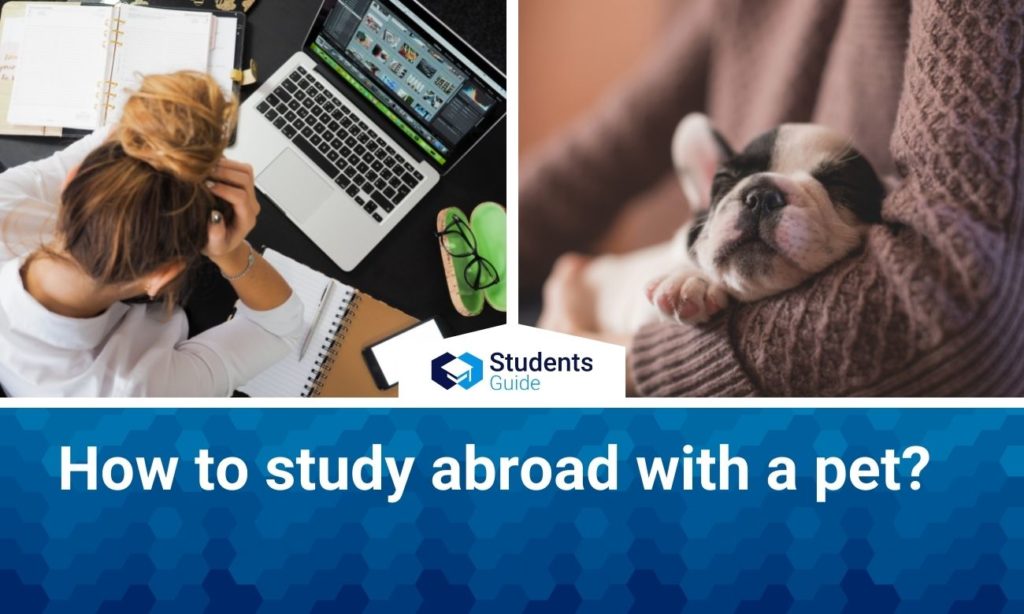 How to plan your trip
Planning your trip will consist of several important steps. So let's see what they are.
Appointment with the veterinarian
First of all, you will have to visit the veterinarian to make sure your companion is able to travel. You will also have to do all his vaccine recalls so that he is up to date and can be given a passport to cross the borders with you.
Choose the good airline
The very important thing is to choose your airline wisely and to make sure you know their policy regarding the transport of animals. You can contact your airline to ask all your questions and make sure you have all the needed answers. If you are traveling with a dog, it is important to know how much additional weight you can carry into the cabin with you. You will also need to book a non-stop flight to avoid extra stress for your pet as well as the risk that you will not be able to board the second plane in time.
Other things to know
Here are some other important facts to know before your trip:
It is important to label your pet's travel crate or bag as well as your luggage, especially for easier recognition at customs and security.
Most airlines allow you to travel with a maximum of 3 animals per person.
Dogs that can't fit in a bag that can stay under the seat must go in the dedicated pet compartment. Don't worry, it has a regulated temperature and pressure adjusted to the comfort of your companion.
When you pass through security, your pet must be out of its cage or carrier bag and pass through the gate with you. Prepare a harness with a leash to be able to pass the security without having to carry it, especially if it is a large dog.
How to find a pet-friendly apartment
Finding an apartment that accepts pets will certainly be more difficult than if it were a "classic" flat hunt. However, it is possible to negotiate to allow your furry friend to move in. The first thing to check if you find an apartment listing is their pet policy and restrictions.
During your negotiations with the owner, you can show him the "resume" of your pet prepared in advance with a picture of him, his character, why he would not destroy anything at the apartment, etc… This will give you a better chance of your pet winning the heart of the landlord. You can also offer to put down a pet deposit that the renter can keep if your pet causes too much damage to the apartment you plan to reside in. Remember, that if you have a service animal, you do not have to pay any fees as it's a necessity for you to be with your pet.
There is a category on Airbnb concerning apartments that accept pets. In the case of a university exchange or an internship, it is better to rent an Airbnb made for the long term rather than bothering with administrative papers with a real estate agency for only a few months long stay.
Make the trip comfortable for your pet
The essential element of a good trip is a good transport cage if your pet is placed in the hold or a transport bag if it is traveling with you in the cabin. For the cage that goes in the hold, provide a large enough space where your pet can stand and turn, lie down or sit. It must also comply with IATA standards.
In order to avoid vomiting or your pet needing to relieve itself during the flight, we advise you to stop feeding your pet 4 hours before departure time and have it relieve itself before entering the airport (and picking up after them of course). You can then put food and water in his cage for the trip in the hold or give him some snacks in the cabin. You can also drop off an absorbent towel in case anything unexpected happens.
Although the temperature on the plane is regulated, you can give him a blanket to keep him warm, remember that cats love the heat! In order to continue to reassure him so that his trip does not cause him too much anxiety, you can put a piece of clothing with your scent on it in his travel box as well as his blankie if he has one.
Summary: how to study abroad with a pet
Now you know everything you need to prepare for your trip with your furry friend. It is very important to be well informed before booking anything. Your pet is more sensitive to stress than you are, so you need to make sure that everything goes well for him. Now all you have to do is enjoy an incredible experience with your best friend!