Studying for a semester or loger abroad is a great experience, both for our education and our personal growth. Many students from all around the world choose to go to European cities to learn a new language and to attend famous universities.
However, spending long periods of time in a foreign country can be pretty costly and we always need to save money whenever possible. To help you in this endeavor, here at students.guide, we decided to walk you through some of the best international student's discounts in Europe.
In this post we will walk you through the steps you need to take to save some money on materials, travel and more.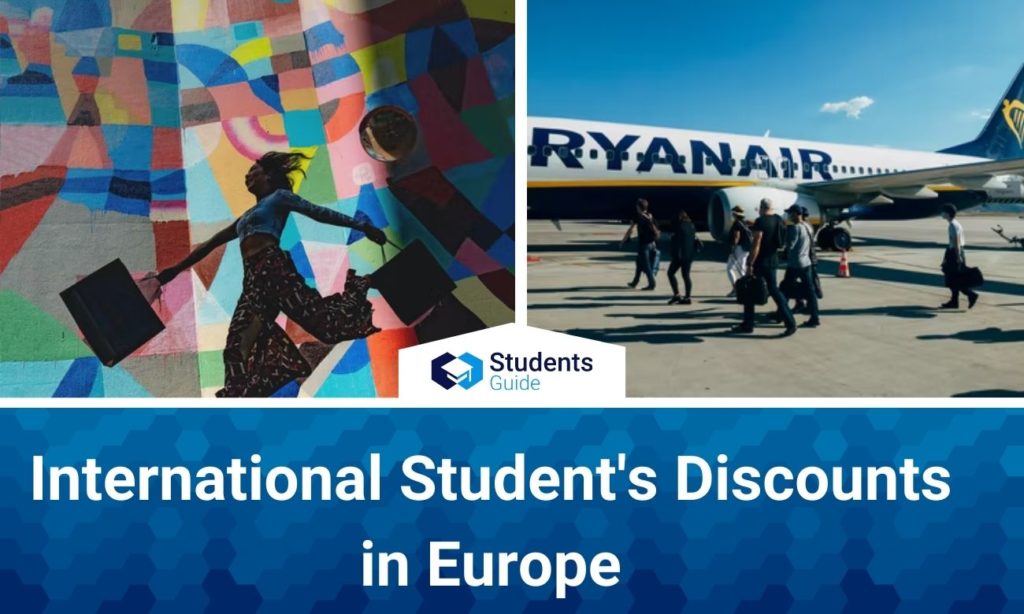 How to get student discount in Europe
Some might be asking "can you get student discount as an American in Europe?". The answer is yes. While your school ID card may not be accepted, there are some ways to ensure that you don't miss out on any discounts in your travels.
The first that comes to mind is the ISIC card, a student identification that will be valid all around the world. This service will allow you to get plenty of discounts on museums, flights, and all kinds of attractions and activities. Check the ISIC website to see what additional discounts they offer now. Getting an ISIC card is very easy, you can just order it online for a very low price: 15$ for one year and 28$ for two.
If you already have a TOTUM card, you can get a one-year ISIC membership for no extra charge. Whether you are going to Europe or somewhere else, the ISIC card is a must-have for long stays. In the long run, you will save much more than you realize. Another good idea is to ask your bank before the trip. You could get great deals on flights and rent, in some cases you might even get some kind of cash back option.
Student discounts in Europe – Travel
One of the highest expenses while studying abroad is transportation, both to get there and to move around. Luckily, you can find all kinds of student discounts online!
There are many websites to monitor for great deals on flights all over the world.
Here's a few of them:
Skyscanner
CheapOair
StudentUniverse
Kayak
Another very popular means of transportation among students throughout Europe is the train. All the continent is very well connected by a wide network of railways that can get you almost anywhere you need to go. While it might not be the fastest way to go, it's a great way to explore Europe and enjoy the landscapes. Also, you won't need to worry about extra charges for luggage or anything else, you can just hop on the train and go!
All people from the age of 12 to 27 qualify for a 27% discount on the Eurail Pass, which allows unlimited travel in 33 European countries for a time up to 3 months. If you want to travel around the continent, this is one of the best ways.
Remember also to look if specific train companies offer reduced fares, you'll be surprised how many in Europe do. For local transportation, check with the transport authorities of the city you are staying in, most of them will offer students discounts on long term tickets and public transport cards.
Student discounts in Europe – Accommodation
If you are looking for a place to stay in a European city, in most cases, you'll be able to find dorms, student houses, and rooms for rent for very affordable prices. While you might not find a lot of actual student discounts for housing, there are many ways in which you save on rent.
First of all, check in with your University, they might point you in the right direction, suggesting specific websites for local housing.
As a second step, go to savethestudent.org, you will find extensive guides on how to save money on housing as a student. It wouldn't hurt to check also StudentUniverse, you might be able to get useful vouchers or coupons.
Another great option is to look on AirBnb, you'll be able to find many accommodations for a wide range of prices.
For shorter stays, one of the best options is Hostelworld, a website that offers plenty of dorm or private room options that you can filter by price and rating.
Another thing you should always do is check the discounts available with the ISIC card, you might happen on some good deals on hotels and hostels.
Student discounts in Europe – Museums and attractions
In all countries in Europe, you can find student discounts in museums, theaters, and cinemas. The specifics of these discounts depend on the country and they might also be different from one institution to another. The best way to know for sure is to ask at the counter, they will be able to tell you if they have anything that applies to you. The ISIC card will prove useful in this case too, however, sometimes any kind of student ID will do.
Remember to check online for any particular student discounts offered in the country you are visiting, they might have specific deals for cultural activities and much more.
Student discounts in Europe – Additional tips
Both when you are in your country and when you are abroad, remember that there could be student discounts and promotions on almost anything. When you go shopping or look for somewhere to eat, be sure to always check if there are any special deals for students. Many big chain stores and companies might have good offers that will save you some money.
Another thing to keep in mind is that many online services also offer student discounts: e-commerces, streaming platforms, and others could cost you less than you think. If you need any kind of material for your studies, be sure to ask both at the University and in libraries if you can get a discount with your student card, there could be many great deals you are not aware of.
Student discounts – Conclusions
We all know that being a student can be quite expensive, especially if you decide to travel to another country. However, in many places you may qualify for a number of student discounts, saving large amounts of money in the long run. So, always keep your student card with you and make sure to be on the lookout for any special offers.
Pack your bags and hop on a plane, Europe is waiting for you!