Once you finish high school, you find yourself in a new situation: what to do next? There are many possibilities: you can start a job, go to university, do an internship, take a gap year to travel, and more.
If you choose to start University far away from home, in another city or in another country, you should find a place to stay, and we're here to help you!
Choosing your accommodation is one of the most exciting parts of the experience, but it can be pretty challenging. There are so many options to go through, and you could feel lost, but we'll give you some tips to choose an accommodation that fits you. Don't forget, there's no right or wrong house, just the one that is perfect for you!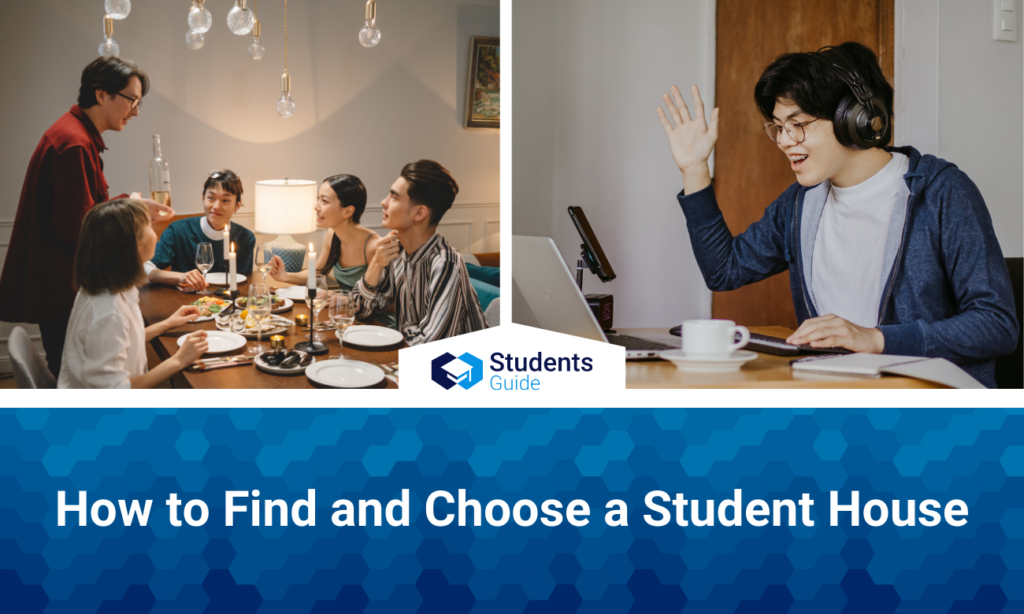 How can I find accommodation?
Before choosing accommodation, it is better to have different options to analyse, so it is important to know where to search.
If you want to find a house before moving to another city, you can search on:
University website: usually on the website of every university there is a housing section. From there you can get in contact with tenants or halls of residence.
Notice board: you can search for a house looking at notice boards in University, around the city, in bars and restaurants.
Estate agency: this option is very common and it can help you save time, because the agents will guide you through the process, but it will be more expensive because they will ask for a commission.
Friends: if you know someone who is living in the city you're moving to, you can ask them if a room in their house is available or if they know someone who is leaving.
For rent signs: you can directly search for 'for rent' signs around the city. First, you can decide the best neighborhood you would like to live in and go there to search for accommodation.
Where to live?
Where you live plays an important role in your life, because it is a place where you should feel safe, happy, comfortable, where you can study, relax, feel free to do whatever you want.
Let's find out the pros and cons of each option:
Student hall
Student halls are large blocks of flats housing a lot of students. Usually, they have hundreds of furnished bedrooms with shared kitchens, sometimes the bathrooms are also shared, but some rooms have a private one. These halls can be provided by universities or they can be private.
Pros of a student hall
integration: you'll never be alone. If you live with other students, it will be very easy to meet new people and socialise with them. You will feel connected with other people like you, you can have the opportunity to cook with them, study together and go out for a pizza.
support: you can have help when dealing with any problem.
location: everything you need is very close, you don't need a car to go to the library or the gym because they're usually a five minute walk. Moreover, if you find yourself in an emergency scenario, desk attendants, security cameras, roommates and police are there to help you.
opportunities: you won't miss the chance to organise a movie night, recreational activities or quiz and games.
Cons of a student hall
cost: student halls are usually more expensive than renting a room in a private house.
lack of privacy: it could be difficult for you to share spaces with other students, for example, the kitchen or the bathroom because they can forget to clean or you have to wait for them to finish. In addition, they can make too much noise while you study or at night when you're trying to sleep.
people: you can't choose who you live with, so if you don't get along with them, your stay can be challenging.
Student house
If you decide to live off campus, you can choose to live in an apartment or rental house with or without roommates, and you have to address a private landlord or a building management company.
Pros of a student house:
independence: you can choose to rent an entire house just for yourself or share it with fewer people, you can also rent it with your friends. You would enjoy having your own room, bathroom and kitchen.
location: you can choose the neighborhood that you like, with all the facilities you need, for example, a gym, a book shop, a supermarket.
cost: you can choose a house that fits your budget.
Cons of a student house:
responsibilities: you have to pay attention to your budget, organise your utility bills and rent. In addition, you have to respect other people around you, you can't make too much noise, because otherwise your neighbours will be annoyed.
distance: the house can be further away from the university, so you can't come back home for lunch before late classes or you should take a bus to go to lessons and wake up earlier.
Things to consider when you look for your accommodation
There are some questions you should ask yourself when you decide to look for student accommodation.
Do I want to live on or off campus?
Do I want a single or a double bedroom?
How many people do I want to live with?
What's my budget?
Do I prefer to live in the city centre or do I prefer a more quiet place?
All of these are important factors that need to be considered, so we suggest you make a list of things you want for your accommodation in order of preference, it will be easier for you to make a decision.
Here is a list of some to not forget:
Location
Price
Size of the room
Clauses of your contract
Furniture
If pets are allowed
Condition of the home
Noise pollution
Parking.