For students attending university or college, it can be quite difficult to deal with classes, maintain college life and make a living all at the same time. Additionally, with the advent of technology, students may want to do something outside of being a student or foster their development with pursuits outside their branches. Bearing this in mind, finding an online and/or remote job for college students has become both a vital and rewarding way of making a living.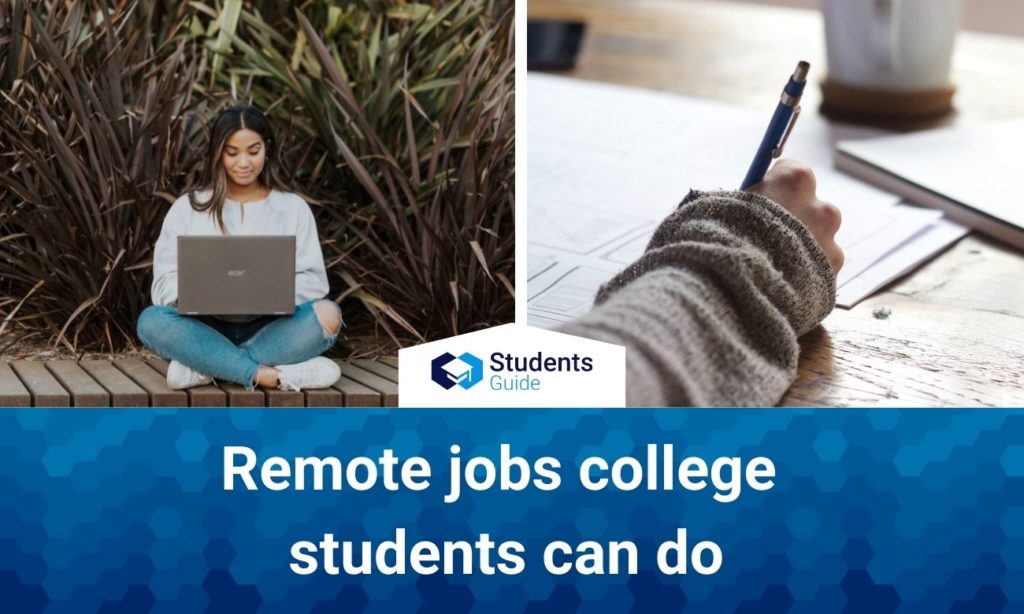 Why are remote jobs for students in rising demand?
Lately, with the changes technology has brought to modern life, job opportunities and career options have been on the rise. As a result, in any field, it is starting to become much more accessible for college students or university students to find a job they can do remotely. However, it can be very difficult for people to find a job opportunity that will also benefit them, and contribute to their own life projects and career development.
Admittedly, many university students are in an educational system that has become more demanding and difficult to manage than in the past. However, there are obviously many ways they can overcome these difficulties while striving in their daily lives. A key aspect in the evaluation of job options is that the reason students should look for a job opportunity is not only earning their living: something the 21st century has taught is that workers should always seek to improve the range of their skills and abilities, not just be good in one single field or profession. Therefore, in order for individuals to be successful in life, it is crucial that they foster their abilities not only in the department they study at university, but also in what they see as an achievement for themselves.
Remote jobs college students can do – why are they important?
In this article, we have made an account of how university students can both save time and improve their skills very easily, taking advantage of the computers and phones they use every day. In an age where the Millennial and Z generations are most familiar with technology, it becomes possible for them to seize every opportunity they get with the devices they know how to use best, including job opportunities that can help them earn a living. If we can use online services to study, work, do our daily chores and even do our grocery shopping, young individuals have many windows of opportunity for growth in their daily lives.
Foremost, it is now possible for university students, or millennials and Z generation folks in general, to find themselves in a position of talent or knowledge in every subject, considering that they are not limited to the field they study in. This way, they can foster their development in other fields, with many of these fields being intertwined with today's technologies. Essentially, all university students or young adults need to do is tune in from points all over the world with their computer, desk and internet access. In the process, most of them will find ways to earn their own money very easily.
Since there is so much variety in this regard, each individual is now more likely to find a remote job opportunity that he or she finds enjoyable. It thus becomes a very easy process for them to create an environment where they do not think of their student/odd job as a desk job and where they can train their abilities and learn new things at the same time.
How can students manage both online jobs and college life?
As there are many jobs that college students can perform online, they get the opportunity to work remotely without straining their lives. The reason for this is that online and/or remote jobs have a different operating system than your average daily, mandatory in-person occupation. This includes flexible working hours or hourly work systematization. As a result, it becomes easier for those who wish to manage school and work simultaneously, whether they seek a part-time job or a full-time job.
This is also a golden opportunity for college students to be productive and gain experience. Together with these experiences, they can start preparing for the type of work they may do in the future and potentially become future employees or even employers of the business they are hired in.
9 ideas of remote jobs college students can do
In this article, we have listed jobs college students can do remotely, with top-tier ideas that we think will at least give you some direction as to what professional field you may choose. Our list is the following:
Online Tutor
Freelance Writer
Editor
Graphic Designer
Virtual Call Center Agent/Virtual Assistant
Social Media Manager
Virtual Data Entry Clerk
Translator
Technical Support Representative
We are now going to expand on the specificities and appeals of each of these job types.
Online Tutor
Considering students are mostly adults, yet still students, and that the education they have been receiving for years is a big part of their lives, they can acquire work experience as online tutoring by passing on their knowledge to other individuals. Online tutoring is a sound choice as they may also improve their communication skills by learning how to better convey information when sharing what they have learned in class. In addition, since they often have to craft suitable study programs with the person they teach, they might also gain time management skills to help with their own schoolwork.
The best method for students to reinforce their knowledge of a lesson or subject is to refresh their memory by passing the information on to another person. Therefore, it can be said that the most basic online job opportunity that university or college students can consider as a remote job is to give lectures in the first place. In addition, since in recent years, the education system has now vastly implemented online teaching due to the pandemic situation, university students can teach remotely as a time-saving solution. All you need is an internet connection and a computer. In this way, most college students like you can make a living by teaching online.
Freelance Writer
Being a freelance writer is a job opportunity that any college student can do. To perform this job, it is not necessarily needed to be a literature student. It is quite possible for every student who has refined writing skills and a good command of their language to write freelance. In addition to being possible, there is also a need and demand for content writing in all fields of business. As such, students can both improve their writing skills and learn new things in different business fields. Areas where a freelance writer is often needed;
In fact, freelance writing is quite advantageous in every subject because it allows students to both gain new knowledge and improve their writing, while potentially starting their own blog. In addition, students can be hired for freelance writing and SEO in companies. At the same time, since freelance writers decide on their flexible schedule and the budget of their articles, students who want to work and earn money in the evening will be able to do it from their computer only. Moreover, they can decide for themselves how much they earn.
Editor
Being an editor is a valuable remote working option for college students who want to pursue a career in writing, as well as for students who want to earn money online. As such, they can edit articles freelance or find an opportunity to work for a bookstore or a publisher. They can edit magazines, books and news publications in newspapers.
Graphic Designer
Graphic design can be cited as an example of an online job opportunity for college students who are studying or who have some competency in graphic design or in any field related to fine arts.
The spectrum of possibilities in this occupation is quite wide. It especially requires more experience and talent in the visual field, which makes it easier for people who have developed a skill set in this field to make a profit. But anyone who can use certain computer programs can also find a job at a basic level or related to graphics of all kinds, including logo design, magazine or book cover design, billboard slogan design for companies, or even personalized tattoo design.
In this manner, college students can earn extra income directly from where they live, just needing an internet connection and the necessary computer programs, which are accessible from anywhere. At the same time, it is a very productive method for those who want to expand their skill set, but also for college students who have trouble finding an environment to practice these skills. This way, students who work remotely as graphic designers can choose the design they want to work on and make money from, and have the freedom to turn down a job offer that does not match their skills and expectations.
Virtual Call Center Agent/Virtual Assistant
When we look at the potential online jobs that college students and even young adults can do, whether your field of interest is a department related to medicine or fine arts, a profession you can easily pick as a remote job is to work in a call center. This comes after companies' growing drive to open the conversation about what to change in products and services to better match customer needs, and find solutions when a problem arises as part of their business operations with them.
Since this requires extra effort, people who deal with customer inquiries should be able to provide service 24 hours a day, every day of the week. A virtual assistant's role is to help find solutions to customers' complaints or reported issues that they can handle in less time through phone calls. Therefore, college students can meet the needs of the companies by providing call centers with their service in their spare time or at night, as well as meeting their own needs with regard to the hours they want to work. All you need as such is a laptop and an internet connection.
This activity can help students improve their communication skills, become more cautious and tactful, while gaining the ability to manage crises. The communication skills they develop makes this job a valuable experience which can prove useful for both their college life and future career-oriented plans. It is quite possible to find a virtual call center job, also known as a virtual assistant, as an online job.
Social Media Manager
The way young people's daily lives are intertwined with technological devices has been highlighted many times before. Now, we will explain how they can earn money by finding online job opportunities specifically harvesting these technological tools. One of the easiest yet often neglected parts of companies' and brands' business is to manage their social media feed, share publications and use their accounts in an up-to-date and active manner to attract customers. Nowadays, just as college students can hardly live without a smartphone, there is also a large fringe of people who cannot live without social media. Therefore, it can be said that an age group that uses social media so actively can generate additional value by taking charge of the social media accounts of a company from their own phone or laptops. Of course, this can be done as remote working, because it is intertwined with technology and virtual life, and as such allows young people to thrive without needing to develop in-person social skills.
Virtual Data Entry Clerk
Data Entry Clerk can be regarded as a profession with a level of strain that a college student who wants to make money online can very much handle. This occupation consists in processing data generated by companies concerning their revenue, expenditure and profit, resulting in a digital record of information similar to a balance sheet. Technical aspects aside, the largest requirements in the data entry field are time management and organizational skills. It is possible to provide data entry service very comfortably by manipulating online documents and navigating a digital environment. This can be done from an office setting, but also from home, from a dorm room, café or any place equipped with an electronic device and Wi-Fi.
Translator
When looking at potential jobs for college students, if they happen to be proficient in one or several foreign languages, they can turn this into an opportunity and find a job to capitalize on their language skills. To work as a translator, the student does not necessarily need to be a language student nor major in translation, though this can of course provide a competitive edge for recruitment.
One of the best remote job opportunities for language learners is freelance translation. They can learn a lot from an experience translating formal financial or legal documents, or possibly even earn money from translating the subtitles of TV series and movies. Freelance translation is a valuable option for students who speak more than one language and have a good command of one or several foreign languages.
Another option is to be hired by a company specifically for that purpose, and use your language expertise to assist a firm in its business.
Technical Support Representative
One of the best remote job opportunities for college students who are studying engineering, who major in a similar department or have experience with numerical devices is to be a technical support representative. Of course, being part of the latter list doesn't have to be a requirement, but it may be a deciding factor knowing that companies generally want to recruit a fast and efficient workforce. Technical support representatives answer phone calls and solve customers' technical problems related to software or hardware on their devices. Therefore, one of the qualities that a college student who works as a technical support representative should have is the ability to solve and analyze problems. Being knowledgeable about computers and experienced in using electronic devices can allow students to make quick progress and thrive in this field.
What if I don't have time for a job beside academic work?
If your school curriculum happens to be so demanding that you hardly have any time left, or if you wish to spend the small amount of free time you have resting, yet you need to gain professional experience and sow seeds for your future career, you may want to consider the option of a remote or partially remote internship or traineeship. A convenient program to help you get involved is the Erasmus+ internship program.
This way, you can set aside a given period of time, whether that be a few vacation weeks or an entire semester, and become engaged in a full-time professional activity while not having to worry about academia during that time.
In turn, this will allow you to gain experience closely or remotely related to your study field, and potentially gain academic credits by sparing you the effort of studying, doing something more concrete instead.
YOU MAY ALSO BE INTERESTED IN:
What are the best remote jobs for college students?
For university students, earning money online while attending to the requirements of college life is now a very tangible reality. The jobs described above can offer them the chance to work in one of their areas of interest, simply using their computer or smartphone. While doing this, you can gain the opportunity to spend their time without straining yourselves, working while having fun! In addition, it allows you to gain experience in fields you want to explore and sow seeds for your future.
Additionally, certain job opportunities provide enough flexibility to determine your own working hours and better manage your salary. Such remote jobs can be conducted from anywhere: it is now completely possible to earn money while drinking coffee in a café or by taking advantage of whatever free time you have. In every respect, these online job opportunities can be said to be one of the most comfortable ways of making money for college students. So, why don't you give it a try?