You are applying for that position you have dreamed about for years, but the offer explicitly asks for a motivation letter. You start to panic because you have never written one, but do not worry. Keep scrolling to discover what a motivation letter is, why you should write one, and how you should write it.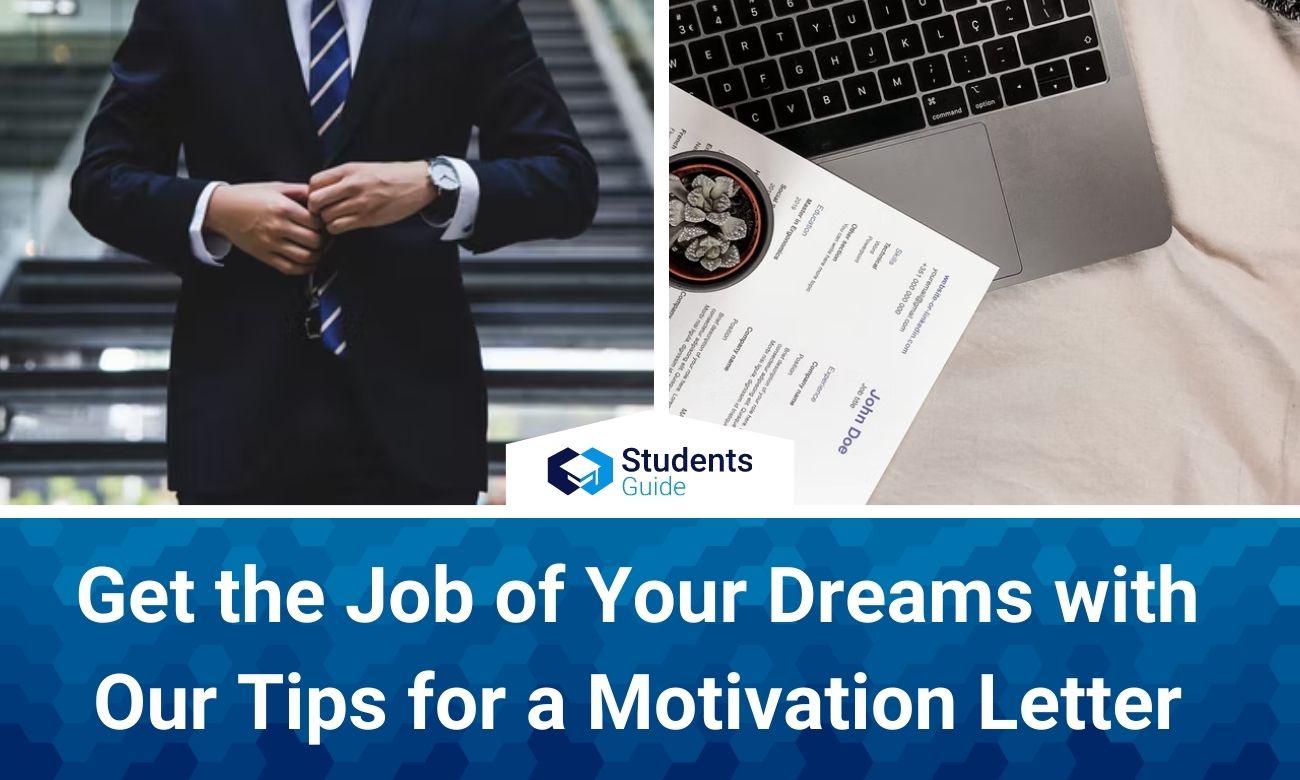 What is a motivation letter and what is it used for?
A motivation letter is a one-page letter that is used to describe yourself and your abilities and convince recruiters that you are the best fit for their company. It is attached to the resume and gives you the chance to further elaborate on the information contained in it.
What should you include in your motivation letter?
When writing a motivation letter, you should divide the page into 4 paragraphs or sections. The first section has to include all your contact details such as but not limited to:
Last, first, and middle name
Your phone number
Your email address
If possible, add a link to your LinkedIn profile
The second part should be the introduction to your motivation letter. Present yourself and state the position for which you are applying. If you are applying for a certain position, you should know the reasons why. Make sure to state your reasons and your goals in the intro to your motivation letter.
Example of an intro for your motivation letter
Dear [Name of The Contact Person],
My name is [Your name] and I would like to express my interest in applying for the position of [The name of the position you are applying for] at [name of the company or institution]. I've always dreamed of becoming a [name of the position], and I believe that [an internship/ a job] at [name of the company or institution] would help me [reach my goal, for example, but you can include other reasons].
The third part has to be the body of your motivation letter. This is the main part of the letter and also the most important. Make sure to include your passions, your skills, and your achievements. At your previous job you doubled the monthly sales? Great, make sure to include it in the body of your motivation letter. Recruiters love facts and numbers, so be concrete about them.
The fourth part of your motivation letter will be the conclusion. This last part should include a brief summary of what you have already said and should thank the reader.
How do you write a motivation letter?
Are you about to apply for that job or internship you have been dreaming about for a long time? Check out our best tips for writing the perfect motivation letter.
1. Find out more about the company/institution
What do you know about the company or institution you are applying for? Make sure to do your homework before sending your resume and motivation letter. Look up the core values of the company or institution offering the position to see if you share the same mission and principles. This information will come in handy, especially if you will be called for an interview.
You could include the core values you find more interesting and aligned with your core values in the letter to show the affinity between you and the company and to call the recruiter's attention.
2. Adapt your motivation letter
One of the most common mistakes when sending a motivation letter is copy-pasting them. Remember that every company or institution differs from all the others. Sending a tailored motivation letter shows that you care about the position you are applying for and that you are not just desperate to obtain whatever position you can get.
Take your time and choose carefully which information you should include and which ones you should leave out.
3. State what you can bring to the table
Why should recruiters choose you and not the other candidates? Make sure to highlight your strengths to stand out from all the other applicants. Remember to show confidence but to do it respectfully. Nobody wants to be deemed arrogant!
Do not lie about your skills because recruiters are going to find out. Instead, work with what you have and make the best out of it.
4. Explain your motivation
Why are you applying for a position at that company or institution? As we already said, you should briefly include this piece of information in the intro of your motivation letter.
Avoid using words such as "love". The rule here is, 'show, don't tell'. You have to show that you want that position and that you are the best option.
5. Provide clear examples
Do not use simple adjectives used by everyone because they will not make you stand out from all the other candidates. Words and expressions such as dynamic, proactive, detail-oriented, and able to think outside the box should be avoided. Instead, try using the so-called power words and strong verbs. Try using verbs such as increased, mediated, engaged, and directed. Your words have to be compelling.
6. Address the right person
Do not use expressions such as "To whom it may concern". Such expressions show that you are not interested enough to make the minimum effort of finding out who the recruiter is. The name of the recruiter usually is included in the online application. If you cannot find it, go over to the website of the company or institution. There you can find all the information you need. Once you know who the recruiter is, address him or her directly in your motivation letter.
7. Make sure to go over the letter
Goes without saying that you should read your motivation letter again before sending it. Make sure that you used the correct words, punctuation, and verbs. Typos are not the best business cards when looking to obtain a position.
You might be interested in