You just finished your degree but you are still craving some adventure. Something thrilling, filled with discoveries to finally break free from this tiring routine. This is your call to discover a new place and improve your language skills! Being an "Au pair" seems like a good way to get there but you're still unsure if this will match all your expectations? Here is everything you need to know about the "Au pair" experience and how it could be everything you are searching for!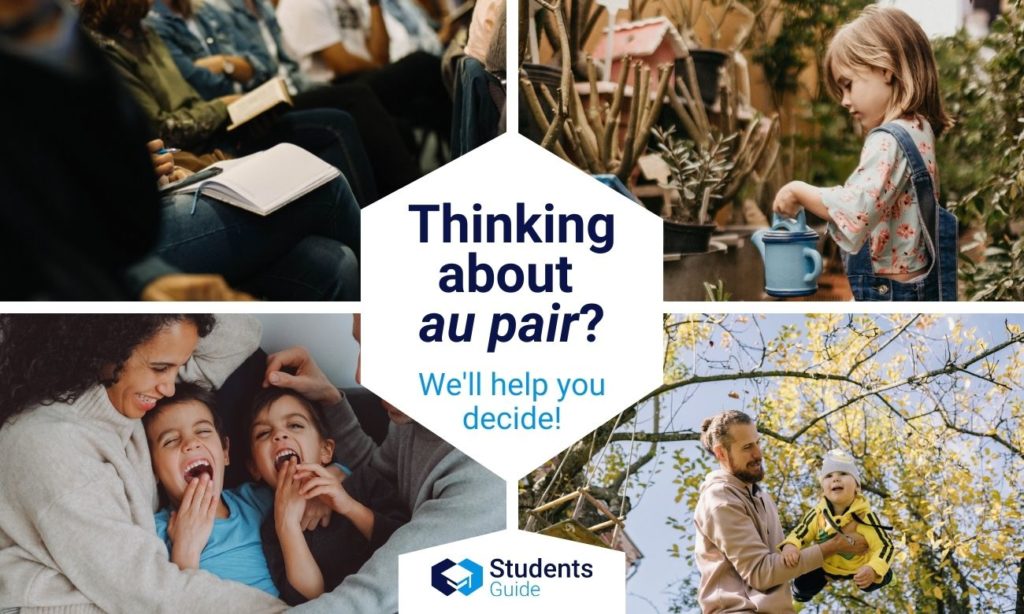 What is an au pair?
Specifically, what does it mean to be an "Au pair"? Besides meaning a unique experience in a foreign country, it's mostly a way for young people to help a family in another country in exchange for housing, food, cultural immersion, and language learning.
You are hired by a family that needs your help for children's care, elderly care, or any similar social service. In exchange for your work, they have to provide you with accommodation (you will get to live with them most of the time), food, pocket money, and other advantages.
But more than material gain, it's a unique experience that will allow you to discover another culture with locals and learn a language with direct native speakers. You get to meet new people far from home for about a year (more or less) and will come back with wonderful memories and a valuable experience to write on your CV.
How to become an au pair?
Many websites are proposing "au pair" jobs and all you have to do is get through them to find the perfect job for you. You can discuss with the families proposing an "au pair" job and see if you fit their requirements. There are plenty of websites with different options families are directly proposing, go through those propositions and find the job that fits best what you want to do, in the country you want to live in!
What are the requirements to be an au pair?
There are a few requirements that you may need to match to get an "au pair" job. Here are the possible requirements you may need to fit in to find an "au pair" job :
Languages: since "au pair" experiences are about learning a new language and living abroad you may need to have a minimum language level to get this "au pair" job. It depends mostly on the country where you want to go and the family requirements.
Age: For every country, you have to be at least eighteen to get an "au pair" job, and since it's a program made for young people often during, before, or right after their studies, a limit of age is set for each country. It never goes above 30 years old but sometimes it's less (25 for Belgium, 26 for Germany, 26 for the USA…)
Diplomas: Some countries require diplomas to get an "au pair' job. Some countries like China, Luxembourg, the United States, Belgium, France, England,… require a school or high school diploma. Denmark requires 8-9 years of schooling.
Some families might require some previous experience in childcare or related fields. It depends mainly on how you can prove that you are the person that they need for the job. Just like any other work you might benefit from your previous related experiences to get the job. A babysitting job or even any personal experience regarding childcare for example could improve your profile and make you look like the person they are searching for.
Visa: For some countries, you may need to get a visa, it depends on the country you are coming from and the one you are leaving for. Most of the time, you will need a visa to work abroad. If you need any help with getting a visa you can go visit Passport Photo Online and find every information you are searching for on the visa you need.
Last but not least: You will need to be motivated and be able to show how much you really want to live this experience!
What are the advantages of an "au pair" job?
You may have some doubts about traveling far from home and finding yourself alone in a foreign country but you need to keep in mind every advantage about this beneficial experience that you may live only once in your life.
You get to live with the family, housing and food paid
Often you're paid with pocket money that you can spend on your personal expenses in the country.
Most of the time the family you are working for will pay for your transport or provide you with a car.
You can also have other small advantages depending on what the family proposes: you'll often get language courses, get to learn about the culture, enjoy activities…
You live directly with the local population which is probably the best way to learn about the culture and improve your language skills!
"Au pair" jobs are also very valuable experiences to put on your CV that can certify a language level and show a certain knowledge about the culture of the country you worked in. As well as proving your autonomy, it's an experience that can truly make you stand out for any future job or further education programs applications.
How much will my au pair experience cost me?
If most of your living expenses will be covered by the family you will work for you still have to pay for the trip expenses. You will have to pay for the plane tickets (or any other transport to get there), the visa (if it is required), as well as some personal expenses that your pocket money may not entirely cover. Even if those costs are not negligible, an "au pair" job will still be less expensive than any other trip in foreign countries and it might be the most profitable solution for a student with limited resources.
Other ways to have a valuable experience abroad
Because being an Au pair is not the only way to live a wonderful experience abroad, here is a few other things you can do in order to improve your languages skills and live a great experience abroad!
Workaway
Workaway is a website proposing small jobs in foreign countries. Similar to "au pair" jobs you'll work in exchange for housing, food, and other advantages. You can work on a farm, in ecovillages, do dog or cat sitting, teaching,…
Volunteering
Another way to discover the world while enjoying a life-changing experience, whether you want to do it for a special organization or with a volunteering program you will for sure help yourself along with others! It's a wonderful experience that may change your vision of the world and allow you to discover things you might have never discovered in your life. There are various ways to do volunteering; it can be professional volunteering, ecological volunteering, or humanitarian missions for example.
Studying abroad and Internships
Many fields of studies allow studying abroad and internships, in certain fields you even may have to go for a mandatory international experience. Universities will often propose some study programs in affiliated universities around the world or ask for an internship abroad. It's a perfect way to include your trip abroad directly into your studies and gain time.
Assistantship
An assistantship is often something you might not consider. Often it's directed to language students but some assistantships are open to many other fields of study. You'll get to work in an educational institution and work as a teaching assistant, language department assistant, or other language-related assistant jobs. You get paid for your work (more or less depending on the region and institution you're working for), and get to improve your language skills significantly.
Conclusion
You now know everything there is to know about "Au pair" experiences and how it may be the traveling experience you are searching for to have a break from your studies. Whether you chose to go for an "au pair" job or any other experience abroad we wish you good luck and may this adventure bring you joy and fulfillment!