Travelling around Europe sounds amazing for you? If you wish to see some of the most popular European cities at affordable prices you should choose Eurail pass.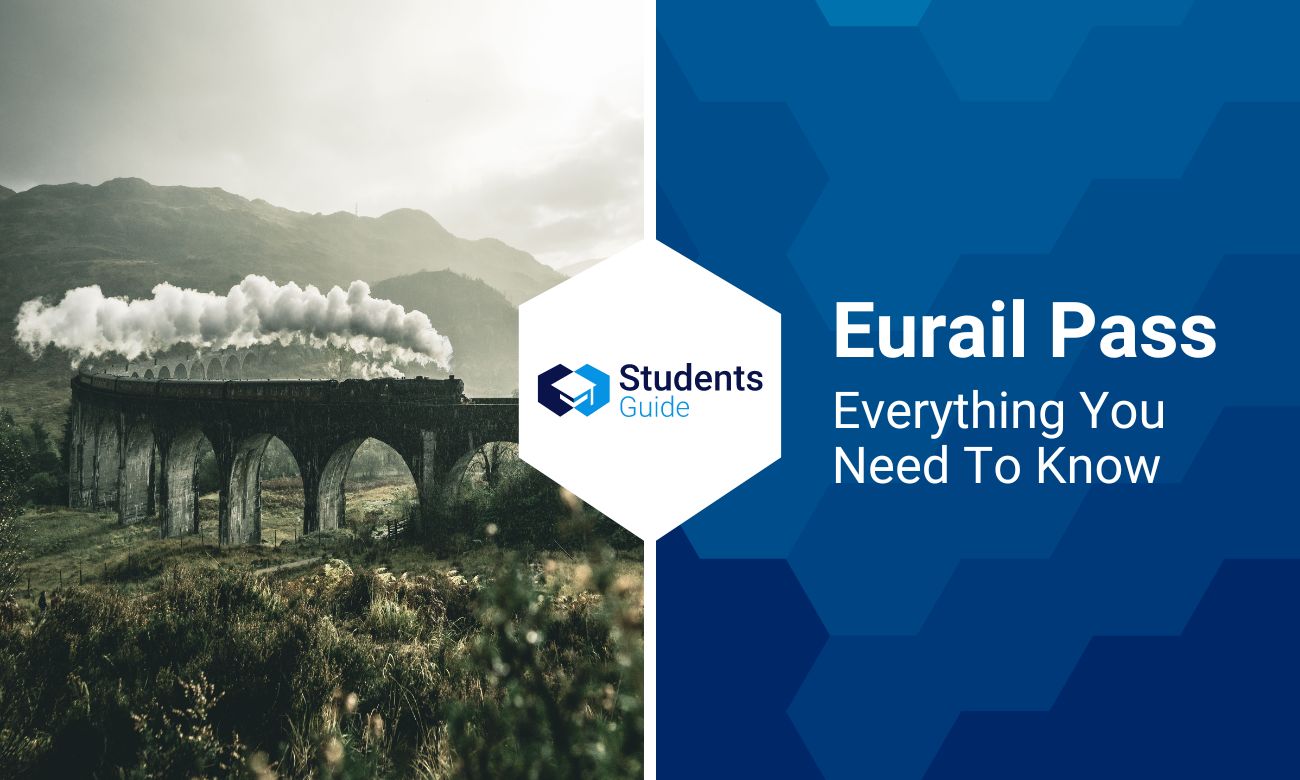 If you are wondering what the best way to travel around Europe is or if you need a visa to all European countries, today you will not wonder anymore! Find out what Eurail is and get it before your first journey to a new country!
What is Eurail?
Eurail is an all-in-one train ticket for overseas visitors, giving unlimited train travel either in the country of your choice with a Eurail single-country pass or across most of Europe with a Eurail global pass.
A Eurail pass is a range of rail passes offered to overseas visitors giving unlimited travel on trains l for various periods to 33 countries!
Unlimited travel means there are no limits in how many trains you go by, how many a day, going ten or thousands of miles – it doesn't matter!
What is the difference between a Eurail and Interrail pass?
Maybe you have heard about Interrail pass? Well, both Eurail and Interrail are two great railpass ranges. However, there's a big difference which you must know. An Interrail pass can be used by European citizens but a Eurail is for non-European citizens. Both passes are available on the same official website and for the same prices.
Additionally, permanent residents in Europe can use an Interrail pass. You just have to choose the country of your residency when you order so you need to have in hand your official European residency card or document.
For instance, if you live in Europe, Tunisia, Turkey, Russian Federation, Algeria, Morocco buying a Eurail pass is not available because you qualify for the Interrail pass range instead.
The similarity is that Interrail passes cover the same countries and trains as Eurail! Even with the same fees for the same reservations, so an American and a German traveller can easily travel together, one using a Eurail pass, the other an Interrail pass.
How to buy an Eurail Pass?
To buy a Eurail pass you have to go to the official Eurail website and after choosing a language and currency your choice is where to go and when!
Pass prices vary a little between retailers and some charge for the delivery fee. However, getting it directly from Eurail seems the best option as they ship worldwide. You can choose to get a mobile pass or an ordinary printed one.
It is important to buy a Eurail pass before you get to your destination, there is no possibility to buy Eurail passes when you get to Europe.
You don't need to specify exactly what date you want your Eurail pass to start when you buy it. The pass validity will start on whatever day you validate it at a station in Europe, which can be done any time in the 11 months after you buy it.
Who qualifies for a Eurail pass?
Apparently, with Eurail passes the residency matters more than nationality so if you are resident outside Europe, for example in the USA, Canada, New Zealand, Australia, Asia or Africa, you can buy a Eurail pass.
The countries participating in the Eurail pass scheme are Austria, Belgium, Bosnia, Bulgaria, Croatia, Czech Republic, Denmark, Estonia (new from 2020), Finland, France, Germany, Greece, Hungary, Ireland, Italy, Latvia (new from 2020), Lithuania, Luxembourg, Macedonia, Montenegro, Netherlands, Norway, Poland, Portugal, Romania, Serbia, Slovakia, Slovenia, Spain, Sweden, Switzerland, Turkey & (new in 2019) the United Kingdom.
The countries that do not participate in the Eurail pass system are Albania, Ukraine, Belarus, Russia and Moldova.
If you are from one of the participating countries for the Eurail pass, check now who can travel depending on age:
Adults
Seniors – anyone aged over 60 on the first day of pass validity (10% less than the adult price)
Youths – anyone aged under 28 on the first day of the pass validity
Childs – this is for kids aged under 12 because children in 4-11 age get a free Eurail pass when accompanying someone on an Adult pass (but sometimes they still need to pay relevant reservation fees) so it works only with an adult ticket. To get Child passes with Youth or Senior doesn't work. Depending on the country, this might be shown as a 'family' ticket.
Infants – children aged under 4 (in some countries 5 or even 6) travel free on trains and don't need any pass, nor do they pay any reservation fees.
Do you need a Schengen visa for Eurail?
Most non-European citizens traveling to Europe or Schengen zones have to obtain a visa. Depending on the country you come from, you might need to get a Schengen visa or any other visa to be able to travel to the EU.
According to the information from February 2018, for the Eurail pass:
You DO NOT need a Schengen visa if you're from: Canada, United States, New Zealand, Australia, Israel, Mexico, Brazil, Argentina, Peru, Chile, Japan, South Korea, Hong Kong and others. There are many more countries so search for it to find out which don't need a visa.
You DO need a Schengen visa if you're from China, India, Thailand, Indonesia, Cuba, Russia, Belarus and others. There are many more countries so search for it if you need a visa.
Regarding different countries (data from February 2018):
The United Kingdom and Ireland: neither the UK nor Ireland aren't in the Schengen agreement, and have their own regulations on entering countries so you might need a visa to come to Europe.
Turkey: there might be different rules going to Turkey, so you need to meet specific required criteria.
Regarding different visa or no visa (data from February 2018):
E-visa or visa on arrival: United States, Canada, Australia, China, India.
No visa: New Zealand, Peru, Brazil, Argentina, Chile, Hong Kong, Japan, South Korea.
Why choose a Eurail pass?
Trains are still the easiest and probably most comfortable way of travelling as you don't have to drive and unlike in a bus or plane, on the train you can sit and walk comfortably or even lay down because some trains are equipped with beds for passengers. The journey might be long but some trains have restaurants or even some entertainment rooms so you can feel almost like on the ground!

However, Eurail passes might seem expensive so it is better to get them when you plan a long journey. If you plan to travel vast distances over multiple countries, using a lot of high-speed trains and traveling (semi) last-minute, or for a long time, a Eurail pass is worth purchasing and will save you money.
Sources