As the capital of Austria boasting one of the highest standards of living in the world and its history and rich architecture from various epochs, it's no wonder that Vienna attracts so many visitors. With its roots dating back to Celtic and Roman times, Vienna developed from a Medieval trading town and later Baroque city to the capital of the Austro-Hungarian Empire. This sparkling gem of a city has a lot to offer, no matter whether you're a museum lover, art aficionado, history buff, foodie or simply looking for a fun night out. In the summer, you can enjoy local cuisine outside in picturesque inner courtyards while during the colder seasons you can spend time discovering the huge range of Christmas market stands while enjoying a Glühwein or punch.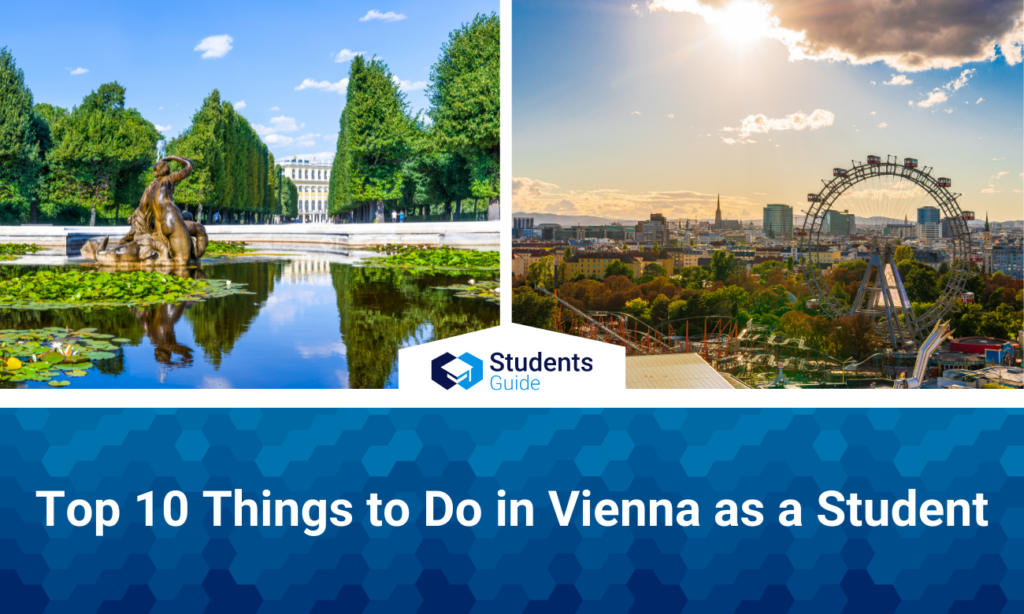 While it's true that Vienna is not known for being the cheapest of cities to live in, there are still plenty of things to do for students living on a budget, especially if you make use of student discounts and plan your activities ahead of time. There are also many free things to do in Vienna, which makes it a great city for students. In addition to that, the tuition fees, when compared with other cities in the world, are quite affordable. Here's a list of the top 10 best things to do in Vienna as a student:
Visit museums
The number of museums Vienna has to offer would make any museum lover's heart beat faster. If you're into art, the Leopold Museum located at the MQ, exhibiting some of the most significant collections of art in the world from the second half of the 19th century and the first half of the 20th century by Austrian artists like Egon Schiele, Gustav Klimt and Richards Gerstl, is something you should take note of. If you prefer something more modern or contemporary, the MUMOK (Museum of Modern Art) is a few feet away. Don't forget the Belvedere, Albertina and the Museum of Art History, as well as many others you might want to check out during your stay.
There's an impressive range of history museums in which you can learn more about the imperial times in Austria. If you feel like delving into the natural wonders of our world, don't forget about the science museums, like the Technical Museum and Natural History Museum.
Museums in Vienna offer student discounts, so be sure to take your student ID along when you set out to visit one. Some museums don't require you to pay for an entry- you can visit them for free! These include the District Museums, Böhmerwaldmuseum, Money Museum and Phonomuseum, to name a few. Other museums can be visited for free on the first Sunday of the month. Be sure to research an updated list of these museums to plan your visit accordingly.
One of the best museum events in Vienna is the "Lange Nacht der Museen" (which translates to Long Night of Museums), in which visitors with a valid student ID can buy a ticket for €12 and visit all the museums taking part in the event from 6 pm till 1 am.
Get active at the Donauinsel
The Danube Island, located on the outskirts of Vienna is a 21km long artificial island that attracts all kinds of sports enthusiasts to get active outdoors and grab some fresh air. Don't worry if you don't have any sports equipment with you and going for a jog is not your thing- many stalls offer the possibility to borrow roller-skates, bikes or even tandem bikes! In hot temperatures, you can also borrow a kayak (for one or two people), stand-up paddling gear, try out wakeboarding or go for a swim!
If you don't want to pay for a gym, there are also several outdoor gyms with installations like pull up bars or parallel dip bars to train your endurance and strength with friends.
Of course, the Donauinsel is also the perfect spot for a picnic in springtime and summer. Not only can you eat in a beautiful green area of Vienna and enjoy the scenery and some fresh air, but you might also spot some local animals living there like foxes, rare amphibians, beavers, squirrels, various birds, rabbits and deer.
Take a stroll down Mariahilferstraße to the MQ (Museumsquartier)
If you're looking for a place to take a stroll and do some window shopping, Mariahilferstraße is the place to go! Next to all the common shops and well-known labels, you can also find some hidden gems offering vintage clothing like bootik54, Kleider gehen um and Vintage Fabrik. While these aren't located directly on Mariahilferstraße, they can be easily reached on foot.
In the side streets branching off from the main road, you'll find small cafes, speciality stores (check out Nakwon for authentic Asian products and fresh mochi!), hip restaurants and bars. If you start off from Westbahnhof and walk along the main road, you'll end up at Museumsquartier, which, thanks to the Leopold Museum and the MUMOK, is a popular tourist spot during the day. In the evening, it comes to life and is especially inviting in warmer temperatures in which you can get a drink from the nearby bars and sit on the specially designed geometric seating furniture.
Discover Vienna's diverse markets
You are spoilt for choice if you're looking for (outdoor) markets in Vienna. There are many markets not only offering regional products, but also Oriental or Asian foods difficult to get elsewhere. Popular markets include the Kutschkermarkt in the 18th district, which offers a wide range of seasonal products and is widely visited by younger and older generations alike, the Karmelitermarkt which is one of Vienna's oldest markets, the Hannovermarkt for Oriental products and of course the Naschmarkt– the most popular market of Vienna boasting over a 100 different market stands with foods, spices and specialities from around the world. Cash is not always accepted, so be sure to find an ATM before you head out – just to be on the safe side!
While it's true that you will find organic products in practically all the markets, the temporary organic market at the Freyung offers 20 stands of purely biological products, ranging from fresh fruits and vegetables to meat, fish, cheese and honey. If you're feeling up for brunch, you can also pop by for some coffee and freshly baked goods- there are plenty of outdoor seating opportunities, aka Schanigärten. If you get to some of the markets later in the day, you might be able to grab some pretty good bargains!
Kahlenberg
The Kahlenberg, located in the Wienerwald is easily accessible by the U4 metro, various buses and the D tram and offers several trekking routes as well as a lookout point popular amongst the Viennese. When the weather is clear, you can not only get a beautiful view over the city but also see a neighbouring hill called Schneeberg, which is also a great destination for day trips for when you want to spend some time away from the hustle and bustle of the city. At the top, you can find a terrace and café, where you can have a meal while enjoying the view. The night view is spectacular- don't miss it!
If you've done enough trekking around Vienna and you'd like to get active in a different way in the Wienerwald area, check out the climbing park at Kahlenberg. While climbing up cargo nets and swinging across monkey bars in high up treetops is fun by day, they also offer the possibility to go climbing in the later evening. On one of the flying foxes, you get to glimpse the sparkling lights of Vienna at night peeking out between two hills.
Visit Vienna's inner district
Personally, I will never get tired of strolling through the Historic Center of Vienna. Not only is it rich in history, showcasing excavations from Roman times, historical museums, remnants of the Habsburg dynasty and the Austro-Hungarian Empire, but it also offers many hidden cafés and restaurants in cobbled side streets, as well as the Artis- an English cinema, of which there are only 2 in Vienna.
You don't need to go to the outskirts of Vienna to find a Heuriger– there are many hidden away in little alleys in the historic centre in which you can get a taste of the local cuisine. If you're in the area, be sure to visit Stephansdom and take the 343 stairs to the top for a beautiful view over Vienna. There's no discount for students, but the cost of €5 is well worth the view.
Brunch in a Viennese café
There's no way you'll go hungry if you are out and about and feel like having some brunch for a fair price. And what better way to soak up the Viennese atmosphere than by enjoying a Wiener Melange or cappuccino alongside a freshly baked slice of bread with some homemade marmalade? Many cafes do not only offer breakfast and brunch, but also lunch and dinner, and serve as a learning space for students who've had enough of studying at home or at the university library (which is, by the way, also a nice place to study- the vibe is very Hogwarts-like). The numerous cafes surrounding the Votivkirche and the University of Vienna are frequently visited by students to catch up with friends and get some work done.
Popular cafes around the University of Vienna include, but are not limited to Café Stein, Café Caspar, Weltcafe, Jonas Reindl, Coffee Roasters, Café Votiv, Café Stadtkind and PLAIN. The 1st and 7th districts are pretty close, of which the latter also offers cafés sure to suit every taste. You'll find two great cafés on Sankt-Ulrichs-Platz, Erich and Ulrich, which don't only offer an impressive range of varied breakfasts, but also lunch, dinner and cocktails in the evening. Another unique place to eat that is very popular amongst students is the Wiener Deewan, a Pakistani restaurant offering a buffet with a pay what you wish pricing.
A tip for brunch enthusiasts: If you're staying in Vienna for over a longer period of time, you might want to consider investing in a LUUPS book, which is a city guide not only filled with vouchers for cafés and restaurants in Vienna but also bars, clubs, cinemas, museums and more. Keep in mind that most of the vouchers are only redeemable when you're visiting in pairs. It's recommended to buy the book, which is also available for other german-speaking cities, at the beginning of the year, as it's valid for one whole year. You should be able to squeeze in enough visits for it to be worth it for half a year as well though.
If you're a bit pressed for time and forgot to grab something to eat at the supermarket, you can also get something to eat at a university mensa. Be sure to get the Mensen-Pickerl at the ÖH or your student representatives organisation, with which you can profit from a €0,80 reduction for every menu you buy. You can get these at the information centre of your university.
Christmas markets in Vienna
Around Christmas, various streets in Vienna, especially the area around Stephansplatz, Ringstraße and Karlsplatz are beautifully lit up so that it's not hard to get into a festive mood. Starting around the middle of November, you will find many Christmas markets and individual punch stands popping up around the city, as well as people selling hot chestnuts and potato potato wedges. If you choose to study abroad in Vienna, this is one of the most fun things to do in Vienna around this time of year and something you should definitely not miss out on! The Christkindlmarkt at Rathausplatz is what many people think of first when the word "Christmas market" is dropped. While it's true that the brightly lit stands and huge pine tree majestically standing at the end of the market is a sight to see in itself, it also needs to be said that it can get uncomfortably full in the evenings (don't even get me started on the weekends!) and certain stands might be a bit too knick-knacky and touristy for some people's tastes. If you prefer to stay away from the crowds, opt for Spittelberg, Schloss Schönbrunn or Karlsplatz. While these too can get a bit crowded, they are usually not as full as the Christkindlmarkt at Rathausplatz. To get completely off the beaten path, give the Altwiener Christkindlmarkt or the one at Hirschstetten a go.
If you're a student, you are spending Christmas in Vienna and your university department is close to the Campus of the University of Vienna, there's no better way to end your day at uni than by meeting up with friends at the Christmas market at the University of Vienna for some hot soup served in a bread bowl, seasonal sweets, potato wedges or some hot punch.
Visit a theatre or opera
Concerning music and theatre, Vienna has a palette of possibilities for all those interested. The Vienna State Opera has special student tickets at a discount, as well as the Volkstheater in der Josefstadt, Theater an der Wien, Burgtheater, Raimund Theater and the Ronacher. Mostly, these are tickets you can get at the evening box office 30 minutes before a show starts. If you opt for standing-room tickets, the price will be even lower.
Wiener Wanderwege
Is it possible to go hiking in a city? In Vienna it sure is! For all the nature lovers out there and those seeking some quiet and fresh air, there are 11 city hiking trails spread across Vienna ready to be explored! All of them are well signposted, offer plenty of variety concerning the type of hike and are easily accessible by public transport. If you check out the Stadt Wien website, you can find out how many kilometres long the hike is and what you can expect the estimated walking time to be.
Hopefully, this list of Vienna travel tips has helped you get a quick overview of the best things to do in Vienna during your vacation or studies as a student. You'll be well served here, regardless of whether you are looking for something cultural, want to discover the music or theatre scene, get a taste of the local food, see how Christmas in Vienna is different from your home country or stay active by going hiking in the Wienerwald or roller skating along the Danube Island. If you don't yet have one, get yourself an ISIC card for discounts on accommodation, sports, culture, food and entertainment.
Caroline Grasser is a student of the bachelor's programme Transcultural Communication at the University of Vienna with German, English and French as her working languages. Passionate about languages from an early age, she grew up with multiple languages and completed the Vienna Bilingual Schooling system. If she's not spending time getting inspired on Pinterest or reading up on animal rights and environmental protection, you can find her in her favourite boulder hall with friends.