Moscow – the capital city of the Russian Federation, extended over 2511 km2 , the symbol of the Great Mother Russia. It is considered to be one of the richest in culture and most beautiful cities in the entire world.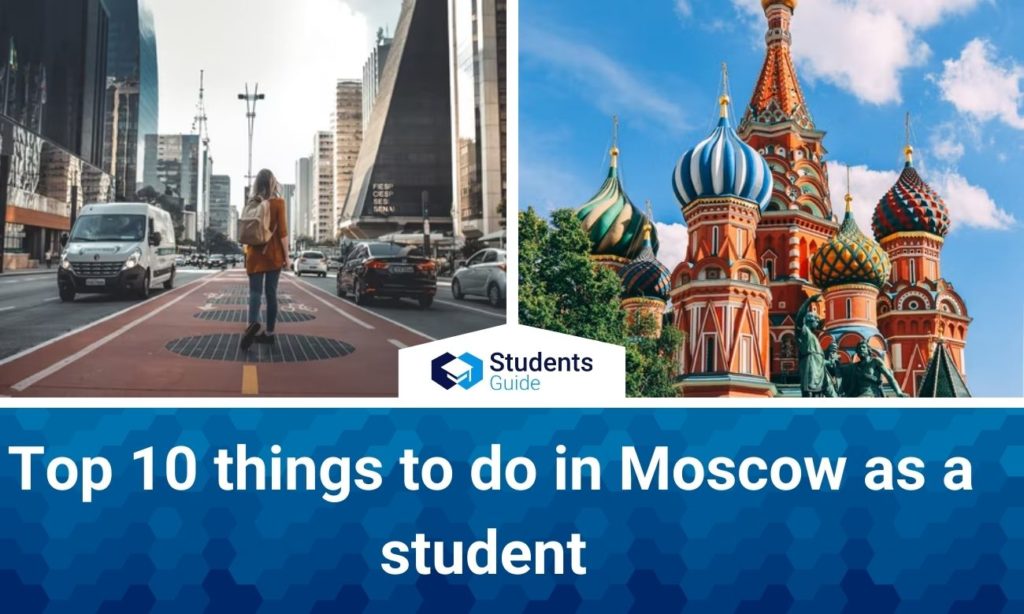 If you're thinking about going to Moscow to study, but you're not absolutely sure about it, I bet this post could be of help in persuading you.
Keep reading if you want to discover the Top 10 things that you could do in Moscow while being a student!
Russian obschezhitie ('dormitory')
If you are planning to enroll in a Russian university in Moscow or to apply for an exchange programme with a Russian university, or to take Russian language courses, you shall need a place to live.
The least expensive accommodation seems to be the so-called "obschezhitie" ('dormitory'), which often is located in the University or near it.
It is not difficult to rent a room there, often it is just required to fill in an application form through your personal University cabinet and send it.
Since this is the cheapest accommodation available, you should bear in mind that you're not going to stay in a palace, thus you might want to get armed with a lot of household detergents!
Russian language course
Were you to find yourself in Russia, you might wish to be able to communicate in Russian, with Russian people. Considering that the probability that a person speaks English in Russia could be not so high, especially among the oldest generations, you may consider enrolling in a Russian language course to ease your stay in the country.
Knowing basic sentences could really make the difference!
There are a lot of institutions that offer language courses in Moscow. However, if you have never studied Russian, the Pushkin State Russian Language Institute might be the most suitable choice for you.
Traditional Russian cuisine
When visiting a new country, sooner or later you will encounter the local cuisine. So, why don't embrace it? Russian cuisine is rich in typical dishes that you might enjoy, you just need to know what to look for.
Bliny and smetana sauce: if you crave to eat something, but you don't know exactly what, you should turn to bliny! They are similar to crêpes and are suitable for every situation, 24/7. In Russia, you can find them everywhere, sweet or salty. If you want to try something even more traditional, you should opt for bliny with the smetana sauce, which is a milky sour cream.
Pel'meni and vareniki: one of the most widespread main dishes in Russian is dumplings. You can find them almost everywhere and cooked in many different ways, with diverse stuffing. Most probably, you will notice in your menus these two kinds: pel'meni and vareniki. The difference between them lies in their size, vareniki are bigger, and in their cooking mode, pel'meni are steamed, while vareniki are fried.
Shashlyki and the Beef Stroganoff: if you fancy meat and you happen to be in Russian, well, you should definitely try these two dishes out. Shashlyki are grilled meat skewers, while the Beef Stroganoff is made mostly of beef, sour cream, flour, and mushrooms.
Russian soups: if one day you'd prefer to eat light, you should check out russian soups. You can find them everywhere, in disparate fashions. The most popular is Borsch, a soup made of meat, potatoes, vegetables, cabbage and beets.
Caviar and Vodka: the fish eggs most famous throughout the world and the traditional hard liquor. In Russia, you can find them very easily, since they are produced in the country. Be careful, don't get too drunk!
Last but not least, you should know that, in Moscow, there is a wide range of restaurants and places to eat: from the typical stolovaya, which is canteens of communist legacy spread throughout the ex-soviet countries, to very classy and expensive restaurants.
National holidays
In Russia, there are a lot of National holidays celebrated fiercely throughout the country. Were you to be in the country during these celebrations, you are lucky, because you could attend a variety of events and participate in different activities organized throughout the Russian city you're currently living in.
Here listed below you can see the national holidays that are celebrated only in Russia:
23rd February: Defender of the Fatherland Day
9th May: Victory Day
13th June: Russia Day
4th November: Unity Day
In Moscow, in particular, during these holidays, many events are held in Gorkij Park, which is one of the biggest parks of the capital: there, you can find live music, activities, stands, and so on.
Public transports
The public transport system in Moscow functions very well, considering that it is a metropolis and everything seems to be at a long distance. The Moscow Metro is the most employed means of transport, and it connects every part of the city.
It is said to be one of the busiest and most beautiful subways in the world. Indeed, 44 out of nearly 200 stations are considered cultural heritage sites.
Underground, it is also possible to see a fountain! It is located between the Rimskaya and Ploshchad Ilyicha stations.
So, if you want to become a true muscovite, you ought to descend into the subway reign.
Additionally, you might be interested in knowing that for students there are significant discounts on the subway fares: you have just to provide your student ID card when reloading the Metrocard!
The Moscow Kremlin and the Red Square
If you happen to be in Moscow, you should definitely go visit the Kremlin and the Red Square. These can be said to be the symbols of the capital city.
The Red Square, one of the oldest and largest squares of Russia, is drenched in Russian culture, which is perceivable at every angle of it. There, you can visit Saint Basil's Cathedral. Once again, if you show your student ID card at the entrance, you will benefit from a discount on the ticket!
On the other hand, the Moscow Kremlin is a fortified complex of palaces, cathedrals, walls, and towers. It is the official residence of the President of the Russian Federation and representative of the power of the capital. You definitely cannot miss this fortress built at the heart of Moscow: here lies the beauty of Russian culture.
Once again, if you're a student, don't worry about the price! The entrance ticket will be reduced.
Museums in Moscow
Moscow is also a city of art and science: there are a lot of museums spread all over the capital, from art and historical museums to scientific ones.
Again, students qualify for reduced entrance tickets to all the museums.
Here listed below, you will find the most important ones.
Art museums:
State Tretyakov Gallery;
New Tretyakov Gallery;
Pushkin State Museum of fine arts;
Museum of Russian Impressionism.
Historical Museums:
Kolomenskoye historical and architectural museum and reserve
Museum of Soviet arcade machines
Jewish museum and tolerance centre
Museum Mosckovskij transport
State Museum of Gulag's history
Science Museums:
The Museum of Cosmonautics
Experimentanium science museum
State Darwin Museum
The Russian Dacha
The typical Dacha can be said to be a seasonal or year-round second home, a legacy of the communist regime, where Russian people usually go to spend time away from the chaos of the city and rest in serenity. They are usually located on the outskirts, but not so far from the first home.
The noun Dacha derives from the verb davat', which in Russian means 'to give' because, originally, it referred to land allocated by the Tzar to his nobles.
Now, dachas are about peace, family, friendship, and closeness.
In Dachas, the typical Banya can be found: it is a sauna where you can enjoy yourself in total relaxation, benefiting your health!
If you have moved to Russia, thus you shouldn't be missing out on this rejuvenating experience!
Theatres and ballets
In Moscow, there are a lot of theatres, where it's possible to attend a lot of different spectacles.
In particular, ballets are very popular in the city. For instance, every once in a while, in the theatres, it is staged the Swan Lake ballet, composed in 1875-76, by the Russian composer Pyotr Ilyich Tchaikovsky.
In the Tverskoy District of central Moscow, there is the Theatre Square, which hosts the Bolshoy Theatre, the Maly Theatre, and The Russian Academic Youth Theatre. These are three of the most important theatres in Moscow: the Bolshoy Theatre is renowned throughout the world.
Once again, if you're a student and you desire to attend any sort of theatrical spectacle, the entrance ticket is reduced!
Meet Russian people and get to know them!
There are many stereotypes about Russian people: they are often said to be cold, detached, never smiling, and unforgiving.
Well, if you have already met Russian people, you can confirm that those stereotypes don't reflect reality!
Indeed, Russian people can be loving, hospitable, and open.
Thus, should you find yourself in Russia, try to get to know Russians, you could get surprised!
I hope you enjoyed this little guide and found our tips helpful!