Paris is known to be the capital of love, one of the most beautiful cities in the world, but what is less known is that it is home to many renowned universities and has been ranked at the top of the best places to study in the world several times. Each year, Paris welcomes hundreds of thousands of international students with different specialties coming from all across the world. Whether you're a French or Erasmus student, you'll have access to a lot of benefits during the whole length of your course, especially regarding access to museums, monuments, or restaurants.
If you're wondering what are the best things to do in Paris, or if you're scared to miss out on important things to do or places to see, have a look at our list of the top 10 things to do when you're studying in Paris: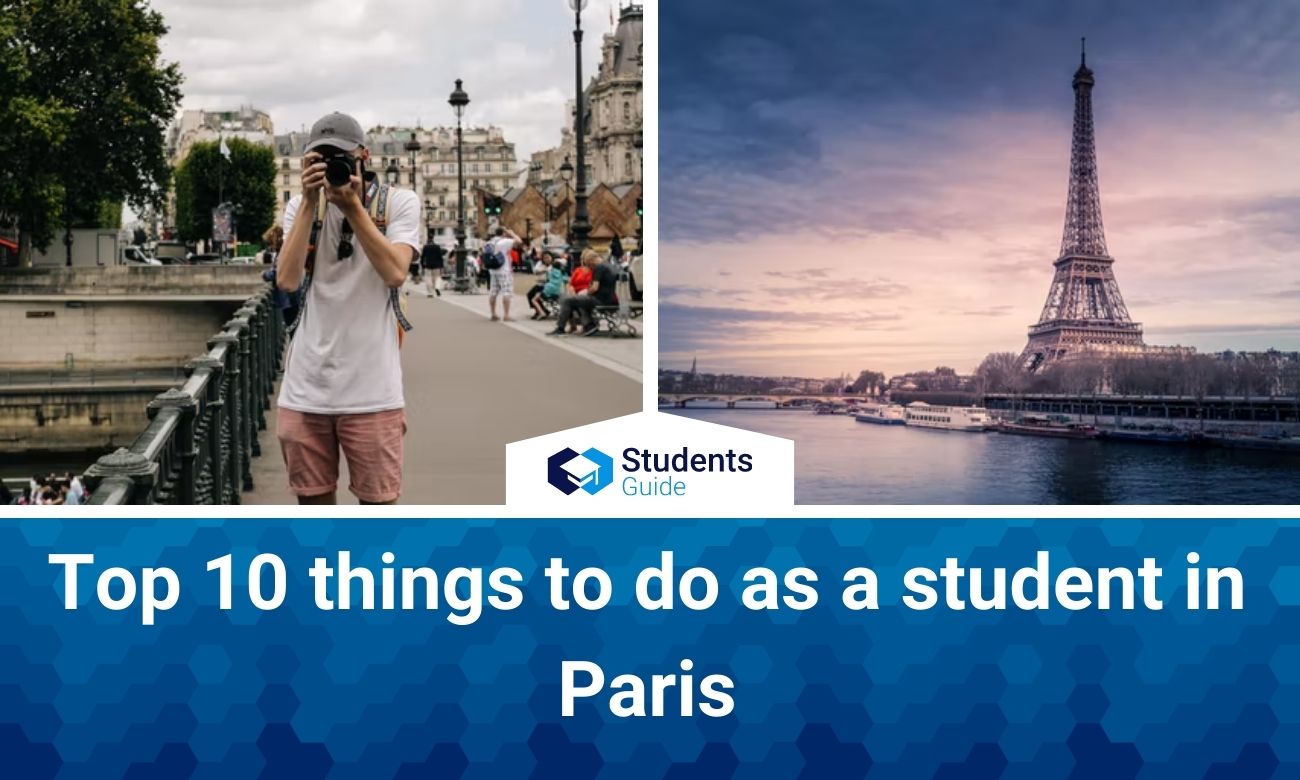 Enjoy many student discounts at the most incredible museums of the capital
As we mentioned, being a student in Paris has its perks. For instance, you can visit many famous museums for free if you are studying in France and if you are under 26 simply by showing your student card! This includes the Louvre Museum, the Orsay Museum, the Picasso Museum, and many others. The icing of the cake is that you can even go to the Palace of Versailles to admire its majestic rooms, or wander around its breathtaking gardens for hours completely free of charge! A perfect way to discover more about French culture and history and be completely blown away by the beauty of these monuments!
Have a walk in the biggest parks of the city and enjoy the nice weather whenever you can!
As a student, you may be experiencing a lot of stress and pressure and need to focus on your mental and physical health. What better way to do it than going to the park to breathe some fresh air, admire nature and wildlife, be active, or simply relax? In Paris, you'll be spoiled for choice with the Luxembourg Garden in the 6th arrondissement of more than 56 acres where many students meet after their classes or in the weekend, the Tuileries Garden next to the Louvre Museum, the Garden of the Balzac House in the 16th arrondissement which is one of the favorite places of readers, etc. Plus, you'll get to try out many entertaining outdoor activities such as tennis, boules, fitness, or even roller coasters!
Go shopping in the several malls and outlets of the city (but be careful not to be overdrawn 🙂 )!
The most famous shopping mall in Paris is Galeries Lafayettes, and even if it's not in your budget, you can always go window shopping and for example, stop by the rooftop at the Galeries Lafayettes Paris Haussmann to take an Instagram-worthy and panoramic picture of the Eiffel Tower and the Champs-Elysées. If you prefer to buy your clothes in traditional shops such as Etam, H&M, C&A, or Zara, go directly to Rivoli Street near the city center, or if you like to buy fancy clothes, then Francs-Bourgeois street is the right address!
Like other métropoles in France like Bordeaux, Lyon, or Marseille, you can definitely go to an outlet store and get good deals on clothes from luxury brands such as Polo Ralph Lauren, Armani, Maje, or Longchamp. The "La Vallée Village" outlet shopping center is the perfect place if you want to stay outdoors while doing your shopping in its more than 120 boutiques. For only €10 a day, you can opt for the "hands-free shopping" service that'll allow you to collect all your shopping bags once you're done and want to leave the village.
Eat out in a gourmet restaurant and try out mouth-watering French specialties for cheap!
The authentic French cuisine offers a variety of meals for everyone, whether it be for vegetarians or meat-eaters. It is absolutely a must-do for international students to try some of the quintessential specialties such as frog legs, snails, tartiflette, or foie gras. Many local restaurants in Paris offer discounts for students and you can search for weekly deals on many apps and websites. Check out the website of Lebonbon.fr or Timeout.com for many tips about food and other topics or download the app on Appstore or Google Play Store! Bon appétit !
Cram for your exams at the National Library of France or in a local café!
Stressed out about your exams because you can't focus on your studies at home? Don't panic, we have solutions! The first option is to take your books or laptop to the National Library of France or another library for a perfectly calm environment that'll help you maintain your focus. Plus, you'll have access to millions of books and documents and could even lay your hands on the most unique and rare books. Now, the second option is to settle in a café that provides a good WIFI connection speed, and you can grab a hot or cold drink and savor one of your favorite pastries to be ready to work in a relaxing and cozy atmosphere. Here are some good places: the Nomade café in the 11th arrondissement, the République of Coffee in the 10th arrondissement, or the Café Hubsy in the 3rd arrondissement.
Dance the night away at one of the most trendy nightclubs in France!
Do you want to spend the night with your friends, have some drinks, and dance and sing the best hits? Then you're in for a treat in one of Paris' nightclubs. The majority of the best nightclubs of France are located in Paris with for instance L'Etage, Glazart, or the Niki Club (careful, some are quite hard to get into!). Our tip: enjoy discounts on a lot of delicious cocktails or free drinks during the Happy Hour in the evening.
Get away from the city and have fun at Disneyland Paris!
At only 40 minutes from the city center with the RER A, channel your inner child, immerse yourself in your favorite Disney movies, and marvel at the magical attractions offered by the two parks. Whether you plan to stay 1 or 3 days, we highly advise you to try "Big Thunder Mountain" or the "Tower of Terror" if you are a sucker for thrilling sensations, or if you are with children or are simply looking to have a relaxing and fun moment, then "It's a Small World" is for you. This attraction will allow you to travel and discover monuments and sites of the world in an incredible and immersive experience. Then of course, once you want to recharge your batteries for other rides, you can take a selfie with your favorite Disney character and try the tastiest foods among a huge variety of fast foods and restaurants.
Cheer for a sports team or player in the most impressive stadiums of the world
It is known that sport is a very important part of French culture and patriotism. Whether you prefer basketball, football, cycling or tennis, you'll be able to watch one of the most spectacular and high-quality games. Buy your ticket online to go see a Paris Saint-Germain football match, one of the world's best football clubs, or to assist in the most famous French sporting events of the year such as the Paris Marathon in April, the French Open for tennis fans in May-June, or the Tour de France for cycling in July. Don't hesitate to go to the stores to buy a souvenir!
Improve your knowledge and culture at one of the numerous exhibitions
If you decide to study in Paris, you'll be sure to never get bored on the weekends. There is always something to see and do in the French capital and Paris knows how to please all art enthusiasts. Each week, you can gaze at magnificent artworks and masterpieces in fields such as photography, painting, contemporary art, or cinema. You can find out more about upcoming events on the website of Le Parisien, Sortiraparis, or Timeout.
Engage in an exciting and amusing activity!
Last but not least, it is essential for students to have some fun after having worked hard all week, especially during this time of pandemic. There are tons of activities that you can try on your own or with your friends or family. If you are looking for something out of the ordinary, then you should join a guided tour of the Catacombs, find your way out in the labyrinth of the Paris Sewer Museum or rise above the roofs of Paris in a hot air balloon!If you are more interested in an intellectual and cooperative game to share a good moment, then you must not miss trying an escape game. Paris is packed with escape games with themes such as money heists, paranormal adventures, or treasure hunts. You'll have 60 minutes (and no more!) to solve the puzzle and complete your mission! Are you ready?