Warsaw – Why should you choose it?
Warsaw is a great place to study, do business and have fun. It is a green and constantly developing city with an interrupted change of people coming and moving out. Its history, cuisine, and quality of life have made it an attractive destination for both students and workers. Foreigners choose to move into Warsaw for many reasons. First and foremost, the high quality of education. Indeed, the University of Warsaw is ranked among the top universities worldwide. It is also the best university in Poland and one of the best in this region of Europe, according to worldwide rankings. Most students attend the University of Warsaw, Warsaw University of Technology, the Warsaw School of Economics, Warsaw University of Life Sciences, and the Medical University of Warsaw. Another reason is the cost of living, as Warsaw is considered one of the cheapest capital cities in Europe.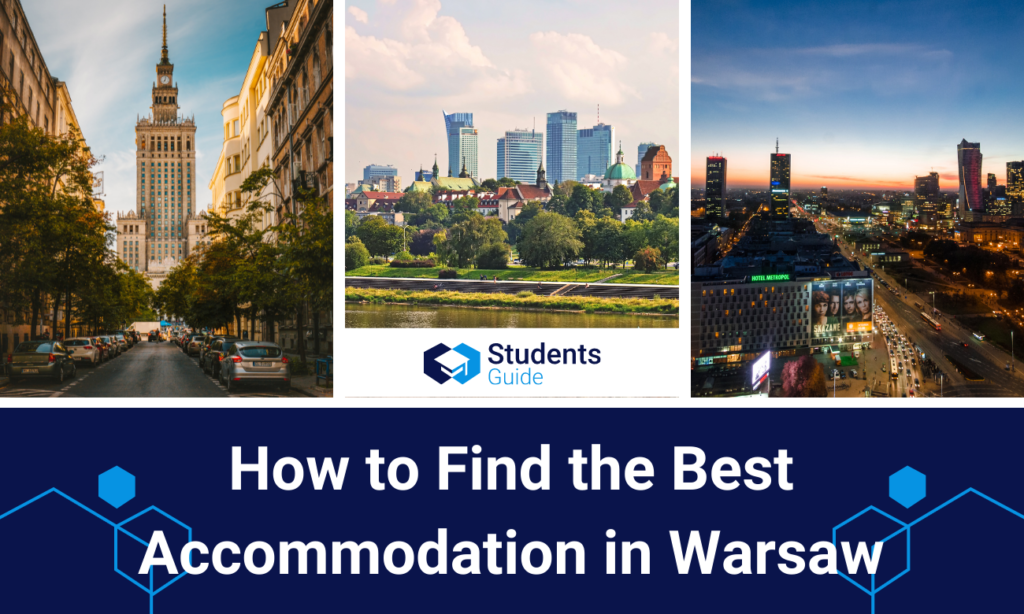 Accommodation – Tips
Before moving to a country, it is important to look for accommodation. The easiest method is to search on the internet and rent a room or an apartment online. The criteria that you should take into consideration while looking for a place to live are:
Your monthly budget – make sure you can afford the room you choose. How? Consider that the rent should not overcome the 30% of your total monthly budget. Remember you have other bills to pay
Multiple resources – don't look just on one website, try to use different resources to have a general idea about prices and options.
District choice – choose a safe district, near your school or work and near shops
Warsaw – Districts
There are 18 districts in Warsaw, each with its own administrative authority.
Here are the most important and the most famous districts in Warsaw that you should take into account when looking for accommodation:
ŚRÓDMIEŚCIE
The central district of the capital hosts the most important tourist attractions, cultural institutions, and restaurants and contains the most prominent buildings in Warsaw such as the Royal Palace, the Presidential Palace, the Palace of science and culture, the Old town, the New town, the Royal route, Lazienki district.
MOKOTÓW
Warsaw's most populous district, as well as one of the most popular among the city's residents because of its numerous green areas (Mokotów Field Park, Sea-Eye Park, and Water reservoirs). In the old part of the district, there are many little cafes, restaurants, student pubs, and hyped establishments (Mecca of hipsters).
WOLA
Wola is considered the industrial district of Warsaw. A large part is currently being transformed into a business area and it hosts one of Warsaw's most impressive and sophisticated skyscrapers. You can also find the Uprising Museum, an open-air swimming pool, and numerous parks.
MURANÓW
One of the calmest and most pleasant locations to live in and one of the world's most distinctive residential districts. It is also a memorial district that represents a rupture in Warsaw's heart since it's the place where the Nazis established the bounds of the Jewish ghetto quarter and demolished the entire neighborhood, followed by the deportation of more than 300,000 Jews to concentration camps. Now the district is entirely rebuilt and modernized.
KABATY
If you are looking for calmness, luxury living, and a break from the hustle and bustle of city life, this district could be perfect for you. And despite its distance from the city center, the district is well connected to the rest of the city, thanks to a metro line and several bus routes.
URSYNÓW
Known as the city's "bedroom" since it's the biggest residential district of Warsaw and it hosts one of the biggest nature reserves of the region (Kabacki Forest), which is a popular family excursion. What is more, the district is well connected to the city center, by metro, bus, and tram, making it an ideal place for professionals and students. Another benefit is the lower rental fees in comparison to the city center.
PRAGA
This district attracts many tourists because of its pre-war houses, its National stadium, and the lower rental. Even if Praga is often regarded as a neglected and dangerous neighborhood, it may surprise you with its numerous hyped bars, clubs, and restaurants.
How to avoid scams?
It is critical for internationals coming to a foreign country to know how to rent an apartment and what to avoid to prevent being scammed. Here you can find some advice:
Do an online search about the company's reviews and complaints
Don't trust crazy low prices, it is probably a pure scam. Check the range prices and compare them.
Visit the apartment or ask the owner to provide you with more photos.
Don't pay for the apartment tour. You can see the apartment without any additional fees.
Check on google maps if the apartment location exists.
Never pay with cash, wire transfers, or gift cards. The recommended method is to pay via bank transfer.
About the contract
When it comes to signing the agreement, read carefully and make sure you understand everything and that all the details and data are correct. If the description is in Polish, ask for a translator or a translated copy.
The information that a contract should contain is as follows:
Personal data of the owner and the tenant and property information
Monthly costs (bills are included? If not how much you should pay)
Deposit information ( how much? How will it be returned? ). Usually, the deposit is equal to one or two months.
Insurance cost
Rental duration ( make sure they wrote the exact months )
Payment method
Payment deadline
Warsaw – Most popular types of accommodation
Warsaw offers to foreign students a variety of accommodations and options that can satisfy their requests. As a result, you can compare and select the offer that meets your needs and budget.
When it comes to choosing accommodation, some people look for quality and comfort and others take into account the price and the location.
Below we described the 6 most popular forms of accommodations chosen by students to help you choose your place.
Hostels
Hostels are a form of low-cost and short-term accommodation chosen by students, workers, and travelers who want to save money and meet other people. Hostels usually offer 4 or even more shared rooms with shared bathrooms, a lounge, and a kitchen for a low price.
Public dormitories
Public dormitories are considered the cheapest form of long-term accommodation and they belong to universities. They are usually located on campus, so students will have access to the university's facilities such as a library, wifi, café…
Also, public dorms have rooms for 2, 3 or 4 people, as well as shared kitchens and bathrooms. Due to the high number of demands, it is recommended to book this sort of accommodation as early as possible.
Private dormitories
Private dormitories are similar to public ones, but they are owned and managed by private companies. They are often in the city center and they offer all the amenities students need. Unfortunately, the number of people applying for this kind of accommodations is increasing constantly, therefore the chance to get accepted is very low.
Keep in mind that before moving, you should pay a deposit for the period you rent.
Shared flats
A place where two or more people live together but each person has their bedroom and they share certain areas such as kitchens, bathrooms and the living room. People usually share single or double rooms in this kind of lodging for financial reasons or to boost their social life.
Private flats
If you are looking for privacy and comfort this would be the best option for you, though you must consider that the price is much higher. Before renting the flat you should ask the landlord about the deposit, the bills, and any other expenses and responsibilities.
Family stays
They are vacant rooms offered by local families for a period that does not exceed one year. This option gives you the best opportunity to be immersed in the language and the culture of the country.
Lodging websites
The best services to trust in Poland where you can find large numbers of offers from landlords and agencies are as follows:
OLX
Pepe Housing
Gumtree
Gratka
Another alternative is your university website. People who applied for a university in Poland can find all the information about public dormitories and room rental offers.
What are you waiting for? Start looking for the best accommodation. WARSAW IS WAITING FOR YOU!
Souad is a student in the first year of a master's degree in Languages for Communication in International Enterprises and Organizations (LACOM) at the University of Modena. She holds a degree in Languages and Modern Literatures from the University of Ferrara (Italy) and speaks 5 languages fluently: Arabic, Italian, French, English, and Spanish. Her passion is traveling, discovering cultures, and learning new languages.
In 2019, Souad worked for two months as an English teacher in a volunteer project in Istanbul with AIESEC (a non-profit organization) and in 2021, as an intern in Global Voices (a translation agency) for three months.