You've done it! With all the paperwork and deadlines out of the way, you can, at last, get to your study abroad packing list! This can be quite a challenge as you'll be gone for a while and definitely don't want to realize a 1000 miles away from home that you've forgotten one of your beloved essentials. Packing your life and daily needs into a suitcase can seem like a very daunting task. Don't worry though, you are not the only one out there facing this challenge. We have created the ultimate packing list to help you out for exactly this reason, and put together some study abroad packing tips for all of you out there planning on studying abroad for one or two semesters.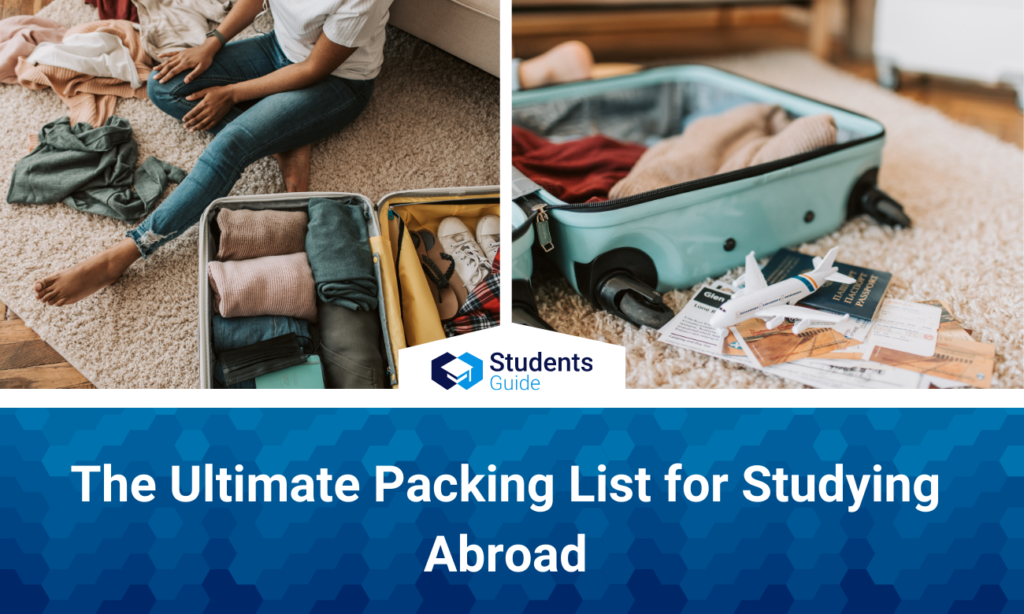 Start planning early
Before we get to the checklists, it needs to be said that you should not, under any circumstances, do your packing last minute. Anyone feeling addressed here? I cannot stress this point enough, as you can really save yourself a lot of unnecessary stress by staying organised and starting to pack early for your study abroad.
To pack like a pro, start laying everything out about a week before your departure to get an overview of what you will be taking along, what you might still need to buy and what is unnecessary to take along. Is there anything you still need to organise or get, like a set of contact lenses, medicines, things you need a prescription for or can only order online or get from a specific shop?
Consider the length of your stay
The length of your stay naturally determines the type of clothing you will be taking along, as well as other seasonal essentials. Certain study abroad essentials, toiletries and the like will be similar, regardless of whether you plan on studying abroad for one or two semesters, but there are still some fine differences you need to keep in mind. You might also consider taking a carry-on in addition to your suitcase for a study period of two semesters, as your coat and other thicker articles of clothing will take up a lot of precious space.
Which season will you be going abroad in?
The season you travel abroad determines many essential objects you will be taking along. Think of insulated beverage bottles for your hot tea, woolly mittens, a scarf, hats and the like for winter- how could you do without? You will also need to take into account the hemisphere you will be travelling to. You are in for a surprise if you arrive in Australia in June or July expecting hot temperatures.
Appropriate clothing
By this, I don't just mean weather-appropriate clothing! Before you start packing and throwing your favourite shorts and tank tops into the suitcase, be sure to do some research about your destination, especially thinking of the dress code at university or for taking a stroll outside. You will not want to stick out from the crowd by wearing something culturally inappropriate. It might also help to think about what you are planning to visit. If your itinerary includes churches or temples, pack a multipurpose scarf, long trousers and shirts.
How to pack smartly
The general rule is that you need a lot less abroad than you think. Don't try stuffing your whole life in a suitcase- be smart about what you take along. Also, be sure to check the luggage restrictions to avoid an unpleasant surprise at the airport. Luggage restrictions vary from airline to airline, so take a look at the airline's website you are flying with in advance.
10 things NOT to take along for study abroad
Hairdryer and hair straightener: It often happens that these tools need a special amount of voltage, which is specific to each country. The voltage provided by plugs is different in Europe for example and most of the time not comparable to the US. To avoid ruining your hair dryer or hair straightener, your safest bet would be to opt for buying one at your destination. If the hair tool you have is dual voltage (check the label!) and your final destination is Europe, you can take it along if you find a fitting adapter.
An unnecessary amount of shampoo, shower gel and toothpaste: Take some along for the first week or so, then stock up once you've arrived.
Too many snacks: We all know snacks are important, especially if they remind you of home. But packing too many of your beloved Quaker oats, Reese's and CHEEZ-ITS will take up much-needed luggage space. Nowadays, you are sure to find these in some stores abroad anyway. And don't let this make you miss out on the local snacks!
Heavy books: Don't take more than two books with you as they will make your suitcase a lot heavier, and you will read them fast and then just have them lying around. Opt for a Kindle, if you have one, or make use of your local library card.
Your whole make-up collection: Take out the essentials and things you'll need for nights out with friends. There's no need to take your whole collection and every shade of eyeshadow you own.
Expensive or precious things: It's alright to take some jewellery along, but keep to a minimum- better not risk anything.
A lot of change: Nowadays, you have ATMs around every second corner or you can pay by card almost everywhere. And even if that's not the case, it's not advisable to have too much cash on you.
Uncomfortable shoes: You should be able to walk long distances in your shoes. Make sure you have at least one pair of proper walking shoes that are waterproof.
Culturally inappropriate clothing: Do your research on this before you start packing for a semester, so you don't end up having nothing appropriate to wear.
A suitcase stuffed to the brim: Don't forget to leave some space in your suitcase, as you'll surely want to take home some souvenirs!
Now that we've gone through everything you shouldn't pack, let's get to what you should take along! So grab a sheet of paper and take note of all your lists and things to buy before studying abroad. If you still need to buy something, write it up, so you don't forget! Also, feel free to print the lists down below to save yourself some time!
Packing list for studying abroad
If you are planning on studying abroad during the warmer months of the year, you will be able to travel with a bit lighter luggage. Wondering about what to pack when studying abroad in Europe or elsewhere? Or about how to pack for a semester abroad? Then best take a look at the list below, which can be viewed as a complete study abroad packing checklist, though you can naturally adjust it to fit your needs and add things that aren't on it. Your clothes are going to vary the most, so there are two separate lists to go through. If you are packing for a year abroad, go for a mix of both of them.
Clothes to pack for studying abroad in summer
Unless you are staying in a place like northern Brazil, Morocco or Málaga during your study abroad for the summer semester, it is important to not only think of the warmer months towards the end of your stay but also the first few months of spring which might be chillier in your destination of choice. Search for the temperatures to expect to have a good mix of warmer and summer attire.
Light jacket
Rain jacket
2-3 sweaters or hoodies
Waterproof shoes
Sneakers
A pair of sandals
A pair of nice shoes
12x underwear
10x socks
Jeans/ trousers 2-3x
Skirt(s)
1-2 dresses
2 shorts
Belt
6 t-shirts
3-4 (tank) tops
Pyjamas
Cosy outfit for at home
Sportswear
Slippers (if needed), or flip-flops you can use in hostels
Sunglasses
Cap
Swimsuit

Clothes to pack for studying abroad in winter
Trust me, you don't want to be in a northern European country without a proper pair of warm boots, a thick coat and woolly mittens! It might also happen that the heating in your dorm is not enough to keep you warm, so you'll want to be prepared with the right clothing!
1 lighter rain and waterproof jacket
1 warm coat for cold weather
3-4 sweaters, hoodies
Waterproof shoes
A pair of boots
Sneakers
A pair of nice shoes
12x underwear
12x socks (also thicker ones!)
3 jeans/ trousers
Belt
Skirt(s)
1-2 dresses
2 tights
2 t-shirt
Long-sleeved shirts
2-3 undershirts
Pyjamas
Cosy outfit for at home
Sportswear
Hat
Mittens
Scarf
Slippers (if needed), or flip-flops you can use in hostels
1-2 fancy outfits
Toiletries to pack for studying abroad
In some countries, you will not be able to get your go-to products, so stock up on anything you know you cannot find so easily in your new country. The toiletries list should suit everyone's needs:
Shower Gel, shampoo, conditioner (use small, refillable tubes for trips to neighbouring cities!)
Toothbrush (and charger if needed), toothpaste, floss
Hair ties, bobby pins
Hairbrush, comb
Soap
Feminine products
Nail clippers
Body lotion
Makeup and makeup remover
Facial cream and cleanser
Lip balm
Razor, shaving supplies
Plasters (normal, and blister blasters)
Tissues, toilet paper
Medication or supplements if needed
Medicine (against a cough, sore throat, headaches and pain)
Deodorant
Contact lens box, solution and spare contact lenses
Glasses and case
Sunscreen
Insect repellent spray (if you think you'll need it in your country)
Electronics to pack for studying abroad
Ah, the joys of country-specific sockets and voltages! I think we all know the moment of dismay when realizing the socket is different to our home country. A higher amount of voltage can also ruin your electrical appliances, so do your research to be prepared and take at least one adapter with you.
Phone and charger
Kindle and charger
Laptop, charger and external USB disk
USB-stick
Headphones or earphones
1-2 adapters
If needed: Tablet and charger
Camera and charger
Portable power bank
Miscellaneous things to pack for studying abroad
Last but certainly not least, pack your documents, IDs, tickets and other additional things you will need during your stay:
Passport, visa, ID and ISIC card (and their copies!)
Plane ticket
Wallet
Backpack
Smaller bag/ handbag for going out
Tote bags
Writing utensils
Notebooks and paper for university
University invitation letter
Jewellery
Water bottle
Towel
Accommodation papers
Travel insurance papers
Sleep mask
Some hangers
Hand sanitiser
Umbrella
Lunchbox, tupperware or thermo food container
Small snacks
Bed linens (be sure to check if they are offered at your accommodation)
Sleeping bag for hostels
Diary/ travel journal
Small lock for the gym and hostel lockers
Ziplock bags
Some cash (check what an acceptable amount is for your destination)
Earplug (for noisy hostels)
If the country you will be studying abroad boasts especially cold temperatures in winter, consider taking a hand warmer along.
5 study abroad packing tips
Here are some quick study abroad packing tips that are sometimes underestimated:
Take a calendar, planner or diary! Even if this is not at the top of your study abroad packing checklist, you will be happy to have something to write your ideas, plans, and to-do lists. Handing a diary around and having new friends write something into it will make it one of your best keepsakes to take back home!
Compare some options beforehand on where you'll be getting your SIM card, and whether the country accepts your credit card.
Be sure to have some cash in the correct currency when you arrive. You never know whether you might not need a taxi or an emergency snack at the airport!
Take a keepsake from home– something that makes you smile and reminds you of your friends or family. Stuffed toys, printed pictures or postcards from friends are a great option here.
Clothes you haven't worn in months: If you haven't worn them the last few months, you are unlikely to feel good in them abroad.
Check everything one last time and you are off!
Let's recap the 3 most important points one last time:
Start packing early.
Keep lists of what to pack and what to organise before your trip.
Maintain an overview of everything and stay organised.
One last word of advice: When you start packing, don't put everything in your luggage straight away. That way, you will only lose track of what you've packed and what you haven't and will end up rummaging through your suitcase for that one hoodie you absolutely need to take along. Spread your things out across a sofa or the floor to keep an overview. Only on the last day when you pack for real, tick off the boxes on your list.
So, what are you waiting for? Go grab yourself something to write with and let's get packing!
Caroline Grasser is a student of the bachelor's programme Transcultural Communication at the University of Vienna with German, English and French as her working languages. Passionate about languages from an early age, she grew up with multiple languages and completed the Vienna Bilingual Schooling system. If she's not spending time getting inspired on Pinterest or reading up on animal rights and environmental protection, you can find her in her favourite boulder hall with friends.