Free study in America is the dream of many students. It is difficult, but feasible: the American dream can and should be fought for. This article has prepared the most popular scholarships among international students.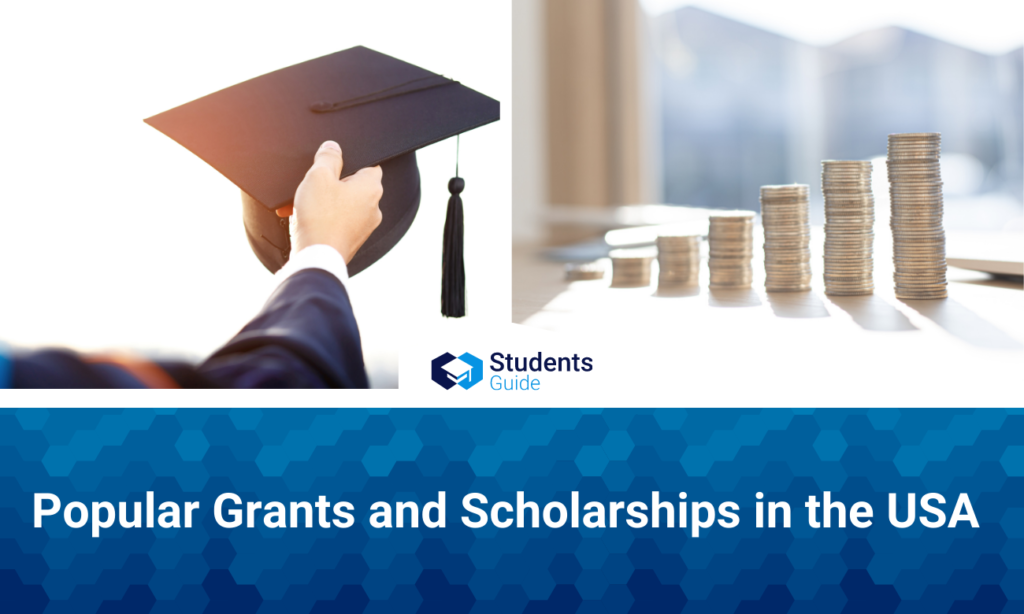 Fulbright International Student Program
This program was established in 1946 by US Senator William Fulbright and today is considered as the most prestigious and recognizable scholarship in the world.
The program is the most common among international students and awards scholarships to approximately 4,000 foreign students every year.
Program benefits for all foreign students
Round-trip transportation to the USA
Financing to cover living expenses, meals and contingencies, based on the cost of living in the host country
Health benefits in case of accidents and illness
Language training programs
Full or partial tuition
Book and research manuals
Who can apply:
Foreign students from more than 160 countries around the world
Hubert Humphrey Fellowship and Grant Program
The Humphrey Fellowship Program was established by the United States Congress in 1978. The grant provides ten months of non-degree academic study and related professional experiences in the United States.
There are about 200 scholarships awarded each year.
Program benefits & inclusions
Airplane tickets (international travel to and from the United States to participate in the program)
Payment of tuition and fees at the designated host university
Maintenance (living) allowance, including a one-time settlement allowance
Pre-academic training in English, if required
One-time computer subsidy
Insurance against accidents and illnesses
Professional development allowance (field trips, professional visits and conferences)
Airplane tickets (domestic travel to required program activities)
The program is aimed at undergraduate students who wish to strengthen their leadership skills and participate in the exchange of knowledge and experience.
Who can apply:
Europe and Eurasia
East Asia, Pacific South and Central Asia
Western Hemisphere
Middle East and North Africa
Sub-Saharan Africa
Knight-Hennessy Scholarship Program
In spite of the fact that Stanford Knight-Hennessy is in its fifth year of presence, it is one of the most competitive awards for graduate school within the world. This is especially true since anybody in the world who wishes to take a participation in any graduate program at Stanford is qualified to apply.
Program benefits & inclusions
Round-trip transportation (an economy-class ticket) for one annual trip to Stanford
Tuition and associated fees
Living and academic expenses (including room and board, academic supplies, books and instructional materials, local transportation, other personal expenses)
Supplemental funds (field trips, conference travel, etc.)
Who can apply:
Candidates from all nations – there are no limitations based on citizenship, age, field of study, career desire, etc.
Note* All candidates must apply separately to the Scholarship program and Stanford graduate degree program because you will be required to indicate in the application the graduate degree program to which you will apply.
The Stamps Scholarship
The Stamps Scholarship is a merit-based undergraduate scholarship that was established in 2006 by Roe and Penny Stamps.
Program benefits
Basically, the benefits of a scholarship are as follows, however they may vary slightly depending on the host university.
Tuition & mandatory fees
Room and board for four years of study
Enrichment funds, which can be used for studying abroad or internships
For instance, the entire grant in the University of Oregon provides roughly $125,000 over four years. It includes tuition, fees, living expenses and board for four years of undergraduate study. Also all recipients benefit from up to $12,000 in enrichment funds to be used to help pursue study abroad, unpaid internships, or other experiences.
Partner Universities
University of Chicago
University of California, LA
University of Florida
University of Illinois
University of Georgia
University of Miami
University of Michigan
University of Mississippi
University of Missouri
University of Oregon
University of Pittsburgh
University of South Carolina
University of Southern California
and many others.
Illinois Wesleyan University Scholarship
Illinois Wesleyan University Scholarship for all foreign students offers undergraduate and graduate scholarships ranging from $16,000 to full tuition coverage. Applicants are not required to submit a separate scholarship application as is the case with Stanford University. All candidates who have successfully applied for the program of interest before the deadline are automatically considered for the scholarship.
There are two types of scholarships:
Merit-based scholarship (range from $16000 to $30000)
President's scholarship (full-tuition)
Both scholarships are renewable for up to 4 years.
Who can apply:
International students from all over the world.
Anara is a Travel Expert from Kazakhstan, currently residing in South Korea. She has two higher educational backgrounds, outstanding linguistic abilities, and speaks 4 languages. Her life motto is "To live is like to draw without a draft".