The decision to apply for the Erasmus Programme is the easiest part of the whole process: the most complicated task is choosing the perfect destination for your Erasmus stay. Get ready for a long research – the Internet will soon become your best friend!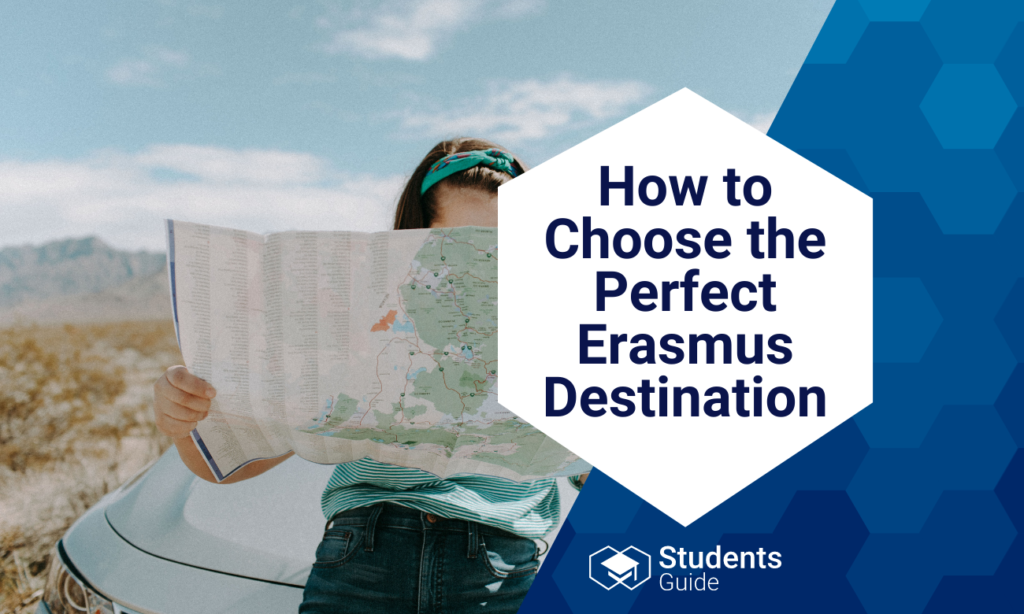 To choose the best Erasmus destination, focusing on the academic aspect – although crucial – is not enough. Here are several other details you should definitely consider before choosing the best Erasmus destination. It might seem like a lot of factors to take into account, but trust us when we say that checking all these factors will increase your chances of choosing the best Erasmus location possible.
Erasmus destination – Best Universities
When deciding where to apply for the Erasmus programme, you should remember that study or internship should be one of your top priorities. It is important that you invest some time in researching and studying university websites, paying particular attention to which services universities offer to local and foreign students.
Erasmus program – Compatibility
The main point of the whole process is that you have to choose the best destination for your Erasmus experience. You don't have to choose the best or most well-known university in Europe or in a specific country, you have to choose the best university for you and your academic history. The ideal situation is for you to apply to a university that is a leader or focus primarily in the field you're studying. Some institutions are known for their value within a specific academic field, so don't underestimate this point. From personal experience, it wouldn't have made much sense if I had applied for an Erasmus for Study position in Brno, a Czech university known for its linguistics studies, if I was more interested in literature and comparative studies, right? Compatibility and coherency should be the keys here: make sure there is compatibility between your study program and the academic offer at the institution you're interested in.
When looking for the best academic offer, remember that there might also be restrictions concerning the study cycle. Bachelor students have access to a higher number of classes than Master or PhD students, so if you are a Master student, you might have problems finding a course that truly interests you or that is compatible with your study programme. Also, every class you choose to take has to be accepted by your home university, so be very careful when checking the academic offer of your hypothetical host university. In some cases professors allow MA students to attend BA courses anyway, even if it's a lower study cycle. This is not standard practice everywhere, so we suggest you make sure of it before you apply by contacting professors and Erasmus coordinators at that university.
Beware that not every course is always open to Erasmus students: when you see a course that catches your eye you should check if you would be able to attend it as a foreigner.
Teaching quality
Since your studies should be at the center of your Erasmus experience, it's important that you have a positive experience at a host university that you choose. You should also have a look at the several universities rankings you can find online. Many factors combine to give you a positive learning experience: professors, academic activities, contact with international students, professors and institutions and so on. All these aspects can be summed up in the teaching quality of every university, which you can check online. These rankings apparently show the best and worst universities in Europe or all over the world, but you should use these rankings carefully to analyze the criteria you need or you are interested in. It is especially helpful to get an idea of the rankings in your area of study to see which institutions stand out and might be worth the time and money investment.
Living cost
This is another very important aspect! What if you've just been accepted as an Erasmus student in Paris, which is notoriously one of the most expensive cities in Europe and you just realized that your Erasmus scholarship only covers 40% of your monthly budget, between housing and other daily expenses? That's why it is so important to get information about the living cost of the city or country you're interested in before you apply. This allows you to choose the perfect Erasmus destination based on your and your family financial situation.
It is common knowledge that Northern European countries have a higher cost of living than for example Italy or Portugal. If you are planning to apply in one of these countries, it might be a good idea to save some money before you go. On the other hand Eastern European and Balkan countries are usually cheaper and more affordable. Lower living costs usually also means lower transportation costs, a factor you also should definitely consider. Cheap transportation means that you can more easily move around the city and from and to your home country whenever you feel the need. Moreover, lower transportation costs give you the perfect opportunity to visit as many neighbouring countries as you can: trains in central Europe, for example, are very cheap for students and/or younger people under 26 yo and you can easily travel to Budapest from Prague for only 35 euro, crazy, isn't it?
Don't forget that, as an Erasmus scholarship holder, you will receive a grant from the European Union to support your expenses during the Mobility. The grant (between 250 and 300 euros) is calculated according to the destination you will move to, but 90% of the time this monthly grant is barely enough to cover the accommodation fees, so choose your destination carefully. The Italian government recently introduced an additional ministerial-funded grant (MUR grant) for Erasmus students, so before applying for any place check if your country offers additional grants for international mobility students and how to apply for them. This option might give you the opportunity to apply for universities in cities with a higher living cost, despite the fact that they might not be financially viable for you and your family at first.
For those that want to move to a country that doesn't have Euro (€), I suggest you do some research on the local currency and already save some tips on how and where to change and withdraw money without losing too much in the conversion rate.
Accommodation
This point is connected with the living cost of any place. Higher living costs also mean higher accommodation prices, so obviously student housing is more expensive in some european countries and way cheaper in other places. Before looking for an accommodation you should also ask yourself whether your ideal Erasmus destination should be a capital city or a smaller town. This changes not only your living costs but also the prices of the accommodation. Of course bigger cities are more welcoming to foreigners and more multicultural, offer social life and a wide range of different types of student housing, but with much higher prices. Smaller towns are usually more organized when it comes to receiving foreign students and the fact that housing prices are lower here is definitely a pro.
It might be a good idea to do a quick research online to find out the student housing situation in your destination country and to see what locals like best. For example, the majority of Italian university students prefer to rent a room in a shared flat with other students, local or foreign, instead of staying in the University campus, while in other countries, such as Czech Republic, student dormitories are frequently chosen over private housing.
The decision between these two main options clearly depends on the price, which can change sensibly depending on the type of accommodation. Before deciding on the location of your Erasmus+ stay, it might therefore be a good idea to check the price of the local housing market. This will give you a general idea of the price range and what type of student accommodation it's mainly chosen by local and international students in that area. You can usually find information about campuses and student dorms on the universities websites, while for shared flats we suggest you use the many groups you can find on Facebook.
If you want to share a flat with other international students, check if your finances allow you to do so. Renting a room in a shared flat in Paris, Copenhagen or Berlin might cost you up to 600 euro monthly. If you can't afford it, you have two options: if you are 100% sure that you want to study in these cities you can try to find a place in a dorm or you can easily change locations and aim for something more affordable. It's not uncommon to meet students who have changed their mind about their Erasmus destination because of the difficulty in finding accommodation or because of the prices.
The other thing to keep in mind is that the housing market is a field that's constantly changing, along with other housing services such as Airbnb, and soon the search for an accommodation could turn into a nightmare. A specific neighborhood that might be ok, the next year can be very expensive and no longer affordable for many students, so if you are looking for a flat you should constantly check every facebook group and housing agency that you know.
Erasmus destination – Weather
This might seem like a weird aspect, but trust us, you should definitely think carefully about the weather when choosing where to apply.
Moving to a different country and environment can be a traumatic experience itself, but can get significantly worse if you are not properly ready to face meteorological conditions that are different from the ones you are used to. For instance, would you define yourself as a summer person or a winter one? If you define yourself as a summer person, you should definitely ask yourself if you are ready to spend one or two semesters in a colder country.
Aside from this, there are some weather aspects strictly connected to some countries and cities that must be considered. University of Helsinki might have great teaching quality values, very interesting and compatible courses and exams and the living cost is not a problem for you, but are you 100% sure you're ready to face Finnnish winter? Are you ok with long winter days with only a few hours of sun every day? Studying at Ca' Foscari University in Venice also looks amazing, but think prudently whether you are ready to face the high tide which makes Venice famous only to reach your class (spoiler: wearing knee-high boots and walking in freezing water is not as funny as it may seem).
What we are trying to say is that the university might look perfect for you, but if the location weather can negatively impact your life then we strongly suggest you to change your Erasmus destination.
Erasmus – Language
Obviously nowadays it's safe to say that almost everywhere you can find someone who can speak English, but to think that this will solve every possible linguistic obstacle would be naive.
Of course within the university and Erasmus circle English will be your main language and your communication tool, but remember that the Erasmus experience is not just about the academic aspect. You will be expected to survive six or more months in a foreign environment, where English won't always be enough and you'll be forced to learn at least the basics of the language of your Erasmus destination. Think carefully if you want to try to learn a new language, with all its difficulties: this could actually be a great opportunity to learn a language that you wouldn't normally choose and what better way than to learn and practice it among locals ready to help and support you?
The language is also important for the academic part: every university should have an extensive list of classes taught in English from which to choose, but they obviously have an even wider list of courses held in the country's original language. If you have already studied, in the past, the language of the country you want to move to for your Erasmus experience, we recommend that you invest your time in improving or polishing your language skills. Improving your linguistic level of French, German, Spanish or whatever language you might already know, will give you the opportunity to choose from even more courses, in English and in the local language, doubling up the educational offer and improving your academic experience. This is also useful if you're writing your final thesis: the more languages you know, the more different resources you have available to research your topic.
Don't get scared and exclude cities and countries just because they have a difficult or weird language. Also, the universities usually offer free local language courses and other learning activities that you can join to get in touch with the new language and reach at least a survival level. Don't forget that once you join the Erasmus programme, you can use the Online Linguistic Support (OLS), an online language learning platform, for free to keep yourself trained and develop your linguistic skills. Who knows, maybe in the future you'll secure an interview for your dream job just because you impressed the recruiters with the language you learned during your Erasmus, which you put in the CV.
So all we need to do now is wish you good luck in choosing your perfect Erasmus destination! And don't panic, even if your destination doesn't seem great in the beginning of your experience, we are sure that the locals you'll meet and the friends you'll make there will change your mind in no time 😉