Want to create your own daily routine to improve your productivity or quality of life? And may you ask how to create a daily routine? We are going to tell you about some daily tasks done by successful people that can help you build a routine that can fit your daily life. Of course, be aware that you don't have to use every step of the routine because it should fit you and not copy someone else's routine.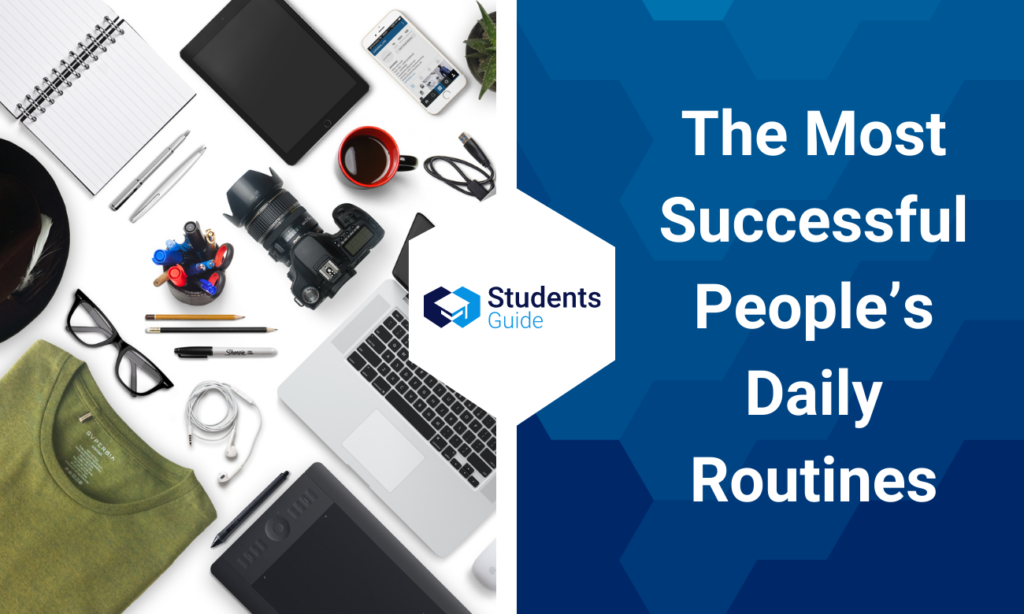 Morning routine checklist
The morning is the second quietest time of the day. Take advantage of this moment to get up calmly without overexerting yourself in order to avoid stressing yourself. We will give you some tips that can improve your morning routine.
The first thing to do in the morning is to wake up early without an alarm clock. To be awake early in the morning is the best way to start your day and do a lot of things.
Don't reach for your phone right away, save your moments in bed to wake up properly away from your devices.
After putting your two feet on the ground (starting with your right foot obviously) make your bed and if the weather is nice open your windows to air the room.
Drink a glass of water, it will wake up your body. Moreover, staying hydrated is very important for your health and to have luminous skin.
Eat a good breakfast so that you don't feel hungry all morning. Eat whatever makes you happy, whether it's fruit, cereal, spreads, or an English breakfast.
Make a to-do list of what you have to do during your day such as go to the supermarket, do an important work task, exercise, etc… This will help you plan your day and accomplish more if you set a goal.
You can do what Winston Churchill did when he stayed in bed all morning, had breakfast, and started working from bed. If you like to stay in bed, of course, you can stay in bed longer than getting up at five o'clock.
Routine during the day checklist
The day is often spent working, whether you're at home or at your workplace. However, there is also a small window of time between the end of your workday and the beginning of your evening. Our tips here will focus on things to do throughout the day, but mainly on your after work.
To start your day well, once you are ready to work, do the daily or weekly tasks that you consider the most complicated first. This will allow you to free yourself from a point and continue your day serenely.
Throughout your day, it is important to continue to drink water, so your brain can continue to have a good activity, your transit is facilitated, and allows to keep a good blood circulation.
Set aside an hour of free time to learn new things, it will give you a sense of satisfaction and accomplishment. Learning also helps to stimulate your brain every day and develop your general knowledge. This can be anything from the history of your country, to Egyptian mythologies, to learning how to invest money in the stock market, no matter what the subject, never stop learning is one of the keys to success.
Do some sport. Yes, I know that not everyone is born athletic at heart. However, going for a 30 to 60-minute walk can be beneficial for your body as well as yoga which is a sport that is gentle and allows you to relax. If you feel up to it, you can go running, go to the gym or play tennis for example. Sport is important especially to keep good cardio and not to be tired all the time too fast.
One thing that may be insignificant like this but can do you a lot of good is to spend 10 minutes thanking what is around you and being grateful for it. It can be thanking yourself for accomplishing something in your day, thanking the people around you for being positive, etc…
Night routine checklist
Once your day is over, you will begin your routine that will prepare you for sleep. This is the time when you can decompress from your day.
Don't eat a heavy dinner and avoid red meat, this will allow you to digest properly without risking indigestion or bloating before bed.
Spend time with your family, your partner, or your pet if you have one. Sharing moments with others will bring you happiness.
After eating, you can do some stretching, meditation, or listen to some calm music to relax your body and mind. This will prepare your body to enter a sleep phase more quickly.
You can also plan your day tomorrow by replacing the morning to-do list step with this one. Making your list the day before allows you to focus directly on the tasks to be done at the beginning of your day and probably plan it better. You can also prepare your outfit for the next day, which will avoid the big reflection in front of his wardrobe in the morning and the question "what will I wear today".
From then on, we advise you to leave your electronic devices far from you because the blue light they contain neglects your sleep quality. It is recommended to put your screens down at least one hour before going to bed.
Before you dive into your comfy bed, taking a nice shower and some time for yourself can make you decompress and enjoy your company after a busy day. You can also create a daily skincare routine to take care of your face and make it as glowing as you are.
Once you've crawled into bed and before you're whisked away by the arms of Morpheus, reading a book is very beneficial. A statistic shows that 37% of people who read a book before bed improve their quality of sleep. It only takes 20 to 60 minutes of reading for it to be beneficial. You can also combine this reading with your daily learning by reading a documentary book.
You can end your long day with a glass of water and fall asleep at a reasonable hour and start a new day.
Daily skincare routine checklist
You probably want to have beautiful skin, so it's important to create a daily skincare routine to keep your skin healthy. Here are some simple tips to follow to start your routine or to complete it. For your skincare routine it is very important to choose your products carefully, they must be adapted to your skin type.
First of all, you have to wash your face every morning and every night with water and a gentle cleanser. You can also massage your face while cleansing it so that the product penetrates deeply.
Use a toner. During your evening skincare routine, you can use an exfoliating toner that will remove your dead skin. You should not use an exfoliating toner in the morning as it will damage your skin due to the sun's rays.
You can apply serum morning and night to keep your skin hydrated, plump, and full of vitality.
Use sunscreen on your skin with a high SPF, nothing is more dangerous for your skin than the sun. It is important to apply sunscreen every morning. In addition, sunscreen also serves to delay the signs of aging such as wrinkles.
The most successful people's daily routines – conclusion
As a reminder, you don't have to follow the same routine as the big successful people to have a healthy lifestyle and a successful life. Even if you only follow one of these steps it's no big deal. The only major piece of advice to follow in your life is to follow it the way you want to no matter what anyone says.