Searching for a perfect destination to study abroad might be harder than expected. Between the many possibilities, your budget, your dreams, and the desire to discover the world while enjoying your youth, it seems like one of the heaviest choices you'll ever have to make.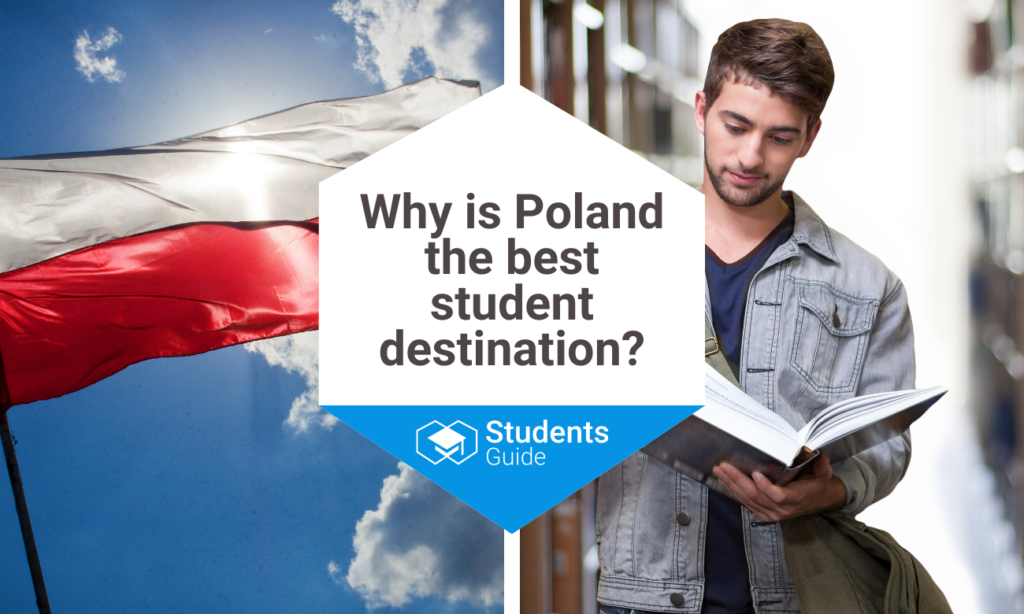 Whether you're going for a European destination or searching worldwide, we are here to prove to you that Poland is the right choice to make!
Poland has everything you can be searching for while studying abroad! It is an affordable destination with many possibilities and enriching culture. There, you'll be able to meet heart-warming locals, learn about a fascinating history, have fun parties with friends and enjoy everything the country has to offer. Read this article and let us tell you more about this underrated European destination!
Poland is an affordable student destination
Because we all know the budget matters when it comes to studying abroad, Poland will offer you an unforgettable experience at a low price. Don't stop yourself from visiting the country, eating at restaurants, or even having a drink with some friends! You can do all of that at a much cheaper price than in most European destinations!
For example, a beer will cost around 10 PLN (~2$), a cinema ticket is around 25 PLN ($6), a tram ticket costs 4 PLN ($0.95) and a Mcdonald's meal would be about 22 PLN (less than $6).
When it comes to accommodation, you can have a small apartment, studio, or student's room for a wide range of prices, from around $110 to $800 a month. The price will essentially depend on how close it is to the city center, how big the place is and how you book your place. Choosing a student's room might be cheaper and an apartment in the city center might be more expensive.
Polish food is delicious!
Because living in a country with great food is important, you'll be perfectly fine in Poland. Whether it's the variety of restaurants you can find in big cities or the delicious Polish specialties, we assure you that you'll appreciate eating in Poland!
Here are a couple of polish specialties that you have to taste:
Pierogi: the national dish of Poland. You just cannot miss those Polish dumplings! They are usually filled with mushrooms, cheese, meat, cabbage, or even blueberries.
Kluski śląskie: delicious soft potato dumplings from Silesia (southwest of Poland and small parts of Germany and the Czech Republic).
Bigos: a cabbage stew often served the day after Christmas.
Pączki: those sweet polish donuts are at every bakery. It's a must to eat some during the celebration day called "Tłusty czwartek" (Fat Thursday) on the last Thursday before Lent.
Makowiec: poppyseed roll often complemented with raisin, honey, and, sometimes, candied fruits.
Wedel chocolate: discover a variety of chocolate snacks made by the famous Polish company Wedel. You can even spot the Wedel factory in the city center of Warsaw and plenty of Wedel coffee shops and chocolate drinking locations with a whole menu of delicious sweets!
The variety of studying options in Poland
Poland has an excellent higher education system – not only adapted but also very comfortable for international students. Whether it's about the variety of studies offered by the country, the cheap prices that make it highly affordable, or the learning opportunities you can find in Poland, it's for sure an underrated destination for international students. But we are willing to share these tips with you if you promise to have a wonderful experience there 😉 !
In the capital, Warsaw, you can study at the University of Warsaw which offers Erasmus programs (for European citizens), and other exchange programs that might be the perfect fit for you! Don't forget to enjoy the beautiful gardens on the rooftop of Warsaw's university with its great view of the Vistula! You can also study in other Polish cities like the touristic Kraków, the inspiring Łódź, the historic Wrocław or the very artistic Poznań.
Poland: a great place to learn!
Whether it's for its unique history or the huge amount of trips and tours you can take there, Poland will surely give you more knowledge and fill you with unforgettable memories!
Historical background & Political situation
Poland's history is one of a kind thus it makes its heritage highly valuable and interesting. Whether it's its previous peculiar position in world war conflicts or its actual central situation, Poland is an important crossroad in Europe.
With its fighting spirit, Poland made it to be one of the most successful adhesions into the European Union. The country's situation is now divided between its eastern Europe heritage and the western Europe influence, a difficult but central spot that allows a broader view of the European continent and its political relationships.
Between past and future, between Stare Miasto (old town) and Nowe Miasto (new town), Poland is the promise of streets filled with both soul and progress.
Museums and places to visit
Poland is surely a country filled with museums and interesting places to visit. It goes from historical sites like Auschwitz to the many Polish history museums of Warsaw. But there is also art present in both museums and on the streets. Whether in Warsaw or in Łódź, street art is everywhere. Walking along the streets of Polish cities is enough to get inspired by its history and artistic breath.
Get to know famous Polish historical celebrities and walk in the steps of Copernicus, Fryderyk Chopin, Marie Curie, and Pope Jean-Paul II. In Warsaw only, you can find more than 40 museums, the most famous ones being the National Museum (Muzeum Narodowe), Museum of the Warsaw Uprising, Museum of the History of Polish Jews, Museum of Fryderyk Chopin, and Copernicus Science Center.
Great polish cities to visit
There are plenty of cities to visit in the large country and you will surely find different qualities in each of them. We have selected five cities for you that are very much worth visiting:
Warsaw
How could we miss Poland's beautiful capital city? Between persisting history and modern dynamism, Warsaw will surely make you fall in love with its scenic streets and tall buildings. Visit its old town (stare miasto), take a picture of the Palace of Culture and Science (Pałac Kultury i Nauki), walk along the Vistula and enjoy a drink with your friends at many popular nightlife locations.
Kraków
Krakow is probably the most touristic place in Poland, and for the right reasons. The city located in Poland's south region is the heart of fascinating stories and enjoyable nightlife. Among the many attractions you can choose from in and around the city, you can go for a historic overview of Auschwitz, get amazed by the Wieliczka salt mine, take a walk around the city center classified as a world heritage site by Unesco, or get pass Krakow's gate and step into the national park of Ojców.
Olsztyn
At the center of the region of Mazury, this town is one of the little gems of Poland. Surrounded by the thousands of lakes of the region, you will, for sure, enjoy its fresh breath and authentic atmosphere. Thousands of lakes and thousands of stars, dive into the eyes of Copernicus, and climb the city's observatory – you will love it!
Łódź
Artistic, multicultural, and cinematic, the third biggest city in Poland will definitely inspire you. Between fashion and visual arts, artistic souls will be at home wandering its streets. And be attentive, you might come across a unicorn there!
Gdynia and Gdańsk
The twin cities are situated right next to each other on the north coastline of Poland. The true charm of a harbor city and the best spot for sea gazing. While you're there, don't miss their hidden sibling Sopot which bears the prettiest beaches in Poland!
A few words in Polish to get by!
Of course, you'll meet a lot of Polish people that can speak English but it's always fun to learn a few words in a new language and it might even be quite useful! Here are some basic words to learn before heading to Poland:
Hello: cześć or dzień dobry (more formal)
Please: proszę
Thank you: dziękuję
Sorry/ excuse me: przepraszam
Yes/no: tak/nie
Goodbye: do widzenia
And if you walk around polish cities you might find some Apteka (pharmacy), cukiernia (bakery), and the famous grocery shops Biedronka which means the ladybird, and Żabka, which translates to the frog!
Studying in Poland – summary
Melting snow or squirrels running in the trees' blossoms… It is easy to fall in love with the atmosphere of Poland. Now that you have all the necessary information to make your choice, we hope you'll at least consider studying in Poland and enjoy a wonderful experience there.
Above all, don't forget to appreciate your unique experience, make every moment memorable, and bring back your worldwide inspirations home!