You are currently enrolled in a university in the UK or recently graduated and are thinking about doing a summer internship? Then you have come to the right place! Whether you are looking for a graduate internship or an undergraduate summer internship, a summer placement will give you the opportunity to gain valuable work experience, boost your CV, network with potential future employers and colleagues and gain new skills you will later be able to profit from immensely. With a summer internship, you can give yourself the edge over others looking for similar jobs and prepare yourself for the future.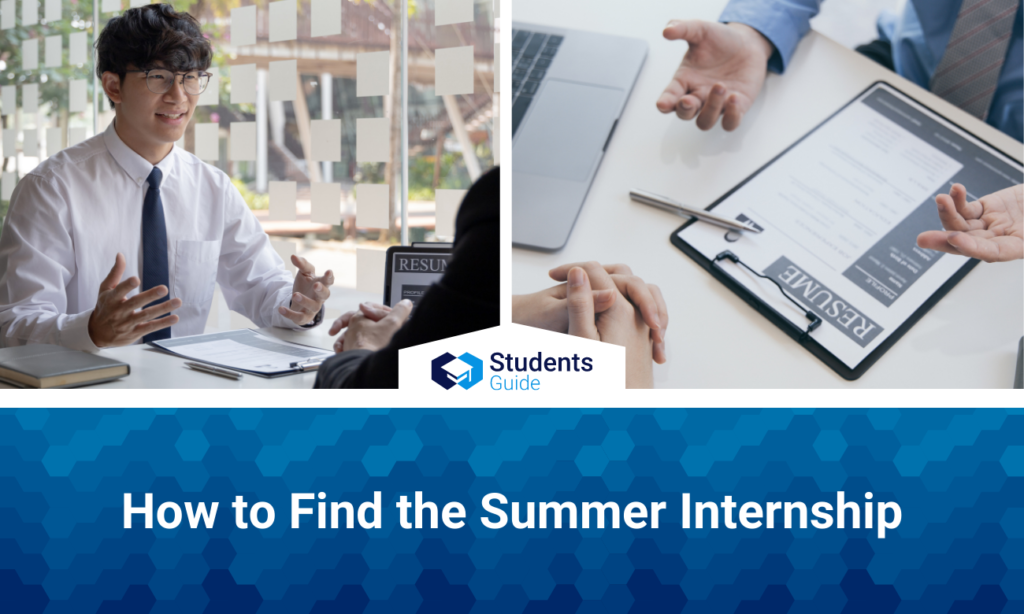 But where to start? With the myriad of websites offering internships, it's easy to lose track of all the open tabs, bookmarks and side-notes. To find an internship that best suits your needs, you will need a high level of organisation, fore planning, an effective resume and several helpful websites to search on.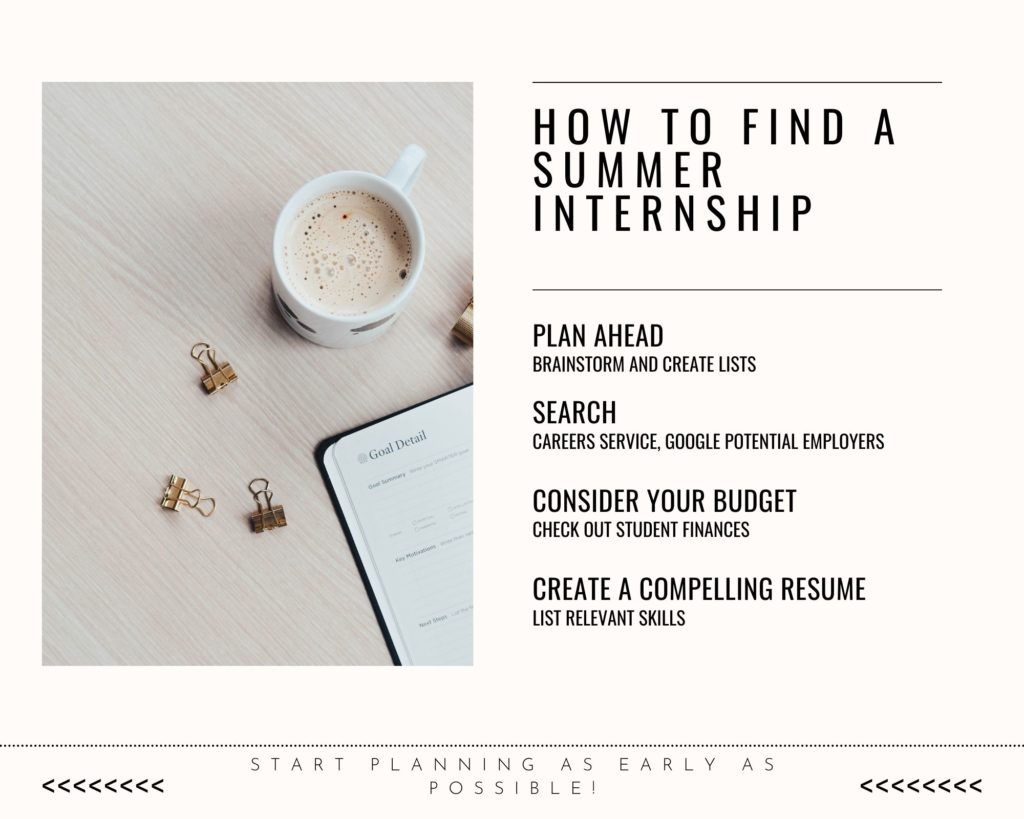 How to find a summer internship
The process of finding and planning an internship can seem a bit daunting at first. If it's your first summer internship, it's perfectly understandable if you do not know where to start and everything seems a bit overwhelming. There's no need to worry though, as this post will cover the most important points about where and how to find summer internships and give you guidelines on how to best plan ahead so that you can fully profit from your experience.
Plan ahead for your summer internship
Planning is key when it comes to summer internships! Don't leave anything to the last minute, as that will only create enormous pressure when you actually do sit down to research internships and realise there are not so many options left anymore.
To start off, think about what you would like to do, as in: Is there something you would like to practise, learn or get hands-on experience of? Create a list of ideas and brainstorm career paths and internship placements that interest you. Personally, lists with bullet points always help me stay organized and have already been a lifesaver in many situations. Outline your goals and create pro and con lists to get a better overview. Think about your skills, your studies and also how long the internship should be. Summer internships are done during the summer holidays, so they usually last 2-3 months.
Be sure to apply 6 months before the start of your internship. That way, you will have a huge advantage over other applicants, as you will be seen first. Keep track of all the deadlines for summer internships you are interested in- it would be painful if you missed it by a few days.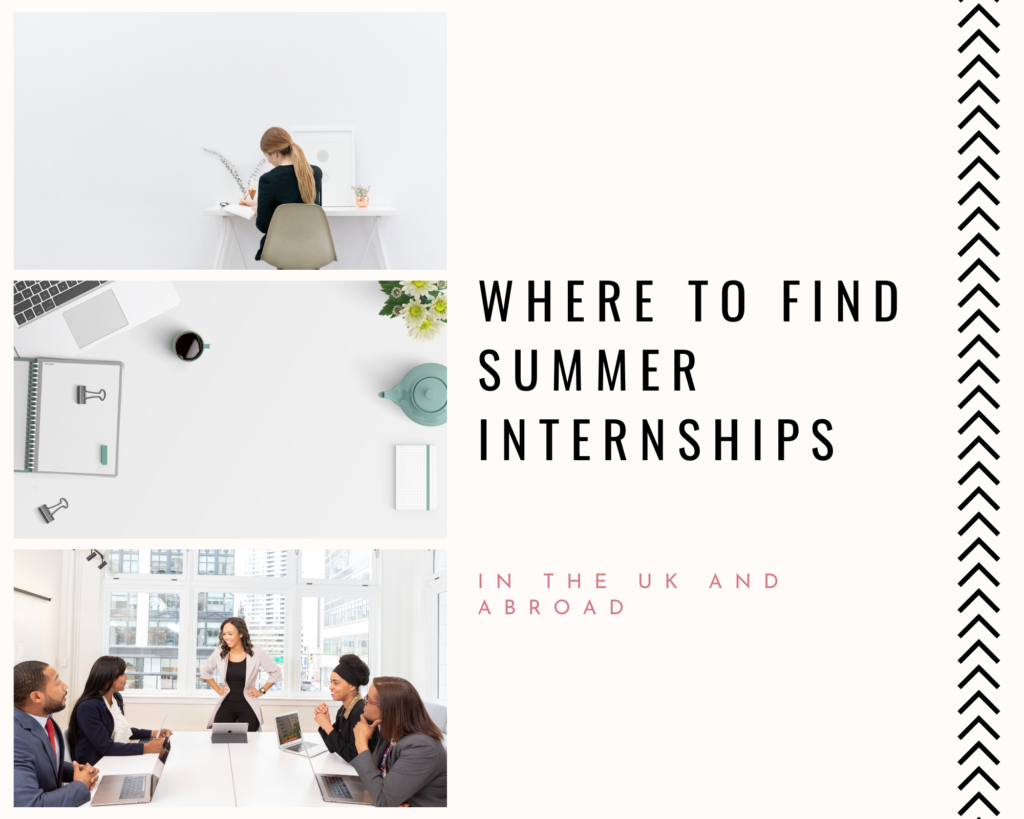 Searching for a summer internship
Before you start checking out different job sites, it would be a good idea to speak with the careers service at your university. They will have spoken with many students with various interests and will have valuable advice for you. Before going, be sure to write down all your questions so you don't forget anything once you are there.
The next step would be to google potential employers via social media platforms like Facebook or LinkedIn. Ask around and check with friends, family, relatives, university professors, colleagues and university tutors whether they know of anyone or have connections you could profit from. Having a proper network with good connections like this could give you a head start if for example the internship isn't listed yet or is hard to land a place in if you do not have the right connections.
Sometimes, only speculative applications are offered. Don't let this discourage you! Apply and see where it takes you!
What is your budget for a summer internship?
One of the first points you will need to consider is whether you want to do an internship in the UK or abroad. Is going abroad an option for you? Contact your university for more information on student finances and whether there are scholarships available for you.
Going abroad for an internship is a valuable opportunity for you to practise foreign languages and network with people from across the globe.
Create a compelling resume for internship
Your resume is the first thing employers see of you- make sure to perfect it before uploading it anywhere! It's vital to give a good first impression, as employers have a lot of resumes to go through and will put yours aside if it does not instantaneously catch their eye.
Don't worry if you don't have any work experience yet- you still have plenty of things to list! Highlight the skills you gained from relevant uni courses and hobbies that have equipped you with extra skills others might not possess. Don't underestimate the value of soft skills on your resume! Creativity, time-management skills, adaptability and a good work ethic will nicely complete your resume. Just be sure to not only list your soft skills but also to give examples of when you use them, where you learnt them and why they are relevant for the position you are applying for.
Lastly, check your resume one last time and make sure it's up to date. Make it uniquely yours, so it stands out. Letters of recommendation can boost your resume by a lot- sometimes they are even required for an internship. Ask someone you've worked for or a professor for a university course you've attended for a letter. If you've done volunteer work, add that too! Even if it's not exactly what you'll be doing during the internship, you will have gained transferable skills.
Where to find summer internships
After you have noted some ideas and have an idea of what you would like to do, it's time to find some internships! From personal experience, I can say that it's always good to apply for several internships since the acceptance rate can be quite low for some companies. Always make sure to have a backup plan or will risk ending up without an internship. Googling internship placements using your studies and the kind of job you are looking for as keywords is a good way to start, as you might find things you would otherwise not have found.
Contact your Career Services Office
Get in touch with your Career Services Office at your university and ask about upcoming Internship or Career Fairs. This is the easiest way to directly get in contact with future employers. Make sure you have an elevator pitch of about 60 seconds ready for when you get to talk to employers. It's not called elevator pitch without a reason: you should be able to quickly sum up the most important points so the length of your pitch fits the duration of an elevator ride. Tell them about your background, relevant experiences, what you are currently doing and what your future goals are. Remember to practise your elevator pitch beforehand with a friend or relative to make sure you feel comfortable with it and it doesn't exceed the time limit.
If there is currently no Career Fair planned for the future, you can directly contact employers by finding their address and relevant information on various websites listing internship opportunities and jobs or visit them if they are located close to you.
Websites for summer Internships in the UK
There's a huge range of summer internships to choose from in the UK. Make sure you have your resume ready to upload when creating an account on one of the sites listed below. Also, immediately fill out all the necessary information on your profile- leaving your profile blank will guarantee that employers skip over your application.
Most of these sites are connected with LinkedIn, so do not underestimate the importance of having a strong resume and complete profile with a professional LinkedIn profile photo.
LinkedIn
Prospects
Indeed
StepStone
IASTE
Jobted
Monster
Glassdoor
Internships UK
Jobware
Internjobs
E4S (for companies like EY, Deloitte, KPMG, BDO, Grant Thornton…)
RateMyPlacement
Studentjob
SimplyHired
TARGETjobs
Websites for summer Internships abroad
Summer internships abroad offer you the possibility to delve into a new culture, meet new people and create a network across the whole world. How about discovering the French way of life in Nice, Montpellier or Paris, getting to know Italian business etiquette or brushing up on those Spanish skills in Madrid? The sites below offer worldwide opportunities for internships. If you want to combine work and travel, get to know new ways of living and widen your horizon, be sure to check them out!
LinkedIn
Glassdoor
IASTE
Indeed
SimplyHired
Internjobs
StepStone
Jobted
Global Experiences
Jobware
Monster
AIESEC
Absolute Internship
Go Overseas
Asia Internship Program
The Intern Group
Globalplacement
Idealist
Be aware though, that for certain sites offering internships, program fees may apply. At AIESEC for example, you need to pay once you have applied and been selected. In return, you are offered support before and during your stay. Summer internships at Absolute Internship, Go Overseas, Asia Internship Program and The Intern Group also charge a fee for internships.
Some final words of advice
A summer internship is a great opportunity for students to learn new things, become more flexible and make use of the skills acquired in university courses in a real, live-work environment. Along the way, you are sure to make new friends and gather additional transferable skills you can showcase at your next application. Before you start planning a specific internship, brainstorm what you want to do and in what way the skills you gained at university apply to the company you want to do an internship at. Then, check out the sites listed above to find out where to do your internship, and whether you want it to be in the UK or abroad. If you go about planning your internship in an organised way with a methodical approach including…
bullet point lists
checklists
a list of pros and cons for a workspace
an outline of your career goals and future plans
a list of key skills that will prove useful to your employer
a unique resume that makes you stand out
… you will be sure to find just what you are looking for!
If you start planning early and stay persistent, you will without doubt land a good job that will serve as a solid foundation for your future career!
Caroline Grasser is a student of the bachelor's programme Transcultural Communication at the University of Vienna with German, English and French as her working languages. Passionate about languages from an early age, she grew up with multiple languages and completed the Vienna Bilingual Schooling system. If she's not spending time getting inspired on Pinterest or reading up on animal rights and environmental protection, you can find her in her favourite boulder hall with friends.