Germany attracts thousands of students each year from Europe, but also coming from across the world. Indeed, being one of the richest countries of Europe, Germany is also well known for its high quality of education, especially regarding higher education and universities. International students can apply to Bachelor and Master programs in a huge variety of fields and benefit from reasonable tuition fees and even be awarded scholarships to help finance their studies.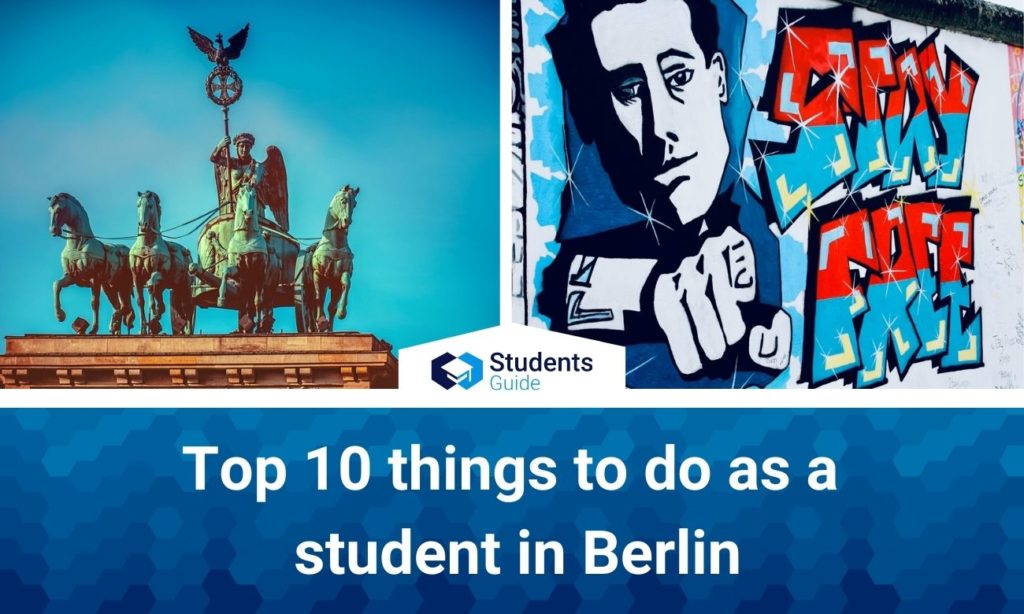 So if you're looking for some tips to enjoy your experience abroad in this beautiful country to the fullest, have a look at our top 10 things to do as a student in Berlin, the capital of Germany!
Explore the city monuments and museums during your free time!
Berlin is one of the most popular tourist destinations in Europe with its rich history and culture. Being granted the opportunity to study in Berlin is a once-in-a-lifetime experience that many international students can only dream of. So be sure not to miss visiting these spots:
Brandenburg Gate
The Reichstag
The Bode Museum
The Altes Museum
The Fernsehturm
Berlin Cathedral
And there are still many more monuments to see, so try to see as many as possible! It's so easy to get around in the city with public transport like the U-Bahn and the S-Bahn, or simply by taking a bike!
Plus, if you have a student card or ISIC card, you'll have access to many discounts for the visits and even be eligible for a free entry to many famous museums!
Experience the best nightlife in Berlin!
Are you looking to have fun nights with your new friends after a long day spent studying at the university? Say no more: Berlin is the perfect place for that! You'll get to choose between going on a pub crawl or dancing at some of the best nightclubs in the country!
Here are some nice addresses for you and your friends:
Berghain: situated in the city center of Berlin, it's the most famous nightclub in the capital but also one of the most difficult to get in! But try your luck for one of the most unforgettable nights of your life.
Theros: another unconditional nightclub to listen to some techno music.
Prater Garten: part of the oldest beer gardens of Berlin, it's the best outdoor bar that serves delicious local brews as well as a seasonal menu with classic tasty German foods.
Try to learn (and maybe master) German!
German may sound quite difficult to learn and not as pretty as Latin languages such as Italian, but it's one of the most useful things to do as a student living in Berlin! You won't regret learning a new language as it's considered one of the most important elements on a CV for example, and you won't have to struggle anymore making an order at a restaurant or communicating with natives!
Plus, it can be a lot of fun learning some German words that may seem unpronounceable and it's always rewarding to improve little by little your level in this peculiar foreign language!
Tip: Take language classes in small groups with native speakers in Berlin to improve both comprehension and pronunciation! Remember: practice makes perfect!
Take advantage of cheap train tickets and discover stunning places in Germany!
Germany is also known for its fast, reliable, and cheap trains to help plan your next getaways on weekends. For instance, you can travel to the south of Germany to discover the countryside and the breathtaking hikes in the German Alps leading to idyllic lakes where you can just chill and relax. Or if you prefer, you can visit another city and learn more about German culture.
Here are some incredible places to visit in Germany by train from Berlin:
Bavaria: visit the Neuschwanstein Castle, one of the most famous places in the world
Dresde: former royal residence, it has some magnificent baroque buildings
Leipzig: not to be missed if you are an art lover!
Bremen: situated in the west of Germany, this old city is home to two UNESCO heritage sites.
Take a stroll and let nature surrounds you in the many parks of the capital
Unlike most bustling cities, Berlin has a lot of quiet and relaxing parks that will delight nature lovers and joggers! It's the perfect idea if you want to live like a local and make the most of a sunny day by organizing a picnic with your friends, reading a book while listening to the chirping of little birds, or trying fun activities like swimming, skating or even golf.
You'll be spoilt for choice in Berlin, so take a look at our favorite parks:
Tiergarten (which literally translates to Animal Garden as it is home to Berlin Zoo!)
Britzer Garten
Gärten der Welt
James-Simon Park
Treptower Park
Eat locally and try some specialties
If you have the opportunity to study abroad in a foreign country, one of the best things to do is to try various local foods! In Berlin, a lot of traditional dishes are unique and particularly generous so that you'll be sure to never be hungry afterward! You'll find a lot of local dishes made with meat (especially sausages!), but if you are a vegan, rest assured that Germany is one of the most vegan-friendly countries in Europe with many options at restaurants!
Some authentic traditional dishes to try:
Schnitzel: a thin piece of breaded fried meat (often veal, pork, or chicken).
Spätzle: this vegetarian dish is made of eggs, fizzy water, and flour and is most of the time served with a huge amount of cheese.
Currywurst: a mouth-watering fried sausage dipped in ketchup seasoned with curry.
Kartoffelpuffer: potato pancakes often served as a side dish at restaurants.
Study efficiently at Berlin State Library
If you struggle to study for exams at home, there's always the possibility of studying at a library. The best place for studying, reading or listening to music in a quiet environment is the Staatsbibliothek. This library, organized in two buildings, is one of the biggest in Europe where millions of books, newspapers, and other types of resources are available free of charge for the public. You can also apply for a library card which can be used to borrow materials, have access to reading rooms, and many other services.
Of course, if you are enrolled in a German university, you'll also have access to their own libraries.
Have a swim at Badeschiff Berlin!
Did you know that there is a giant container transformed into a swimming pool in the middle of the Spree River in the capital city?
Badeschiff is the perfect place to go on a sunny day for swimming, sunbathing, or just enjoy a nice barbecue and cocktail with an incredible panoramic view of the city center and the Oberbaumbrücke.
Tip: try to arrive early to get a beach chair as it can get packed in summer!
Attend the Berlinale Festival
If you are a big fan of cinema, this is an event that you should not miss! The Berlinale or Berlin International Film Festival is hosted in February each year and is one of the most popular film festivals in the world! It showcases more than 400 films from various genres and offers exclusive screenings of cinema masterpieces!
You can buy your ticket in advance on their website and spot famous international celebrities on the red carpet!
Hop on a boat to visit Museums Island
Berlin offers different boat tours throughout the historic city center to allow people to commute by river between the best places of the city such as Museums Island while relaxing and enjoying the fresh breeze.
You can also opt for a pleasant themed dinner on a cruise ship for special occasions such as Christmas or Valentine's Day!
Visit Passport Photo Online to prepare your photo online for your student visa in the easiest way possible and enjoy your stay in Berlin!