We know that being a full-time student can be very hard and tiring, but have you ever thought about using helpful apps on your pc or phone device? In this article, you will find a collection of the best apps for students ranging from educational apps to recording apps and more.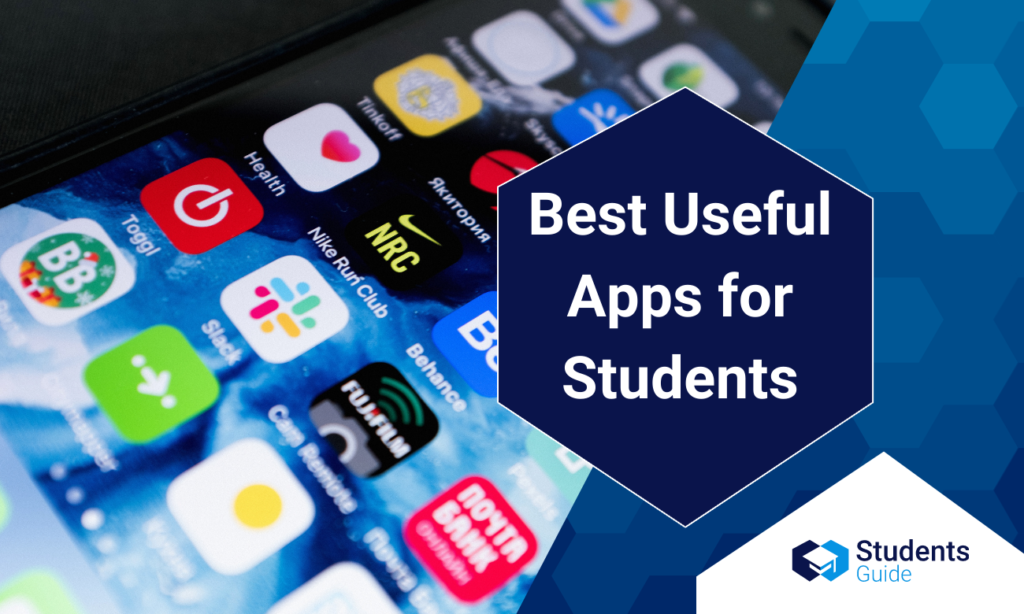 Apps can be life and time-savers sometimes, especially if you are a student with a busy life or simply you are not good at organizing your time. Here, we show you the best apps for college students and apps that will help you with your studies, manage your time, and your tasks.
Time management apps
Among the most useful apps for students, you definitely want to check time-management apps. You can do great in your studies if you really know how to manage the time you have: it will not only benefit your grades but you will also be able to manage your daily life activities and not miss out on important events.
1. Google Calendar
Google calendar is among the most known apps for time management. It helps you plan, schedule, organize and have an overview of all your activities related to your studies. The better you know how to use Google calendar, the more you will realize it can help you prepare for your exams, project presentations, and meetings.
2. Trello
If you are looking for a tool that helps you manage your time and your projects, this app for college students may be the one! Trello also allows you to track the work you are sharing with other people, this way you can have everything under control. It can help you organize your day and focus on high-priority tasks.
3. ToDoist
If you're a student who wishes to track the development of your projects, you might as well take into consideration this app. Todoist is a useful app for students that allows you to track tasks, take note of anything that comes to your mind, and maximize your student life. It helps you track your progress and you can even share notes with your friends. It can be easily integrated with Google Calendar, Gmail, Slack, and Amazon Alexa.
4. RescueTime
This app is available for phone devices (Android and iOS) and computers. If you're trying to improve your time management and to become more productive, RescueTime can be the right tool. It is one of the most-used apps for students as it will allow you to measure and track how effectively you are spending your time while you are studying and how you can improve it.
RescueTime will help you analyze what apps you use on your computer or phone, what websites and files you visit and visit the most. This app comes with the free and the premium version for which you have to pay, but we recommend sticking to the free version as it is more than enough for first-time users.
5. Remember the milk
Are you so busy that you have problems remembering the tasks you have to do? You can rely on Remember the milk. We recommend this app for students as it comes with a lot of features that can make your student's life a little bit bearable. Rated among the best planner apps for students, it will allow you to organize, manage, and track all the different tasks throughout the day and you can share them also with your friends or colleagues. How does it work? Easy! Whenever you come across tasks or notes you want to do, you can easily rely on Remember the Milk, and it will send you notifications on your device or to your email so that you don't forget! It comes integrated with Gmail, Google Calendar, Twitter, and more!
6. Focus Keeper (Pomodoro technique)
Have you ever heard of the Pomodoro Technique? It is a time management method that lately has been rediscovered for long study sessions. The study session is divided into sets: each set is made of three "Pomodoro" sessions that last 25-30 minutes used for studying. At the end of each Pomodoro session, you can take a 10-minute break, and once a set is finished, you are allowed to take a longer break, normally 30-minutes long.
Focus Keeper is a study-help app that is arranged according to the Pomodoro technique timer. You do not need to worry about setting times, you just have to stay focused and start studying!
Note taking apps
Taking notes on our computers comes as a real challenge, especially if we don't use the right app for taking notes. Below you can find the best note taking apps for students.
Evernote
Evernote is among the best-rated for students when it comes to taking notes and organizing them. You can organize your notes starting from pictures, websites, and any other kind of information that interests you. You can create your digital notebooks and decide whether to share them with your friends or not. When you write different notes, this app can also suggest to you how your notes can relate to each other. Here below we share with you some of the most interesting features you can find in Evernote:
Taking notes and organizing them according to your needs and priorities
Creating tasks with due deadlines, tags, and reminders inside your notes
Connecting your Gmail and Google Calendar
Typora
This writing application is a great solution if you are looking for a tool that allows you to organize and take your notes easily and in a highly-customizable way. It is compatible with Windows, Mac, and Linus. Although it lacks the version for mobile apps for working on the go, it is still rated among the best apps for students for organizing all of your class lectures! It is totally free and it is integrated with a hybrid markdown editor, which means it formats any kind of text you want.
Google keep
If you rely on Google tools, you may also be aware of Google Keep which is a note-taking app that allows you to take notes on your computer and phone. It is great for taking notes, creating to-do lists, and also for sharing your working space with other people.
Standard Notes
This can be rated as a must-have app for college students, as it is a free platform that allows you to take notes, synchronize them with all of your devices, and maximize your tasks and your notes. It is an easy and minimalist-designed platform and it is compatible with Windows, Mac, Linux, Android, and iOS.
OneNote
OneNote is a free app that helps you take notes efficiently during your classes. It is part of Microsoft 365 and Office 2019 and you can download it both on your computer device and your phone. It comes with a very user-friendly interface: you can create different notebooks and attach pictures, voice notes, weblinks, and even other documents to all of your notes. It comes with other features too, such as creating graphs, tables, and even videos.
Notion
Notion is a great tool if you're planning to take notes and share them with your friends and colleagues. It is a simplified workplace for you to write and manage your projects. While taking notes, you can add images, tables, to-do lists, sounds, links to other notes, and more. Notion comes as a wiki tool, and you can also share and assign tasks to your friends. The free version is very complete and it gives you up to 1000 Gb of storage.
Best learning apps
As students, it is normal to struggle while studying, trying to remember words, definitions, formulas, and more. Here below we list the best apps for students that can give you a hand in learning and remembering while studying!
SimpleMind
Struggling with organizing your thoughts while studying? You do not have to worry because SimpleMind is the right app for students who are looking for mind mapping solutions. This app is a mind map that can be connected to different devices (Windows, Mac, iOS, and Android). You can customize your mind map according to your personal needs and choices: you can attach images, video recordings, voice notes, and different types of texts. Mind maps are then organized according to labels and call-outs.
MindNode
MindNode is another great app for students, who are looking for a tool that helps them organize what they studied and their ideas, notions, and tasks. You can create your mind maps and customize them by adding visual tags and different colors. MindNode comes with a feature called "focus mode": it will allow you to focus on a specific thought by putting the spotlight on a specific branch. This app will also help you take notes of ideas you have and keep everything organized, sticking to deadlines and more. You can download MindNode on Apple Store and Apple Mac Store.
Quizlet
Rated among the best apps for students of all ages, Quizlet is a flashcard app that helps you study, revise any topic you are interested in ranging from languages to biology and sciences. It is very easy to use and there are a lot of already-made presets by other students, which are very handy! Quizlet also supports images, tables, and even audio notes. Quizlet can be used as a web app, Android app, and iOs app.
Scribd
Scribd is an online library that has access to more than 1000 publishers. You can consult and read more than 1 million eBooks and audiobooks. Isn't that great? You decide where to read from, as Scribd supports all kinds of platforms: Windows, Mac, iOS, Android, and even Kindle. The app has a 30-day free trial, after that, you will have to pay 8.99$ per month for unlimited books!
Let's not forget, however, that every day there are new apps and tools getting developed and published.

If you seek some new, original, innovative apps to help you on a daily basis, you may want to visit this article on startup app ideas. You will get to know categories of mobile apps that you'd never think of! For instance, app that helps find parking space or an app for nearby deal alerts.
Soukaina Chouaib is a polyglot and is currently enrolled in her second-year master's course in Languages for Communication in Enterprises and International Organizations at the University of Modena (Italy).