It doesn't matter how old you are, the magic of Christmas hits everybody's heart. The music, the lights, and the atmosphere you breathe make everything magical, and you cannot help feeling joyful. If you are looking for new destinations for your next Christmas holidays, read our complete guide to find the best locations all around the world.
Best Christmas destinations in Europe
If you want to spend your next Christmas holidays in Europe, check out the best destinations in the continent to spend those special days.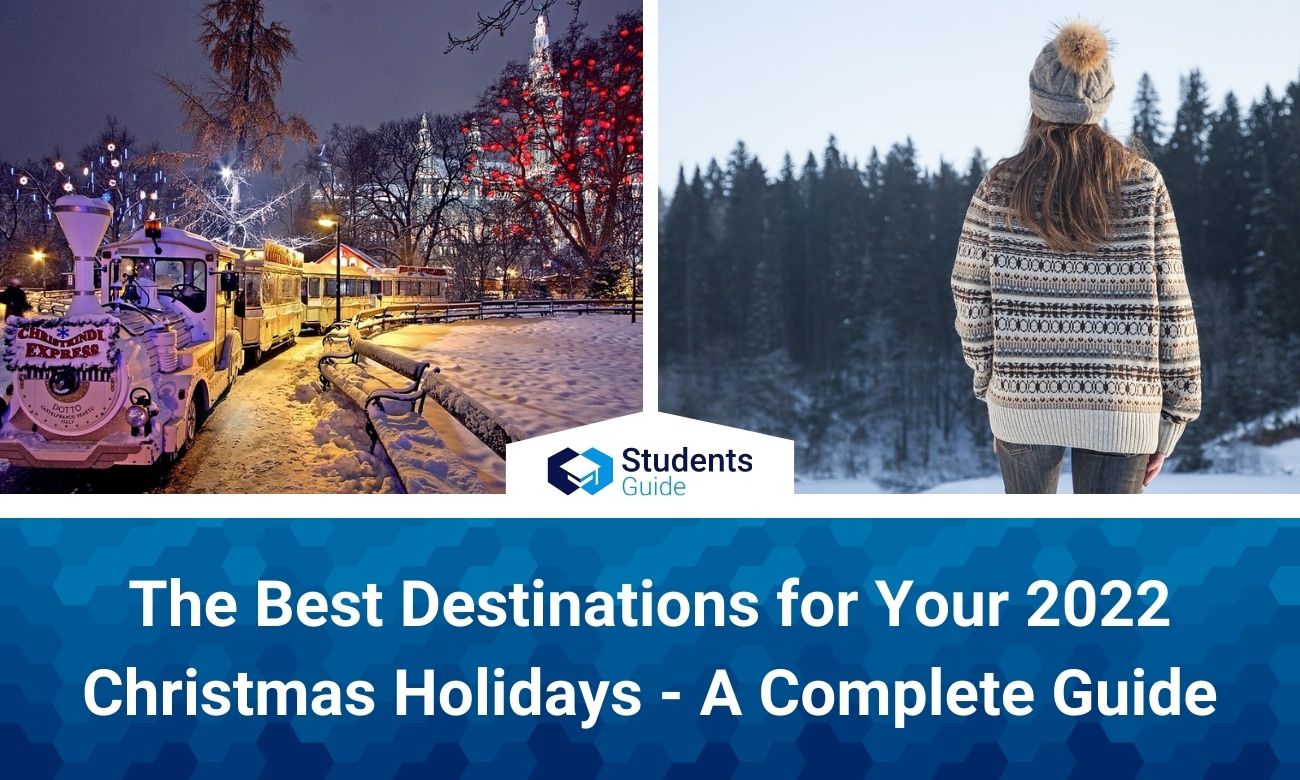 Rovaniemi, Finland: the house of Santa Claus
"Santa Claus is not real."
Those you just read are the world's most dreaded words, capable of destroying every child's dreams. As soon as they are pronounced, panic sets in, children start crying, and parents realize their mistake. But are we sure that Santa Claus doesn't exist?
Book a ticket to Rovaniemi, Finland, and find out for yourself. This town in the Arctic Circle is Santa Claus's hometown, and contrary to popular belief, it is open year-round. Rovaniemi also has a postal service, and the elves will promptly send a letter or a postcard with a special postmark to your house if you order one. Moreover, Rovaniemi provides plenty of experiences in the open nature. Hike in one of the many trails, go on a reindeer sleigh ride, or take part in one of the cruises through the icy Arctic waters. Rovaniemi is also known for offering a one-of-a-kind accommodation: igloos with glass roofs. They are the perfect option for nature lovers who want to enjoy the outside view from the coziness of their bed.
This is also the best location to catch those dancing lights also known as Aurora Borealis or Northern Lights.
Salzburg, Austria: the Christmas markets
You have heard of Santa Claus, but have you ever heard of the Krampus and Saint Nicholas? If Santa Claus swoops down your chimney on December 25, the Krampus and Saint Nicholas visit children on December 5. Consider yourself lucky if you get chocolates and dried fruits from Saint Nicholas. If you get birched by the Krampus, it means you were on the naughty list!
The figure of the Krampus is common in the whole Central Alpine folklore, and parades are organized in many cities throughout this area as a reminder of why you should behave. With their horns, bells, pelts, and whips, these demons go around town to punish everyone they meet and who deserves it. Do you have the courage to find out on which list you are? Visit Salzburg and try your luck.
Of course, do not forget to visit the Christmas markets of the city. You will have the chance to try some food and beverages specialties of the area, such as Glühwein, Krainer, gebrannte Mandeln, and Bratäpfel.
Paris, France: the Christmas songs
Christmas markets and concerts are Paris's signature during December and January. One of the most famous and largest Christmas markets is called La Défense, and in its 350 chalets, one can find something for every palate. You can also try a typical French plate known as Escargot. Just a heads-up, the word means snails!
Classic concerts are held in the most important churches and cathedrals throughout the city, but any local can tell you that the most fascinating one is Sainte-Chapelle, a Gothic chapel whose walls are made of massive stained-glass windows. Listening to music while looking at the lights flickering from the outside is an ethereal experience.
London, United Kingdom: the Christmas lights
Every London street becomes a show of lights during the Christmas period. Regent Street and Bond Street are the two places tourists prefer the most. If you are into classic Rock music, head over to Carnaby Street, where the lyrics to Bohemian Rhapsody become neons.
Head over to Trafalgar Square to enjoy some Christmas carols. Every year, various choir groups meet in this square and sing to raise money for charities. The huge Christmas tree makes it even more magical, especially when you know the story behind it. Indeed, this tree is a yearly gift from Norway for the help of the UK during World War 2.
And those on the lookout for a more cultural experience, should definitely visit the Charles Dickens Museum. At this place, you can discover the story behind A Christmas Carol and assist at its performance.
Best Christmas destinations in Oceania
If you are tired of the snow and these next Christmas holidays you just want to relax on a beach, check the best Christmas destinations in the countries down under.
Brisbane, Australia: Santa Claus on the beach
If celebrating Christmas laying on the beach is your dream, make sure to book a ticket to Australia. In the Land Down Under, Christmas is celebrated surfing and tanning, and the Christmas lunch and dinner are swapped for a picnic or a barbecue. And do not worry about Santa Claus, he visits children and adults also on a sunny beach day and not only on a dark snowy night.
As soon as the sun sets in, put on your best dress and go to King George Square. One of the main events is the lighting of the huge Christmas tree. And if you are in the mood for a classic Christmas movie such as The Grinch or Elf, check out Brisbane's Moonlight Cinema. Do not forget to bring a blanket, a few cushions, and something to eat.
Coromandel Town, New Zealand: Christmas parades
This coastal town in New Zealand is the perfect spot for your next summer Christmas holidays. The entire Coromandel peninsula is known for its stunning beaches, and here Christmas is a heartfelt tradition.
The Santa Parade surely is one of the most known traditions and children can meet Santa Claus before he leaves gifts for them. All lights are turned on at night, and a walk by the beach is a wonderful experience. If you want to see something new, make sure to check the Extravaganza Fair for a day of fun, food, music, and entertainment.
Best Christmas destinations in America
America is a really diverse country in terms of weather, and going from the north to the south, from the east to the west, you can celebrate every type of Christmas you wish. A Christmas under the snow? You got it! A Christmas laying on the beach? You also got it! Check out some of the best Christmas destinations in America.
New York, United States: the Christmas tree
Who hasn't heard of the Rockefeller Christmas Tree? Every year, pictures of this tree and of the falling ball on New Year's Eve are all over our news feeds, and one can just stare in awe. But this time you can experience it first hand. If you are in New York for the Christmas holidays, go ice skating to Bryant Park and get a glass of apple cider to keep warm. Christmas markets are widespread in Europe, but they are starting to appear also in the United States. In New York you can find them in the Union Square and in Columbus Circle.
Do not forget to visit the Brooklyn Botanic Garden, a magical place on Earth, or the Bronx Zoo's Winter Wonderland. If you want to shop local, head over to Brooklyn Flea.
Honolulu, United States: a paddling Santa Claus
Just like Brisbane, Honolulu is one of the best destinations for beach lovers. This time, however, we are in the United States. Honolulu is the capital of Hawaii. In this part of the world, Santa Claus leaves gifts under a tree on the beach, and if you want to meet him, you have to wait for his arrival at the festival of Lights Christmas Boat Parade. But do not expect reindeers and sleighs, here Santa Claus arrives paddling.
Make sure to get the best out of your trip going to The Nutcracker show or the Honolulu City Lights. Reserve one night at the night circus at RumFire. Despite its name, it has nothing to do with what you might expect. RumFire is a popular restaurant and bar known for the great views, the lively atmosphere, the fire dancers, and the best drinks.
Best Christmas destinations in Asia
If you are looking for alternative ways of celebrating Christmas, book your next tickets for the Christmas holiday to any major city in Asia.
Seoul, South Korea: K-pop Christmas songs
Christmas in South Korea is kind of a new concept. Nonetheless, celebrations are just as amazing. You can find modern lights and decorations in all the main shopping districts, and large Christmas trees are fairly common. However, gift-giving is not a very common practice because these holidays are all about quality time with loved ones.
In South Korea, you can listen to K-pop Christmas songs, something peculiar to the country. Instead of hearing Michael Bublé and Mariah Carrie, South Korea offers you the chance to enter the holiday spirit and the local culture by listening to their famous K-pop groups.
Do not miss your chance to try local cuisine, from sweet potato noodles and kimchi to tteok guk, a rice cake with meat or seafood filling.
Christmas at home
Last but not least, one of the best Christmas destinations is the place you call home. Christmas should be about spending time with the people you love, cherishing memories, and doing what you like. To make the best out of the Christmas period, you do not need to worry about finding the supposedly perfect destination because you already know where that is. Drinking a hot chocolate on the couch while watching a movie, laughing with friends and family, and maybe petting your animals is just as magical as going to New York or Paris. You can also decide to spend time on your own and do something that you like, that is just a perfect Christmas as all the others.