Are you already living in Germany or planning on moving here in order to start studying at a university? You are curious on how to financially support your educational career and which scholarships in Germany are available to you? Then this article might be the one for you.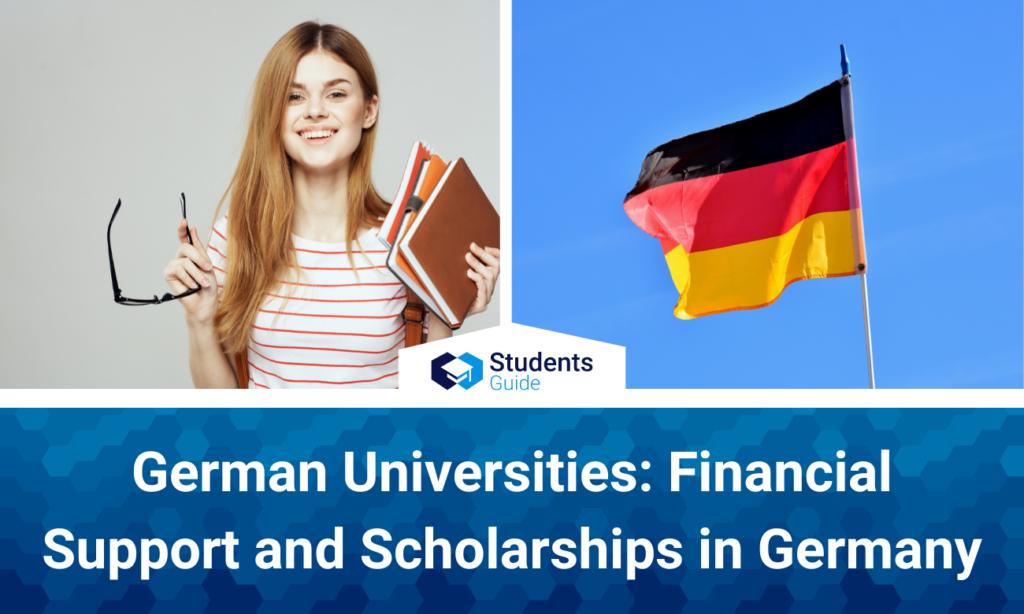 Let's start with some general information on studying in Germany:
How much does it cost to study in Germany?
This is good news for many students who want to pursue their academic career at a German university: since the summer term of 2012 all public universities in Germany no longer charge any tuition fees. Students enrolling into university now only need to pay a much smaller amount which consists of an administrative fee and a contribution to student services of the respective university (Studierendenwerk). The overall amount of this combined sum can vary slightly among the 16 federated states (Bundesländer). In Baden-Württemberg for example the administrative fee makes up about 70 € and the service contribution about 50 € which leads to a total of roughly 120 € per semester – significantly less compared to other European and non-European countries.
This at first sounds promising and very student-friendly, which it certainly is. However, there exist a few exceptions that you might want to know and need to consider.
the information from above only applies to German or EU-citizens. Students from non-EU-countries must note that they need to expect higher fees (1.500 € per semester). Exceptions to this rule: students who acquired their university entrance qualification (Abitur) in Germany.
the fee per semester also goes up if you finished your degree (e.g. Bachelor's) and then enroll into a new course which leads to the same degree (i.e. a second Bachelor's). We are using Baden-Württemberg again as an example here, where the second course of study (Zweitstudium) would cost you 650 € per semester.
Financial Support and Scholarships in Germany for Students
Entering a German university may not cost much but of course your expenses as a student do not end there. Of course you will not be able to work full-time while studying so you will probably not earn a fortune. But there is no need to worry. In Germany there are actually quite a few options that will help you stay afloat financially and allow you to fully concentrate on obtaining that degree of yours.
Government Support for Students in Germany: BAföG
BAföG is not exactly a scholarship but rather a state funding that provides financial support to students who are pursuing a degree in Germany. The monthly allowance is calculated individually for each applicant and depends on various factors. Determining factors that influence how much funding you are eventually granted are your income, eventual property, whether you still live with your parents, whether you cover your health insurance by yourself, the income of your parents, how many siblings you have and whether they are living with your parents and/or studying themselves. The maximum rate for a student grant is 861 € per month. It is important to note that the grant does not equal a scholarship. Half of the amount can be considered a gift from the German government whereas the other half needs to be paid back as an interest free loan after (usually) five years. Everyone who is studying in Germany can apply for BAföG but whether or not you are granted the support depends on the factors stated above. In some cases, the income of the parents is considered "too high" to justify being accepted as an applicant.
BAföG is a great alternative to scholarships in Germany. It is just important that you keep in mind that eventually you have to pay back a certain amount of the funding:
regardless of the amount received you will only have to pay back 10.000 € maximum
if you want to work alongside your studies you are allowed to earn 450 € a month without compromising the amount of your funding
even if you are convinced you are not eligible to BAföG it never hurts applying!
BAföG is definitely a great aid for students who need a little (or bigger) financial support to successfully complete their studies in Germany. The only downside of it might be the fact that at least a part of it needs to be paid back eventually.
Scholarships in Germany on the other hand are less of a loan and more of a gift. In the following we gathered some of the best-known scholarships in Germany you can apply for if you want to study at a German university– regardless of your citizenship. The most important requirement for applying is that you are enrolled or plan on enrolling in a German university.
Government and Privat Support: The Deutschlandsstipendium
The Deutschlandsstipendium provides students (already enrolled or to be enrolled) with a monthly allowance of 300 €. The unique thing about this scholarship is that the total of the grant is contributed by two different sources: 150 € of the scholarship are provided by the German government whereas the second half comes from private donors who wish to support promising and talented students.
This already leads us to the requirements to apply and eventually be granted this scholarship. A suitable candidate would be someone who has proven outstanding academic performance and excellent grades at school. The Deutschlandstipendium supports students of all nationalities who are enrolled in German universities whose previous academic career indicates exceptional achievements in the future. Other criteria include a high involvement in community and the overcoming of obstacles in the past which stem from family circumstances or cultural background. The scholarship will be granted for at least two semesters and at maximum until the end of the standard period of study. It can also be obtained simultaneously with BAföG.
Deutscher Akademischer Austauschdienst (DAAD)
The DAAD offers a high number of different scholarships for national and international students at various degree levels. The benefits may vary among the several scholarships, so we recommend visiting their website and finding the option that suits you and your degree / academic goal best. Usually, the grant consists of a monthly allowance (861 – 1,200 € depending on the degree) and a travel flat rate. In some cases, the scholarships also cover the costs for various types of insurances and language courses if needed. The DAAD provides scholarship holders a broad service on their website and e.g. provides thorough information on how to start your studies and help finding an accommodation
The DAAD also offers a special scholarship for students who are being denied education and other rights in their respective home countries. The Hilde Doming Programme helps these students at risk to either start or successfully complete their studies at an academic institution in Germany.
The Heinrich Böll Foundation
The Heinrich Böll Foundation grants about 1 400 scholarships a year to students regardless of their course of study. They can be enrolled in "classic" universities, universities of applied science and universities of the arts. As with many other scholarships provided in Germany, a very important factor for being granted financial support is an impeccable academic record and excellent grades. The Heinrich Böll Foundation also sets a high value on ecology and sustainability, democracy and human rights, self-determination and justice. Applicants should therefore be socially and politically active. Also remember that applications are only accepted if written in German (necessary level: at least B2).
To sum everything up for you
Even though studying at a German university costs comparatively little it never hurts to apply for a scholarship in Germany and build an extra financial cushion.
As you can see there are many options for you out there that can make your life as a student a little bit easier (at least financially). BAföG and scholarships are widely available to German and international students alike and help you to focus on your studies and to successfully get the degree that you are after!