Being a student in Istanbul can be even more colorful, fun, and enriching than you think. If you are an exchange student and wonder what to do there or where to start, we have prepared a list of the top 10 things students can do in Istanbul, for you to enjoy the beauties of this city to the fullest without draining all your savings.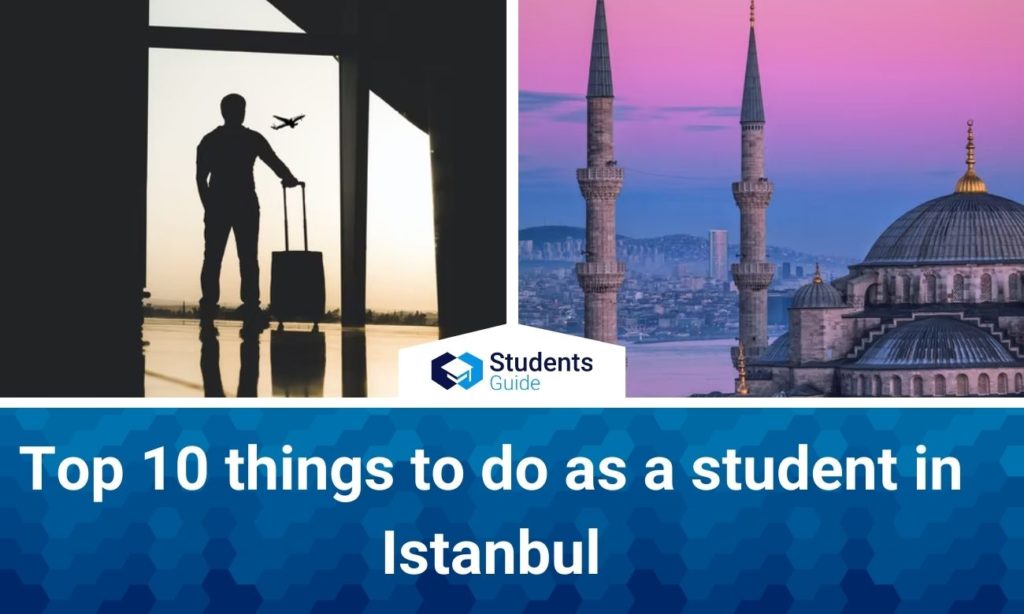 Istanbul is one of the most populated and popular cities in Turkey. It has hosted hundreds of cultures, been at the core of landmark moments throughout history, and retains a high level of international focus today. It is also a city where people, lifestyles, national origins, customs, and languages vastly coexist, and the dominant culture often differs from district to district. Sometimes, this city has played the leading role in artworks, and sometimes it has been the artwork itself. This cosmopolitan hub is cherished by students from all around the world. It is the scene of great opportunities and unforgettable memories for students to bring in.
Foremost, if you want to participate in cultural events and visit museums at discounted prices, sometimes even for free, we recommend that you get a Müzekart+ (museum card), which costs an annual fee of only 60 TL (Turkish pounds, which equates to 4 USD!). This way, you will be able to enjoy student discounts or free admission to cultural activities.
Since Istanbul is a major city, the public transportation network is well stocked and you can easily reach your desired destination through various transport options. In that regard, we recommend that you get an Istanbulkart worth 13 TL (less than 1 USD). With your student document and ID, you can get your student card issued and use it for discounted tickets.
Now that we have covered the practical and budgeting aspects, let us move on to the sightseeing and entertainment part.
Visit museums on their free entry days
You can visit museums in Istanbul free of charge any day of the week. All you have to do is follow the dates, but we used to compile the information of the museums you can visit for you beforehand. You can visit the Istanbul Museum of Modern Art in Karaköy every Thursday of the week, and you can also join free guided tours on Sundays and Thursdays at 17:00. You can also visit Pera Museum every Friday between 6 pm and 10 pm, and every Wednesday, Sabancı Museum in Emirgan is free of charge!
If you are interested in classic cars, you can visit the museum of 1900s classic cars free of charge at the Mehmet Arsay Automobile Museum in Halkalı, but remember that the days you can visit this museum are from 10 am to 5 pm on Saturdays and Sundays. You can also visit the house of the notable Turkish author Sait Faik Abasıyanık Museum, which is located in Burgazada, which has been converted into a museum free of charge, and you can see the belongings used by the famous writer. In addition, the Museum of Türkiye İş Bankası (Finance Bank of Turkey), the first bank of the Republic of Turkey founded by Mustafa Kemal Atatürk, has been open to everyone since 2007 in Eminönü. Here you can learn about the history of the bank and how Türkiye İş Bankası developed and changed. Also, the museum can be visited between the hours 10 am to 6 pm every day except Mondays.
Try new cultural Turkish foods
Even if you haven't tried kumpir before, or if you have tried it, don't miss out on eating kumpir at Eminönü when you stop by. If you wish, you can choose from the snacks and side dishes you want in your kumpir, and have it filled, or you can eat it as a takeaway while you are walking by the sea.
And while you're at Eminönü, don't miss out on seeing the Spice Bazaar, which has been a mercantile spot for a long time since 1664, and the delicious and different flavors of spices and dried nuts there. Continuing with the beauties in Eminönü, if you feel like you are a little more hungry after wandering around and checking out the shops around, you can call it a day in Eminönü by trying fish and bread from the boats sailed into the Bosphorus and of course, there are many more places to visit in Eminönü, but let's talk about the other activities that can be done in other districts too.
If the weather is starting to get a little cold or if you have come across one of Istanbul's humid and rainy weather, you can take a break from life for a while with some Turkish Coffee or Sahlep to make good use of such a cloudy and calm day. So, where would you go if you want to take a hot drink break in a rainy and beautiful place? Among the things to do in Istanbul, you can try Turkish Coffee or Sahlep on Pierre Loti Hill in the Golden Horn of Eyüpsultan. While you are sipping your hot drink besides a beautiful view, you can also consider stopping by one of the Ottoman heritages, Eyüp Sultan Mosque.
You are planning to have an outdoor activity with your friends in nice weather on a weekend, then you can stop by the self-catering places in Polonezköy where the nature and green scenery are magnificent, and also you can take a short nature walk after having a nice breakfast in one of the cafés in Polonezköy, after that you can easily set up your barbecue and have a nice feast with your friends on the grass.
You may have heard of Maiden's Tower before, where the Anatolian and European Sides engage, standing in the middle of the Bosphorus. If you haven't heard of it, you can reach it by taking a short 15-minute trip from Salacak by boat. In this tower, which functions as both a museum and a café in the middle of the sea, you can enjoy a bagel while sipping your hot brewed tea facing the magnificent view.
Take a walk in Kadıköy and Moda Beach
If you are a student in Istanbul and want to join the colorful and fun world of student life in Istanbul, you can spend time in Kadıköy, which will create the feeling of your school campus. In this place, where aristocrats, English families, and artists lived in the 19th century, there are many historical mansions, buildings that can be considered traditional, and the diffusion of modern life. In Kadıköy, where mostly young people and students live, you can find good places to shop, to have a good coffee, and to spend time in a quiet bar with live music in the evenings plus a nightlife experience. After walking in the streets of Kadıköy, you can take a walk through Moda Beach, where many students spend time on the grass and hang out, in the afternoon, and you can spend time enjoying the open air and having a drink by the sea, either walking or lying on the grass.
You can also change your direction to Bahariye Street, more popularly known as Istiklal Street, which is one of the favorites of the Anatolian side of the city in that the place is very lively within its walking distance. In Terkos Passage there, you can dig into the clothes on the counter, which is quite cheap and has many varieties, and you can do your shopping on the way.
Don't miss the Spring Festivals in Istanbul
For a student in Istanbul and students who want to enjoy college life, even more, we have an idea for you. There are many concerts, festivals, live performances, and many events in many districts of Istanbul. In addition, universities also have spring festivals especially organized for students in the spring. All you have to do is follow the announcements of the universities.
However, the festival that we are going to talk about now is an event held every spring in Istanbul to celebrate the arrival of spring culturally and religiously, and you can take a short break from school and enjoy the spring as the spring months, nature and fun begin to warm up. Of course, many spring festivals are organized in Istanbul, but the festival we would like to inform you about is the Istanbul Tulip Festival, held between 30 March and 28 April. In many parts of the city, there is a view where you can see the colors of flowers and nature. Due to the great importance of tulips in the Ottoman Empire period and even the name of the tulip flower for a period, the ubiquity of tulip flowers in spring can be seen as a symbol that brings spring to Istanbul. If you want to get to know this festival better and spend time, Göztepe 60. Yıl Park, Emirgan Grove, and Sultanahmet Square will be the right options to go.
Another celebration is the Hıdırellez Day, where the arrival of spring is celebrated all over Turkey on May 5 every year. On the day of Hıdırellez, when the evening of 5 May is connected to 6 May, you can go to the place where the celebrations take place in the squares, streets, or by following the crowd. Since this celebration has been held since ancient times, it has become a cultural pagan cult celebration in Central Asia, the Balkans, and the Middle East, as it is both a religious and a fun activity. In the celebration of Hıdırellez in Istanbul, there is a belief that Hızır, who is called the person who comes to the aid of people in difficult situations in the world, came to the world to help people in difficult situations with the arrival of spring. Therefore, if you enjoy your festivals in the spring months, you can join this relaxing celebration where you can play games, dance, and collect flowers in the green areas and have the opportunity to wish your thoughts.
Have fun in Isfanbul or Istanbul?
Going to Disneyland is every kid's dream. So if you can't go to actual Disneyland, have you tried going to Istanbul's Disneyland? Of course, we say for children, but to get away from the tiredness of the classes or the stress of student life, there are activities suitable for all ages in this place, which can be considered a very suitable activity to entertain yourself or to visit with your friends. In Isfanbul, located in Eyüpsultan, formerly known as Vialand, you can play with a lot of toys that you can spend all day with even to get rid of your troubles for a while, and then complete your day at the Isfanbul Shopping Center or social area complex.
Streets of Balat
Visiting places such as Hagia Sophia, Taksim, Blue Mosque and Galata Tower are the first things that come to mind when one thinks about Istanbul. On the contrary, in this article, we have prepared other places to visit because we think that a student has visited or will visit these popular places, and the district we will talk about is Balat.
Balat, also known as the hidden paradise of Istanbul, has hosted religions such as Christianity, Judaism, and Islam for centuries. It hosts a very sincere feeling with its streets with colorful architecture and narrow roads. In this place where there are very cheap vintage clothing shops and cafés for students, it is also one of the places where you can combine both traditional and historical life with modern life and have a good time. In addition, the importance given to art in Balat is quite high. You can see many workshops, antique shops and art-design houses, and murals on the walls as well. If you want to have coffee with your friends in a nice place, go shopping and then stop and study at small and cozy coffee brewing workshops, Balat's aura will be quite effective for you.
After spending a quiet day in Balat during the day, it is guaranteed that you will have an enjoyable evening with Turkish raki, a cultural and unique drink, at Agora Tavern, which is quite famous and has been operating since 1890 in Balat.
Get lost in the Grand Bazaar!
One of the places that come to mind when Istanbul is mentioned, the Grand Bazaar has also drawn your attention. Why is the Grand Bazaar so popular? Yes, when the Grand Bazaar is mentioned, it is possible to say a lot about it. The reason why the Grand Bazaar, which is open every day of the week and has become a sightseeing spot for many tourists, is so important is that it has a shop for everything you may need! If you want to try Turkish delight, get lost in the scent of nuts or spices, the Grand Bazaar is a place where we can't skip.
At the same time, if you want to shop for clothes or even buy a custom-made Turkish rug for your home, the Grand Bazaar is still a good option. It can also be considered as a place where you have the opportunity to dine in this place, which is different from the other and resembles a labyrinth. If you get tired of wandering around the Grand Bazaar, you can take a bagel-tea break. If you want to spend your day to the fullest and at the same time want to do something cheap and satisfying, we think that Istanbul is a place for a student to visit.
Take a cycling tour in the Princes' Islands
One of the top 10 things to do as a student in Istanbul is to go on a bike tour in Büyükada or Princess Islands. Considering that motor vehicles are prohibited in Büyükada, there is a very convenient place for students to find something to do easily and there are many types of activities, but we have a suggestion: We do not recommend going to Büyükada in summer or on weekends when the weather is very hot. Yes, maybe one of the best times to visit Büyükada is during the summer months, but we recommend you to go Büyükada towards the end of summer or spring. This place, which can be quite crowded, attracts the tourist attraction quite a bit when the weather is very sunny.
Of course, it is also possible to rent a bike from there and leave the crowd behind. If you want, you can enjoy the hot days by swimming in the sea and cooling off, or you can experience the beauty of the surroundings by walking around. In addition, if you want to do a little more fun activity, you can sail to the sea. If you want, enroll in sailing courses or just take a recreational sailing tour.
While traveling by your bike, you can pass by the mansions with magnificent architecture and take a picnic break wherever you want. Although it is not picnic-like as a breakpoint, it is possible to take a break on the hill where the Aya Yorgi Church is located. First, you can make your wishes in this church, which has hosted many religions and denominations, and then do not leave without tasting the sausage bread with a beautiful view from the hill where the dining places are located.
Büyükada is a very preferred place for those who are considering staying here and for those who want to spend time for the weekend as a holiday because although the places to visit are endless, it creates the impression of a holiday with its natural view and clean air.
Student and Hipster-Friendly Yeldeğirmeni Neighborhood
People from many different cultures and religions have lived together for a long time in the Yeldeğirmeni District, where the counterculture dominates the streets. It can also be seen that there are symbols and signs that most Jews have contributed to the structure of buildings from their own culture. It is a very preferred neighborhood, consisting of wooden houses and once the quality of life with lesser rent, by students and even for Erasmus students.
We wanted to talk more about this neighborhood, which is located in Kadıköy, which we mentioned before, because, in the middle of the city, it has an atmosphere reminiscent of Berlin streets with its old houses and artifacts on the streets. In Yeldeğirmeni District, which has become the attraction and home of many students, there are many options for transportation and you can appreciate that it is known for the abundance of places serving students due to the large student population in Yeldeğirmeni.
Yeldeğirmeni District, which was taken as a neighborhood by artists and elites from other countries in the past years, left its streets on the walls with magnificent graffiti works that turned its streets into works of art. From comic bookshops to art workshops, you can immediately feel the proximity and warm atmosphere of the streets in this place where art and philosophy are still intertwined.
Also, if you want to see a different building or house, you can visit the Toy House. His story is as follows, Ecevit Caliskan who did not have any toys in his childhood, filled this gap by covering all parts of his house with toys when he grew up. It is still possible to see these toys outside the house and if the children have a favorite toy among these toys, they are free to take them because the toys outside the house are always being renewed!
Dive into the Second-Hand Booksellers' Bazaar
It may be time to take a break from the fun tour and talk about the other fun tour as to books. Now that if you are wondering where to buy a cheap book in Istanbul or think where to find the book in Istanbul you are looking for when you need to study or buy a reading book for yourself, this book market, which has been very popular in the Ottoman Empire since the 15th century, has more than 300 people working and includes religion, religion, etc. It is a market where very valuable and important books about astronomy, physics, and medicine are available. Today, it can be said that it is in a perfect triangular location for students to study or feel motivated to get their studying done, with its location close to both the Grand Bazaar and the Istanbul University and Beyazıt State Library.
There are not only second-hand books in it but also quite a variety of textbooks and prints. With technology, although books can be found somewhat online, some books you may not find online or may not give the same essence and feeling to some extent, especially antique and valuable ones. So, when you are thinking of studying and if you are interested in old and valuable books, do not say that you became a student in Istanbul without visiting this second-hand booksellers' bazaar, which will seem like a paradise to you.
Then, if you have learned about the top 10 things to do in Istanbul as a student, do not ignore those top ten things to do in Istanbul for students after visiting the popular places in Istanbul that have become the symbols of the city, and experiencing those in your student life. We say that you should not miss out on being a student in Istanbul without these activities and beautiful places that you should go. Moreover, we think that the idea of being a student in Istanbul appeals to you. Therefore, in order not to miss these experiences in this city that connects Europe and Anatolia, make your flight reservation and be informed about Turkey Visa Photo and Turkey's visa procedures now!